Sponsor Insight
Conchita Espinosa Academy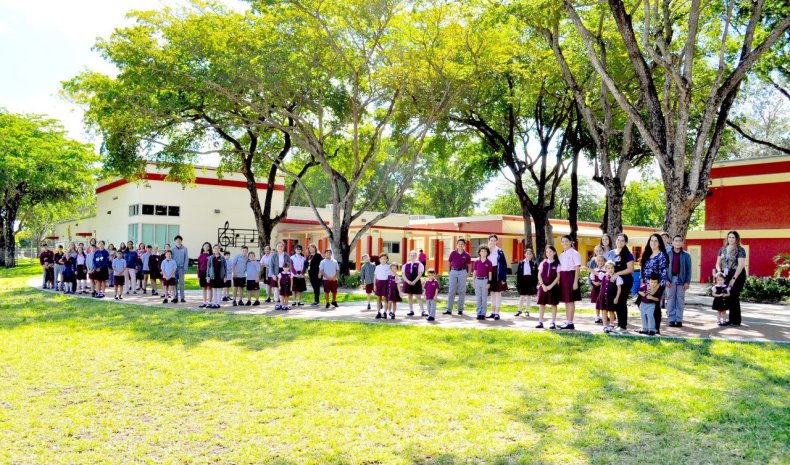 "To reach a child's soul one must know him, guide him and especially, love him." – Conchita Espinosa
Conchita Espinosa Academy (CEA) is a private, independent, coeducational K3-8 school located on ten beautifully landscaped acres in southwest Miami-Dade County with four distinct facilities: the main school building, Early Childhood Learning Center, Conservatory of the Arts, and state-of-the-art multi-purpose sports field and track.
Since 1933, CEA has educated children under a consistent family leadership utilizing a unique philosophy and methodology developed and first put into practice by its founder, Conchita Espinosa. The Espinosa Method™ is designed to ignite students' curiosity and encourage their love of learning. CEA provides a comprehensive education in the arts, sciences and humanities in an environment where students can develop passion and character and enjoy the precious years of childhood. The K-8 educational model offers a dynamic, intimate and nurturing environment that supports student development and helps students grow into well-rounded, creative, and confident human beings. Each child is seen and respected as an individual, keeping the spirit of love and respect that is the trademark of CEA.
From the Mastery Program, which assigns specific learning periods devoted to allowing students to explore an area of interest, to world languages, a wide-ranging athletics department, educational travel, and now a virtual learning platform, CEA's facilities, educational programs, and curriculum are thoughtfully designed to meet the specific needs of each developmental stage from K3 through 8th grade, creating thinkers and doers who are prepared to thrive in the twenty-first century.
Twenty-first century leaders must have the ability to communicate clearly, think critically, analyze, evaluate, create and design all aspects of their lives. The arts and the development of a growth mindset are at the core of the curriculum and woven into all aspects of life at CEA. Through the arts, students are afforded multiple opportunities to finetune their judgment and stretch their senses. Participation in the arts encourages individuals to approach tasks from various perspectives, take risks and "think outside the box." Whether by learning a musical composition or expressing an emotion through dance, every child is given the opportunity to express unique aspects of him or herself, providing an outlet for expression of their inner world, which helps children acquire the confidence, strength and perseverance necessary to finding one's place in an ever-expanding world of opportunity. Through the arts, students to discover and build cross-disciplinary connections, deepening their understanding of the world and strengthening key skills necessary to work effectively with others, such as collaboration, accountability and the taking in of constructive criticism. Through an emphasis on process and progress, students are encouraged to each day strive to be a better version of themselves than the day before. An openness to recognizing the role of all involved in the development and mastery of a subject provides children with openness to the fundamental interconnectedness of life. The fostering of human connection – student-teacher, school and home, and peer relationships – are at the core of CEA's philosophy. The space for dialogue and discussion are a priority in all subjects.
For 86 years, CEA has grown and evolved. Location, faculty, books and technology have changed, but its essence remains intact. CEA is more than a school. It is a community where students are empowered to look for the best in others and themselves and are shaped into young men and women who actively explore interests, hone talents, and advocate ideas. CEA is proud to see its students become well-rounded human beings who, upon graduation, shine in the best high schools, top universities and, most importantly, are prepared to face the joys and challenges of life.
Conchita Espinosa Academy is accredited internationally, nationally and regionally by Accreditation International (AI), National Council for Private School Accreditation (NCPSA), National Independent Private Schools Association (NIPSA), the Middle States Association (MSA), COGNIA (SACS/AdvancEd), and the Association of Independent Schools of Florida (AISF). CEA is also a member of the Independent Schools of South Florida (ISSF).