Sponsor Insight
Kent State University College of Architecture and Environmental Design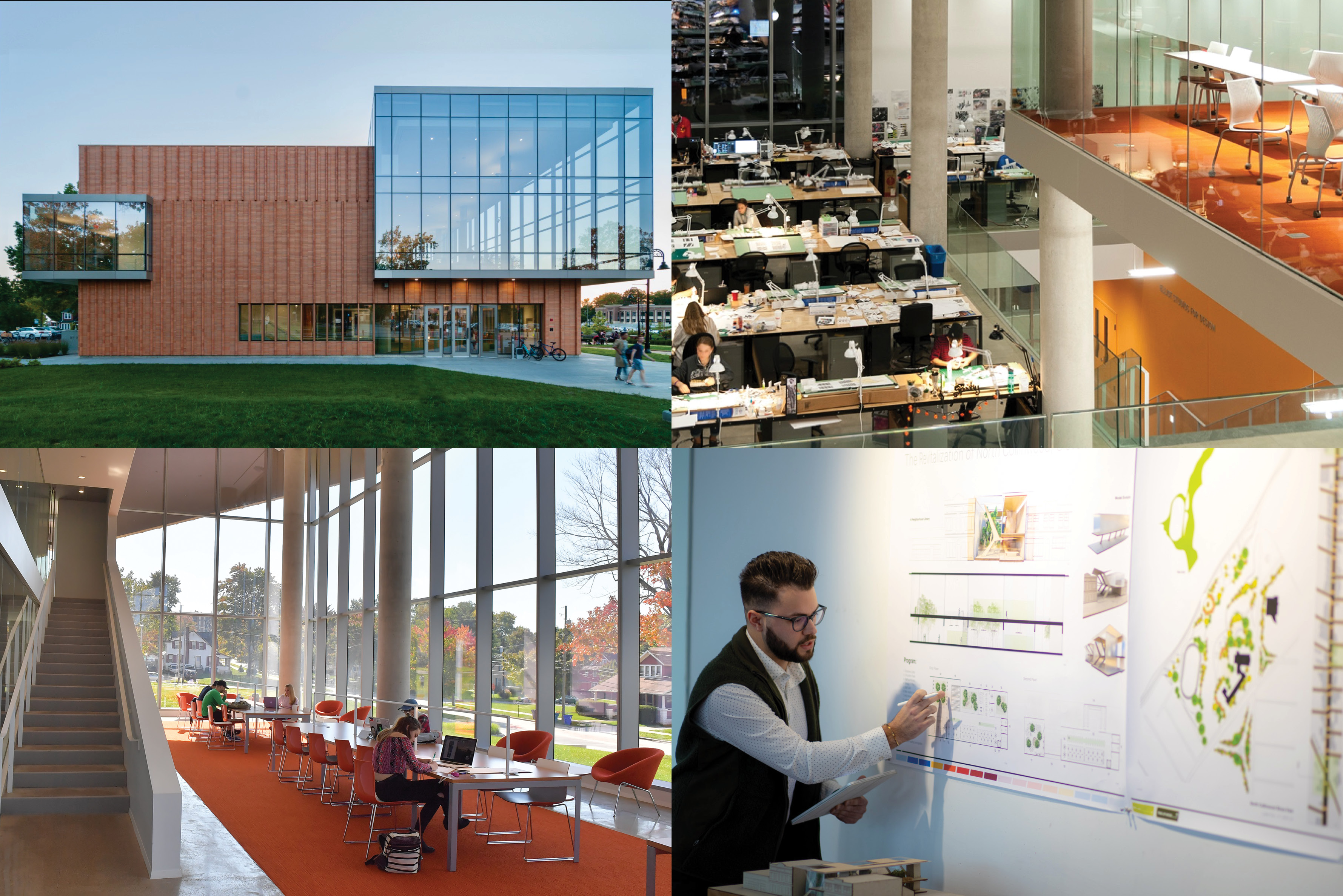 Kent State University's College of Architecture and Environmental Design (CAED) develops leaders for a rapidly changing world—leaders who are committed to enhancing the built environment and improving the quality of life through design. The emphasis is on developing a creative design process that integrates knowledge about human factors, society and its functions with a understanding of materials, ever-evolving design tools, techniques, and business practices. The CAED frames design as a creative, multi-dimensional, problem-solving process focused on societal values, programmatic needs, economic constraints, new technologies, the environment and aesthetics, with an understanding that design matters. The programs prepare students to manage the multi-variable challenge of designing places for people through a curriculum that integrates liberal arts, technology, and tools in project-based design studios.
The College of Architecture and Environmental Design offers four professionally accredited degree programs including a Bachelor of Science and NAAB accredited Master of Architecture, a Bachelor of Arts in Interior Design, a Master of Landscape Architecture, and a Bachelor of Science in Construction Management. It also offers a Bachelor of Arts in Architectural Studies that prepares students for a range of advanced design degree programs, a Master of Construction Management, Master of Urban Design, Master of Healthcare Design, a Graduate Certificate in Health Systems and Facilities Design, and a Master of Science research program with concentrations in Kinetic Systems, Living Architecture, Robotics, Bioclimatic Architecture, Creative Robotics, and Structural Resilience. Students may also enroll in a combined degree program that joins the Interior Design Bachelors with a Healthcare Design Masters, or a dual degree Bachelor's in Interior Design and Construction Management. The CAED also offers a dual degree Master of Architecture and Master of Urban Design, and a dual degree Master of Architecture and Master of Business Administration. Integrated curricula are enhanced by robust co-curricular opportunities including a semester-long study abroad program in Florence, and extensive studio travel and traveling workshops to world cities including Chicago, Boston, New York, L.A., D.C., Miami, Toronto, as well as international destinations such as Curitiba, Brazil, Medellín, Columbia and Beirut, Lebanon.
Visiting professorships, in-house workshops, lecture and exhibition series further enhance the curriculum and students' exposure to thought leaders and best practices.
Design Intelligence recently ranked four of its professors in their list of the nation's 25 Most Admired Professors and Administrators in the design disciplines. They also ranked Kent State's Interior Design 13th in the nation for Programs Firms Want to Hire From. Architecture ranked 16th for Programs Firms Want to Hire From in the same poll, and Kent's Architecture graduates rank 10th in the nation for pass rate on the professional licensing exam. A recent survey of students who graduated since 2010 indicates that over 70% were employed within their profession within six months of graduation.
The CAED's programs emphasize professional values and ethics, social justice, economics, aesthetics and technology. Its curriculum spans a wide spectrum of study in history, human behavior, the environment, design, structural systems, environmental systems, life safety, business, finance and management, and laws and regulations. Moreover, the college encourages students to develop an understanding of the finite nature of resources, changing cultural and societal values, the international dimensions of professional practice, as well as the art and science of design and building. The CAED fosters inquiry and discovery, emphasizing lifelong learning and the development of adaptable and flexible minds as key to graduates' readiness to lead in the age of exponential change in the environment, technology, and tools available to designers.