Sponsor Insight
University of Illinois at Chicago, UIC Business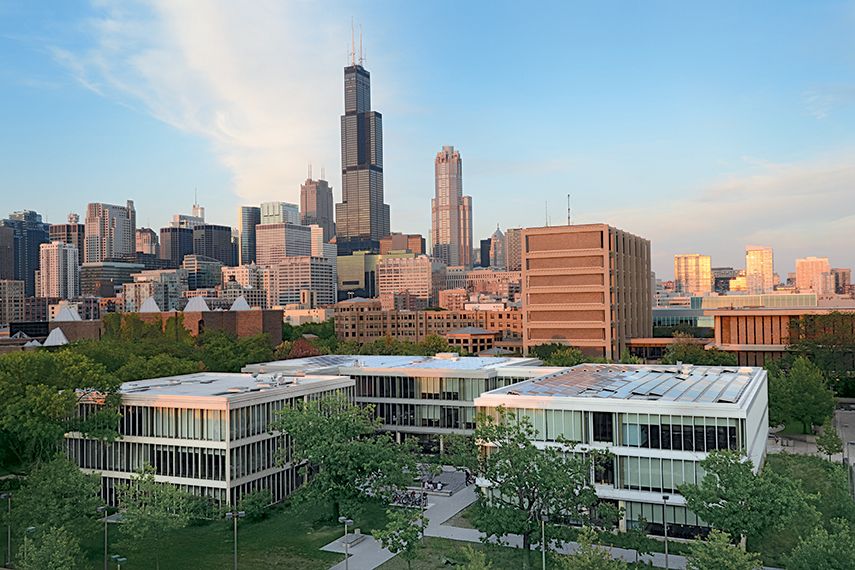 CHICAGO'S LIVING CLASSROOM
The University of Illinois at Chicago is one of the nation's most diverse public research universities and is a federally designated Minority Serving Institution. UIC Business, ranked in the top 15% of undergraduate business programs according to U.S. News & World Report, is committed to supporting the enrollment and success of a diverse student body that reflects our global society. By participating in outreach efforts to the community with corporate partners and national organizations UIC Business provides opportunities to empower students with a dynamic, proven business education, and an immersive city experience to deliver a high-value return on investment.
To tackle today's business environment for the more than 3,600 UIC Business students programs, at both the undergrad and graduate levels, our focus on teaching valuable skills to think strategically, anticipate change, and understand markets. Professors at UIC Business possess a unique combination of academic and research credentials as well as real-world business leadership experience to prepare students for their careers beyond the classroom.
Ranked the #1 undergraduate business school in Chicago five years in a row, according to U.S. News & World Report, UIC Business offers six majors and 24 business student organizations deeply rooted in a professional development curriculum. Emphasis is placed on developing leadership competencies, cultivating interpersonal skills with technical and analytical skills, and a strong sense of self, the key competencies that employers seek.
In the fall of 2013, UIC Business launched the Business Scholars Program to attract high-performing undergraduate students and offer motivated students a rich leadership development program alongside a financial scholarship. Structured as cohort, UIC Business Scholars experience regular seminars and workshops, community service opportunities, tours of leading Chicago area companies and an executive speaker series that has brought the likes of ULTA CEO Mary Dillon '83 to campus. Additionally, a mentoring component pairs smaller groups of students with faculty members and working professionals. From its initial cohort of 40 students, the Business Scholars program now includes more than 160 undergraduates. In May 2017, the inaugural class graduated and landed full-time roles at companies such as EY, Bank of America, JP Morgan, Deloitte and Morningstar, Inc., among others, or were admitted to graduate school.
At the UIC Business Liautaud Graduate School, study goes beyond business immersed in one of the world's most dynamic business centers, Chicago – the city is your classroom. Students can pursue a MBA and/or five specialized master's degrees (Accounting, Business Analytics, Finance, Management Information Systems and Marketing). Liautaud faculty members have ivy-league backgrounds and are consultants to global businesses. Chicago is a world-class, global business center built on big ambitions and diverse ideas that know no boundaries. Like our hometown, the Liautaud Graduate School believes a variety of backgrounds, cultures and viewpoints is a powerful incubator for new and transformational ideas, and provides a significant advantage to success in today's global business environment.
BEYOND THE CLASSROOM
UIC Business students are as academically successful as ever, and employers are seeing students and graduates with a strong sense of self who are comfortable taking on leadership roles. Credit points to a purposeful focus on professional development programs and can be tracked specifically the iLEAD curriculum, designed to help students master the intangible skills needed to succeed. With a dedicated UIC Business Career Center that connects students with more than 200 companies on campus, networking starts long before graduation. Students meet companies through internships, on campus recruiting, resume reviews, workshops, mock interviews, company tours and job shadowing. The Business Career Center supports students with professional development from internship prep techniques and resume reviews to job search and professional networking to prepare for the real world.
As the college continues to grow, graduation is hardly the end of the UIC Business connection. It's the kickoff to lifetime membership in the UIC Business alumni network of more than 35,000. By connecting students to Chicago's living classroom, UIC Business provides a proven education, real-world skills and professional experiences that add up to exciting career opportunities.