Sponsor Insight
University of Balamand, Kelhat al Koura - Lebanon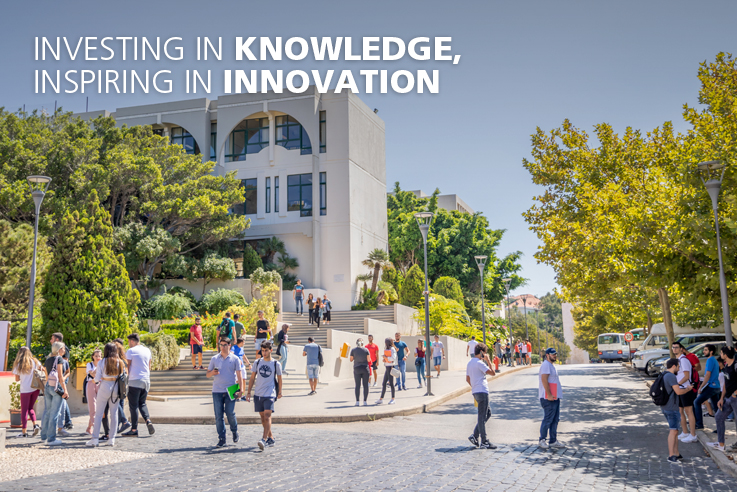 The University of Balamand has a distinguished tradition of quality education in Lebanon and the region. The beautiful central campus sits on top of a green hill overlooking the Mediterranean Sea on the west and Mount Lebanon on the east. We provide state-of-the-art technologies, interactive classrooms, spacious athletic facilities, and a well-endowed library system with access to rich databases, online journals and other relevant information services. More pertinently, we are populated by exceptional people interacting in the context of a stimulating multicultural environment.
The Faculty of Business and Management at the University of Balamand is home to a host of relevant undergraduate and graduate degree curricula that are in-tune with a constantly evolving marketplace. At the undergraduate level, we offer a Bachelor of Business Administration (BBA) and a Bachelor of Science in Economics (BSE). At the graduate level, we offer five programs, among them a Master of Business Administration (MBA) and an Executive Master of Business Administration (EMBA).
The undergraduate BBA and BSE programs provide students with highly pertinent generic skills that could be leveraged across multiple sectors of the economy. The students have the choice to work in a wide array of organizations of different vocations, including for-profit corporations, not-for-profit organizations, government agencies, non-governmental agencies, and so on. The program also uniquely conditions a student to become an entrepreneur or to join a family business.
The MBA program prepares students for managerial and leadership responsibilities in a rapidly changing business environment. Its mission is to form the moral leaders who will make a positive impact to their surroundings. It consists of thirty-nine credits over a period of one and a half to two years. The EMBA, themed 'Navigating Crises', is a highly sought after degree at the Faculty of Business and Management. The program targets seasoned managers and entrepreneurs in their mid to late careers. The program equips the students with updated skills and competencies needed to navigate an ever-changing and complex world. It is a module-based program spanning a period of one and a half years. The modules are typically conducted once a month over three consecutive days.
What makes the Faculty of Business and Management at the University of Balamand distinguished?
1. Knowledgeable faculty: Our eminently knowledgeable faculty is built on a proud tradition of quality education, relevant research, and professional and community engagement.
2. Student-centeredness: Our dedicated and vibrant faculty members deeply care about their students. They teach with passion and they actively engage students in the learning process by offering a mix of theoretical concepts and experiential learning and engaging with industry partners and the community.
3. A transformational experience: We shape the minds of our students by targeting learning goals at the cognitive, affective and practical domains. We don't only emphasize functional and technical skills. We also promote communication, strategic, conceptual, and interpersonal skills.
4. A dynamic curriculum: We offer the students a dynamic curriculum that is constantly evolving with a marketplace that is in a constant state of flux.
5. Quality education: We provide quality education by keeping abreast of current pedagogy and andragogy approaches. We formulate well-thought-out learning goals, engage in superior teaching, monitor learning outcomes, and take immediate remedial actions to fill identified gaps.
6. Global leadership emphasis: We offer a global leadership perspective enabling our graduates to maneuver seamlessly and elegantly in an increasingly complex and dynamic multi-cultural environment.
The Faculty of Business and Management at the University of Balamand is a great place to jumpstart or rejuvenate your early, mid, or late business career. You will undoubtedly experience a radical transformational journey of self-discovery. You will grow in terms of professional and personal maturity. You will network with highly knowledgeable people and you will cultivate meaningful relationships. In a nutshell, our value proposition could be summed up as follows: you will receive one of the best returns on your educational investment in the Middle-East and beyond.