Sponsor Insight
Bowie State University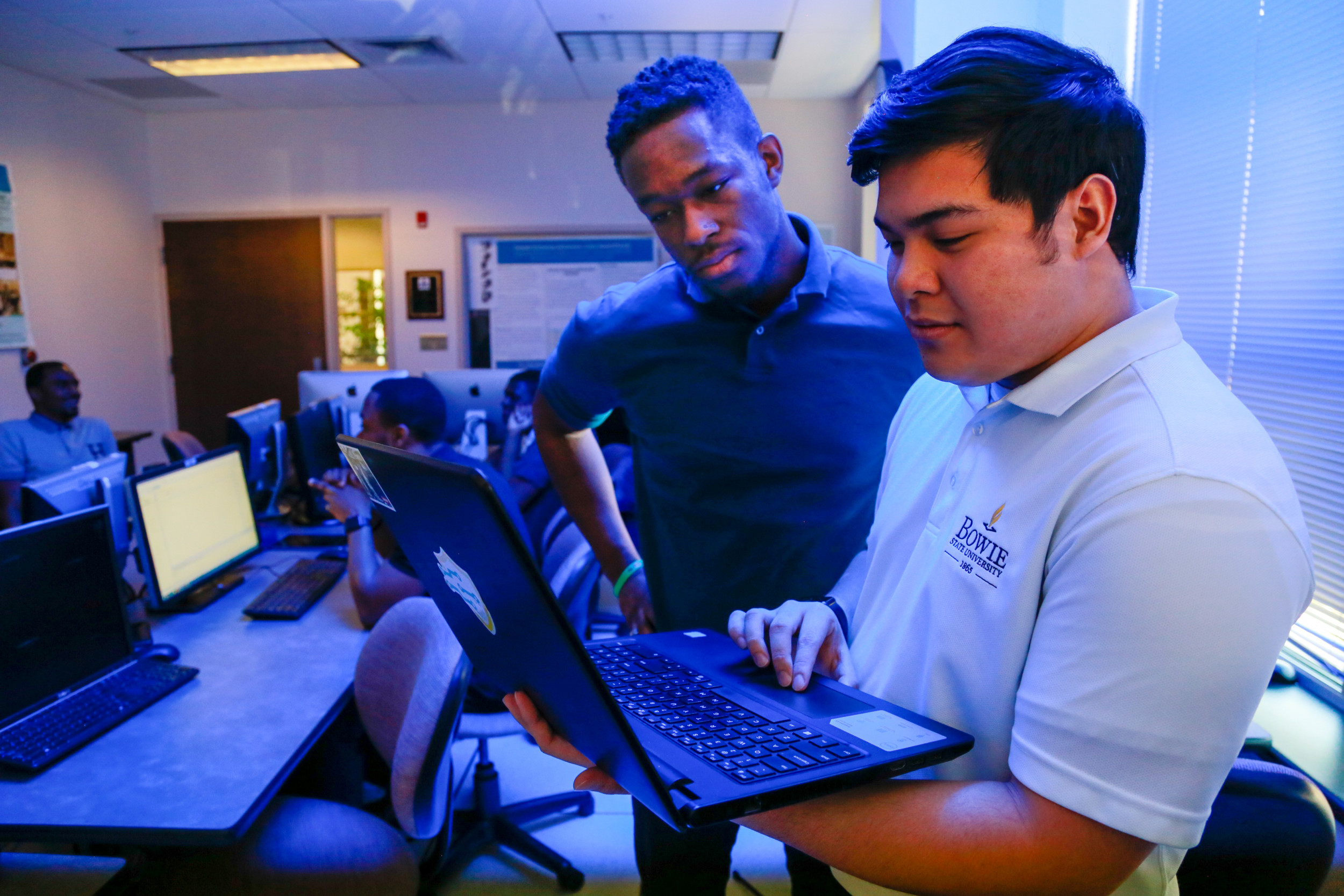 Get a High-quality Cybersecurity Degree from a Leader in STEM Education
Prepare for your future in cybersecurity with a degree from Bowie State University, a leader in STEM education located near our nation's capital. Bowie State University has nationally recognized degree programs in cybersecurity that equip students with hands-on, real-world experience, working to develop solutions for industry and government.
Our location in suburban Bowie, Maryland, near Washington, DC, gives students access to the best internship and career opportunities in cybersecurity. Students graduate ready to tackle the challenges to defend the nation against cyber-attacks.
Why Choose Bowie State?
National Designation. Our programs in cybersecurity earned designation as a National Center of Academic Excellence in Cyber Defense by the Department of Homeland Security and National Security Agency.
Expert Faculty. Bowie State faculty have the right combination of experience in cybersecurity research and practice. They actively engage students in their work, leading students to have published research in their names before they graduate.
Hands-on Experience. You will have opportunities to devise real-world cyber solutions in specialized labs for industry and government clients. You will also gain experience with the latest digital technologies to stop cyber threats in simulated environments in hackathon competitions.
Smart Value. You will find that our affordable, high-quality education helps you limit your debt as you pursue your degree.
Location, Location, Location. You will thrive in one of the most exciting technology corridors that connects students to some of the world's brightest minds and cutting-edge innovations.
Legacy of Diversity. You will interact with people from around the globe in a nurturing learning environment where everyone is welcome. As Maryland's first historically Black college and university (HBCU), Bowie State University has educated generations of diverse scholars for more than 150 years.
Successful Alumni. Our graduates land jobs with leading cybersecurity employers, like Google, Department of Defense, Microsoft, IBM, Booz Allen Hamilton, Lockheed Martin, Amazon and the U.S. Naval Research Laboratories.
Leadership Development. Your opportunities to grow your leadership skills begin on day one with faculty and staff who care about each student and help them realize their full potential. Bowie State offers more than 50+ academic, professional, cultural and service organizations, as well as student leadership workshops and programs, to help you develop and hone your unique leadership style.
Entrepreneurship Education. Regardless of their degree program, Bowie State students get an education in the entrepreneurial mindset, with an emphasis on problem-solving skills that they can take into the workplace or use to launch their own ventures. A new Entrepreneurship Living Learning Community is an innovation hub for students looking to turn their ideas into businesses.
Our Degrees Focused on Cybersecurity
Our ABET-accredited undergraduate degree programs both offer an accelerated three-year option for military veterans:
Computer Science (B.S.)
Computer Technology (B.S.)
Deepen your technology knowledge with one of our graduate degrees – you will soon have the option to earn your degree fully online:
Computer Science (M.S.) – Ranked as one of best graduate programs in computer science by U.S. News & World Report (2018)
Management Information Systems (M.S.) – Offers a concentration in information assurance
What People are Saying About Us
"Bowie State University became a nurturing environment, providing me the resources to build the skills needed to excel. I appreciate the support from teachers, mentors, classmates and administrators." – Felix Njeh ('95, '14), Distinguished Engineer of the Year (2018-19), National Society of Black Engineers
"Students are going to enter the workplace trained in digital capabilities, so they will be very attractive to our network of partners." – Mark Failor, senior director of public sector solutions & alliances, Infor (multinational enterprise software company and Bowie State partner)
Application Process
Ready to take the next steps? Applying for one of our cybersecurity-focused degrees is easy, with an online application, low-cost application fee and rolling admission. Our admissions counselors are ready to help you through the process of securing your spot in an upcoming academic year.
Your future in cybersecurity can start now. Join our community of scholars.