Sponsor Insight
Kent State University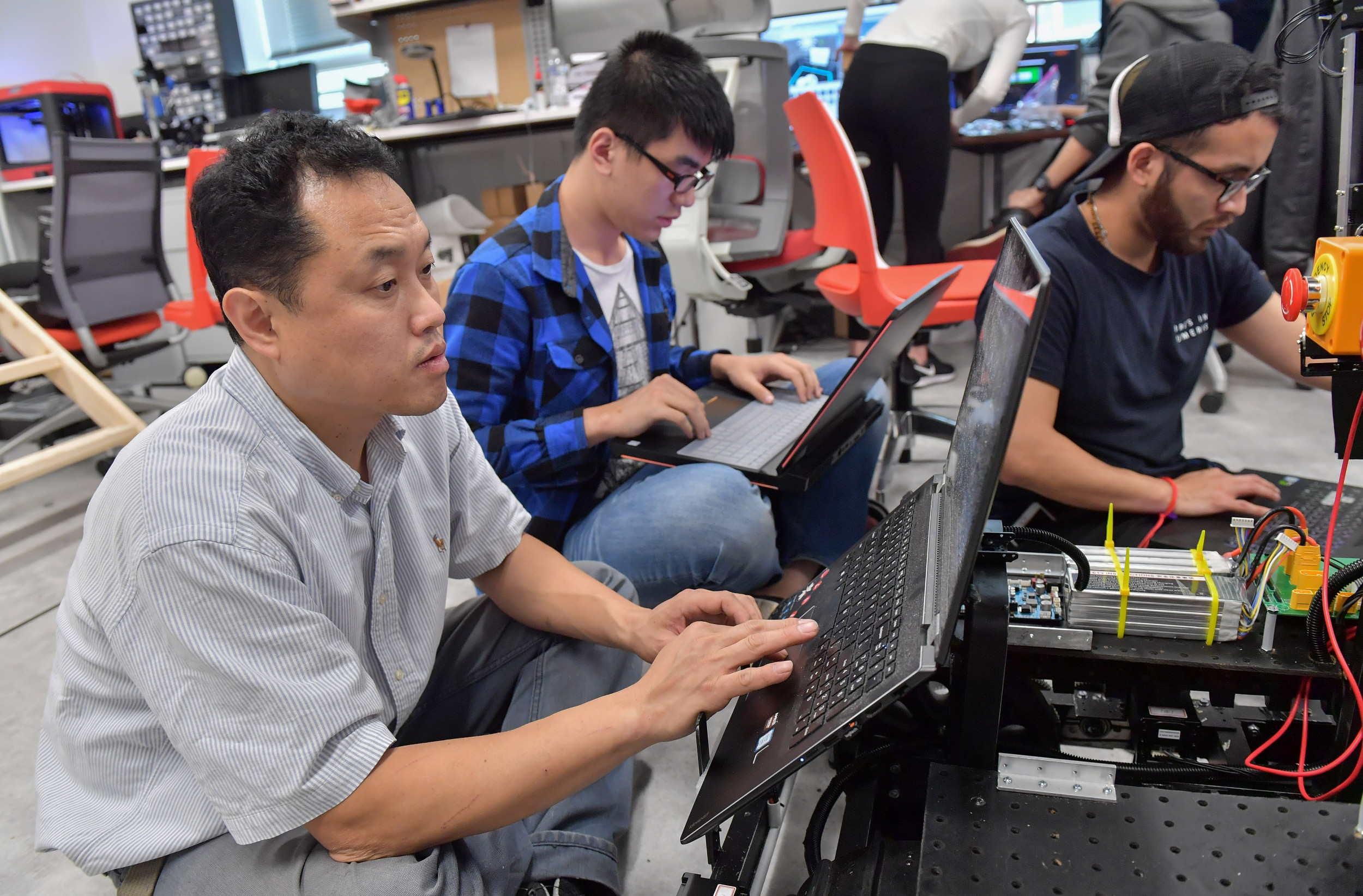 The Computer Science Department at KENT STATE UNIVERSITY offers one of the most comprehensive choices of academic degrees in computer science in the country, offering two options for a Bachelor's degree, two options for a Master's degree, and a full PhD program. The department's fulltime PhD professors are eminent both nationally and internationally, and provide a collective balance of teaching, research, and industry experience. The department maintains more than ten active research laboratories covering all major branches of computing, including visualization, AI, robotics, haptic interaction, computer engineering, software engineering, data engineering to smart home, and game programming. Our research faculty pursue cutting edge technology and offer research and learning opportunities to our students. Kent State's Computer Science robotics team participates in premier events such as the World Robotic Summit and NASA Suits, a next generation space suite design challenge, competing amongst 20 top university teams. The KSU Computer Science Networking Lab offers ultra-fast 100 Gbps data transfer among select US institutions and facilities engaged in high data research.
Kent State University is located in Northeast Ohio, home to the hospital ranked second in the nation and first in cardiac care, The Cleveland Clinic, along with Progressive Insurance, Goodyear Tire and Rubber, American Greetings, Sherwin-Williams, Parker Hannifin, Lincoln Electric, FirstEnergy, The J. M. Smucker Company, University Hospitals, and many others. Kent State University computer science graduates have potential employment opportunities in all these industries. Significant financial assistance is available through scholarships and grant-funded assistantships for all students.
Undergraduate students pursuing a B.S. in Computer Science have the option to choose concentrations such as:
Data Engineering: prepares students to perform the data analysis and modeling needed by organizations and to process structured, semi-structured, and unstructured data using statistical and semantic analysis techniques to meet their employers' needs.
Game Programming: provides students with a solid understanding of the algorithms, techniques and software used to construct interactive virtual environments. Students work in teams with content specialists and artists to develop the teamwork skills required in this multidisciplinary field, which includes a range of opportunities, from the game industry to education to training design.
Information Security: one of the oldest security programs of Ohio, it prepares students to meet the security needs of industry and government through coursework that provides a thorough understanding of security, privacy and cryptographic techniques and protocols used in computing and communication.
Robotics and Embedded Systems: prepares students to work with devices that combine hardware and software. Such devices include robots and most high tech mechanical devices like cars, planes, farm equipment and construction equipment.
Graduate Students have an option to select a concentration in one of four areas.
The Computational Data Science concentration prepares students to process big data. In a spectrum of real-world applications, the collected data (from such sources as mobile devices, GPS, sensor/RFID networks, Internet, social media, etc.) is so large and complex, the traditional data processing tools cannot efficiently and effectively handle it. This concentration focuses on algorithms development, machine learning, computation techniques, network and computing infrastructure and software.
The Computer Engineeringconcentration prepares students to meet the need of computer engineering professionals in the industry for designing and managing emerging smart devices and computer-integrated physical systems with programmable intelligence. Students learn the hardware-software co-design principles and theory, architecture of the associated software and hardware, devices and sensors communication protocols and the interfaces to effectively design, build and evolve such smart devices and computer-driven intelligent physical systems.
The Computer Security concentration exposes students to a wide range of topics on the security of computer systems. Students study the vulnerabilities in software and networks and develop algorithms and software to protect data, using digital encryption coding, protected databases and protected computer networking techniques.
Kent State University is an 8-campus system. The core Computer Science program is located on its Kent, Ohio campus. Students at any of KSU's regional campuses can choose to transfer their credits to the Kent campus to major in computer science. Kent is a quiet, small town which has undergone a substantial renovation in recent years and is a vibrant restaurant and small-shop district with a quality hotel and residential space in the heart of Kent. Kent is within easy driving distance to the Cuyahoga Valley National Park, Severance Hall (home to the world renowned Cleveland Orchestra), The Cleveland Museum of Art, professional sports venues (Cleveland Indians and Cleveland Browns), and The Rock and Roll Hall of Fame and Museum. In the summer months visitors will find boating, sailing, skiing, swimming and fishing on Lake Erie, one of the five Great Lakes. The beautiful Kent campus of Kent State University, attended by more than 27,000 students, is ranked among the safest, and cleanest campuses in the country.