Sponsor Insight
CCRM Fertility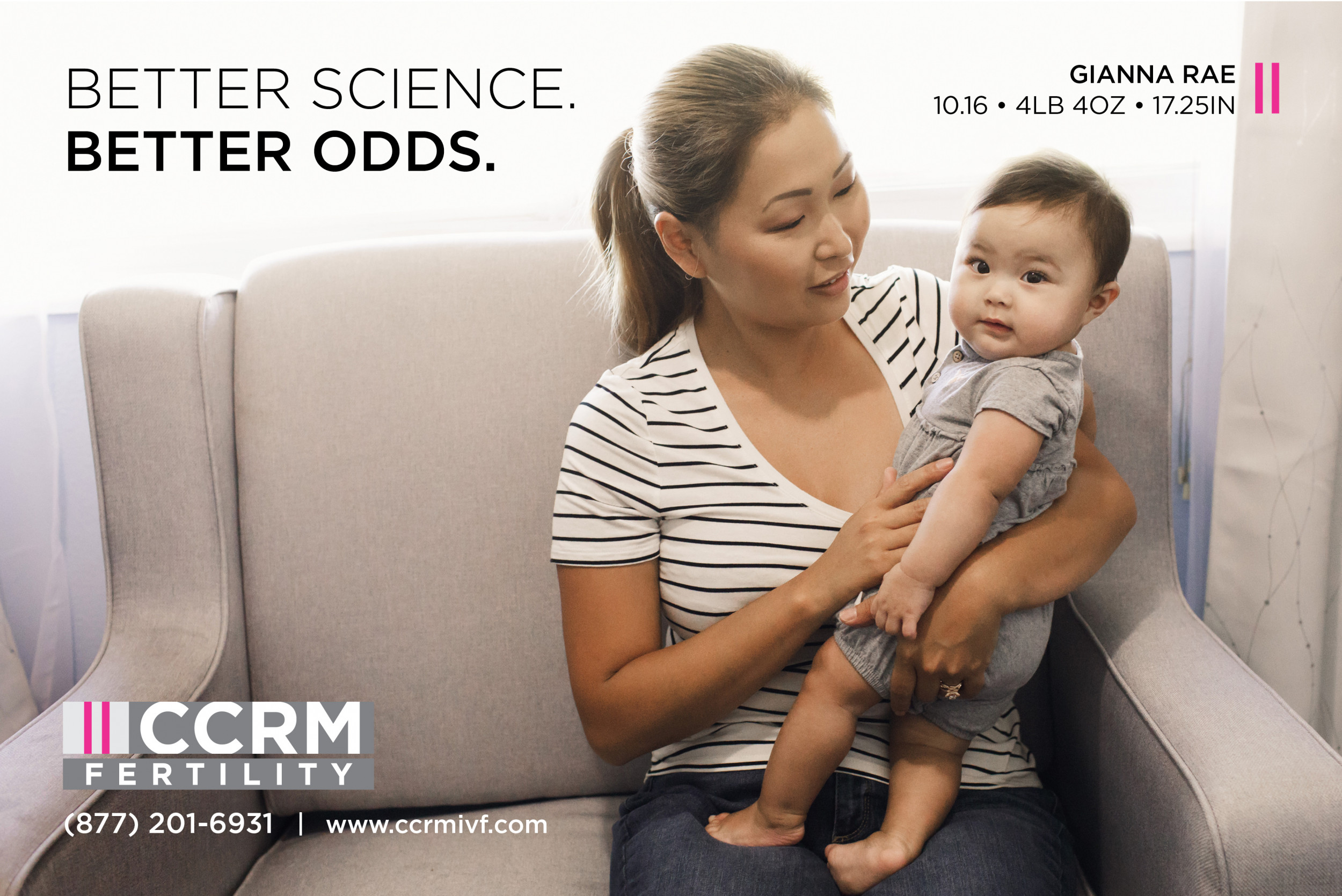 How to Choose a Fertility Clinic
Not all fertility clinics and labs are created equal; finding a clinic that fits your care needs and has leading success rates can ensure your path to parenthood is as healthy and fast as possible.
Here are four things to consider when choosing a fertility clinic:
The Doctors
The way doctors practice medicine varies. At CCRM, fertility treatments are not one-size fits all. Rather, CCRM's team of award-winning physician's partner with each individual to develop personalized treatments to provide them with the fastest path to the healthiest baby.
All CCRM fertility doctors are reproductive endocrinologists. As renowned professionals in the field, they have published research in scientific journals, served as speakers at global healthcare conferences, and many hold faculty positions at prestigious universities.
Success Rates
Fertility medicine is rapidly advancing. As a result, it's best to make sure wherever you go practices leading fertility medicine. Staying ahead with the newest techniques and latest procedures translates into success. Our CCRM Research team spends each day developing and improving treatment plans for patients. Our acclaimed group invented techniques that revolutionized infertility care and are now widely practiced among fertility physicians today, including Comprehensive Chromosomal Screening (CCS). CCS helps us analyze, select and transfer only embryos that have the appropriate number of chromosomes; CCS leads to significantly higher implantation rates, fewer miscarriages and reduces complications.
You can check live birth IVF success rates from the Society for Assisted Reproductive Medicine (sart.org).
CCRM delivers some of the highest IVF success rates in the industry. In fact, CCRM IVF patients can get pregnant 25% faster than the national average. If you're not doing IVF, ask about the live birth success rates particular to your situation.
The Lab
A critical element when choosing a fertility clinic is the IVF lab, where embryos are created. From the equipment to quality assurance and control measures, it's the details that distinguish a great lab from a good one, which can be the difference in bringing home a healthy baby faster. Other fertility clinics outsource their IVF lab needs. CCRM has invested in our in-house team in order to deliver consistent results that set the gold standard in fertility care. Today, CCRM runs 11 IVF labs and clinics in North America.
Moreover, CCRM is the only fertility center in the U.S. with its own internal genetics lab and team of molecular genetic scientists, led by world-renowned geneticist Dr. Mandy Katz-Jaffe.
Cost
When evaluating cost, it's not as straight forward as it may seem. Success rates and time to pregnancy are factors in costs. For example, if a clinic charges slightly more per IVF cycle, but you'll bring home a healthy baby after one cycle, you'll end up spending less than if you choose a cheaper clinic that requires multiple IVF cycles to get you pregnant. Age is the primary factor in infertility, thus clinics that have notoriously achieved thousands of pregnancies among women over 40 are likely to be superior than clinics that primarily success among women under 35.
Pursuing fertility testing and treatment is a big commitment (physically, financially and emotionally). Ask friends and family who they recommend and chat with your OB/GYN or primary care provider. We recommend choosing the fertility clinic that's right for you.
About CCRM:
Founded by Dr. William Schoolcraft in 1987, CCRM Fertility is a global pioneer in fertility science, research and treatment offering best-in-class patient care and access to a national network of award-winning physicians, a full suite of fertility services, innovative technology and cutting-edge labs. CCRM specializes in the most advanced fertility treatments, with deep expertise in fertility assessment, in vitro fertilization (IVF), fertility preservation, genetic testing, third party reproduction and egg donation. CCRM proudly serves 11 major metropolitan areas with 25 locations, including Atlanta, Boston, Dallas, Denver, Houston, New York, Northern Virginia/D.C., Minneapolis, Orange County, San Francisco, and Toronto. For more information, please visit www.ccrmivf.com.