Sponsor Insight
Indiana Wesleyan University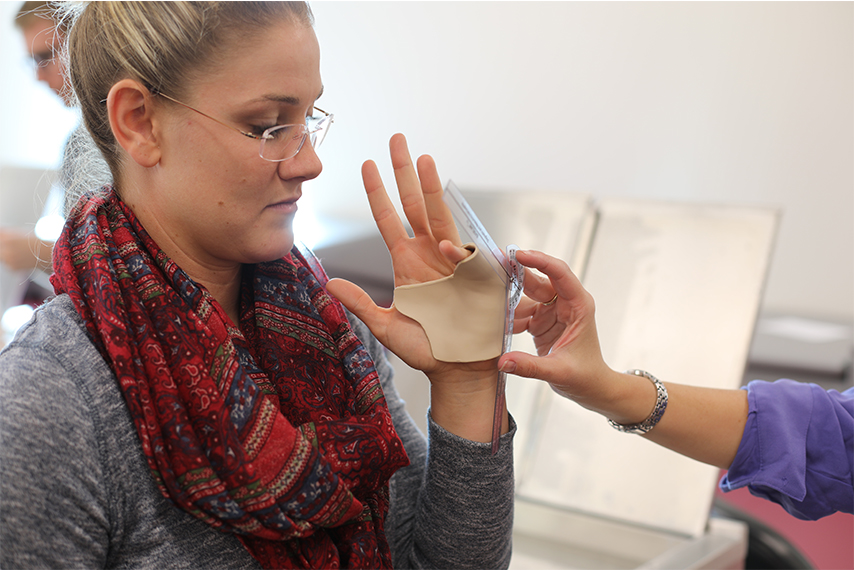 Indiana Wesleyan University - Occupation Therapy Doctorate
The mission of the Occupational Therapy Doctorate (OTD) program is to educate practitioners who will collaborate to promote client-centered, occupation-based practice and provide servant leadership within their communities. We value an active learning environment that fosters the holistic personal and professional development of students, faculty, and community members.
Due to our strength as the largest private university in the state of Indiana, Indiana Wesleyan University (IWU) has access to classroom and lab resources that are unrivaled in our region. At IWU, students learn in unique state-of-the-art facilities and lab spaces, including a well-equipped sensory-based pediatric lab, and an anatomy and neuroanatomy cadaver lab outfitted with media-based technologies.
Our human motion and musculoskeletal labs include XSensor® pressure mapping technology for assessing and managing seating systems and a Dynavision2® machine to evaluate and treat visual motor integration. Additionally, we have an entire three-bedroom "ADL House" offering students hands-on, realistic opportunities to develop assessment and training skills in environmental modifications, functional mobility and transfers, adaptive equipment, and improving skills to perform activities of daily living. We have the only lab in an OT educational program in Indiana with a Bertec® computerized dynamic posturography machine for evaluating and addressing balance and mobility issues. Finally, we have a state-of-the-art human motion capture laboratory utilizing 14 interconnected high-speed cameras which produces three-dimensional models of human movement patterns.
Indiana Wesleyan's OTD program has a diverse faculty with doctoral degrees from some of the nation's leading institutions of higher learning. The educational diversity of the faculty gives our students a view of occupational therapy from varying educational perspectives. Three of the OTD faculty have experience as educational program directors, and combined, the faculty represent more than 160 years of clinical and academic experience. Several of our faculty continue to work in clinical settings while teaching in the program, thereby allowing them to stay current with health care trends and practices. All of our faculty teach within their areas of clinical expertise and specialization.
Unlike most other occupational therapy programs in the United States, our program utilizes a uniquely student-focused fieldwork placement approach. The program places students in five different fieldwork settings during their time in the program. Our academic fieldwork coordinator meets with students near the beginning of the program to help them identify areas of clinical interest as well as geographic areas where they hope to complete Level II fieldwork rotations. Consequently, our program sends students across the United States for fieldwork – from Alaska to Florida and California to Maine. We have active contracts with hundreds of high-quality fieldwork sites to accommodate any student need.
Tuition for the OTD program at Indiana Wesleyan includes a transcultural travel course during the second spring trimester. Students and faculty travel together in small groups to destinations such as Belize, Ecuador, and Curacao, to learn about health care and rehabilitation services there. This cultural immersion results in phenomenal learning opportunities that often cause our students to choose a similar transcultural environment for their doctoral residency project. Alumni from our program often remark about the "life changing" experiences that resulted from their transcultural travel course.
Our students choose to conduct their doctoral residency projects all over the world! In additional to the continental United States, we have had OTD students complete their projects in
Alaska
Sierra Leone
Ecuador
Haiti
Nepal
Kosovo,
Ukraine
Costa Rica
Armenia
Kenya, and
Curacao.
Students choose where they go and what type of project they complete. It is largely through our doctoral residency projects that that occupational therapy program embodies the mission of IWU to change the world in which we practice. Due to our vast network of qualified mentors around the globe, we can offer unique doctoral residency experiences that are not possible through other OTD programs in the United States.
We encourage all interested individuals to complete an OTCAS application and indicate your interest in the OTD program at Indiana Wesleyan University.