Sponsor Insight
University of Jamestown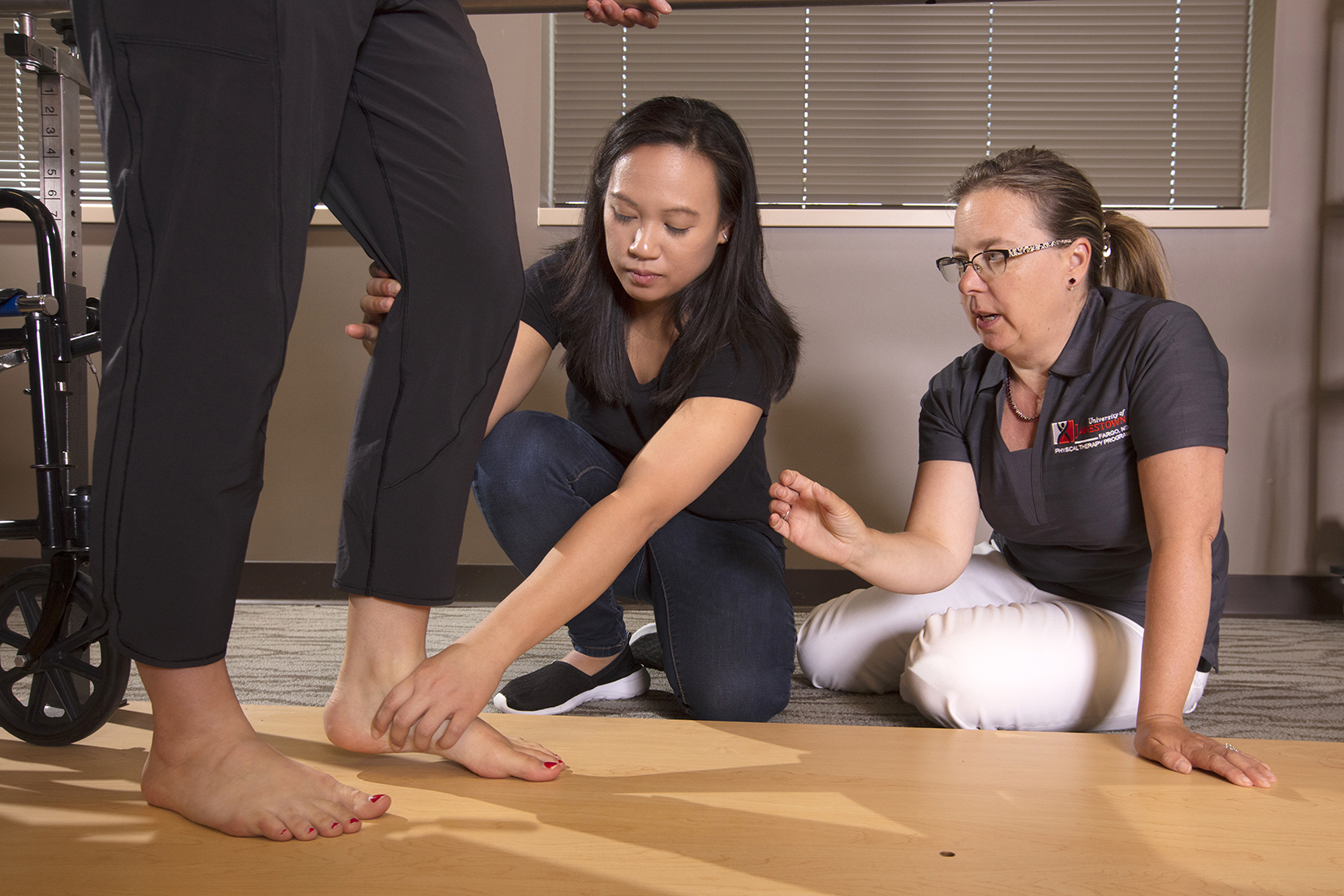 Located in Fargo, North Dakota, the University of Jamestown Physical Therapy Program (UJPT) is dedicated to the development of wholeness in our students. Wholeness in our students is fostered through the University's Journey to Success model that is used in the development of clinical and professional skills. The Doctor of Physical Therapy degree is awarded after three years (eight semesters, including two summers).
Our mission is to create an environment of critical thinking and innovation to enhance the student learning experience. Our vision is to be recognized as a program that serves the needs of the community; fosters a culture of critical thinking; aligns our education with evidence-based practice and clinical research; and develops well-rounded physical therapists, with the potential to be leaders in our profession.
Our students engage and collaborate in an environment created specifically for physical therapy education and successful student learning. Small class sizes provide access to faculty for personalized instruction. Our dedicated, state-of-the-art, facilities include laboratories and equipment for hands-on learning and practice, along with classroom, library, student study areas, and research space.
UJPT faculty have an open door policy that encourages students to seek out faculty outside of class times. Associated faculty are clinicians who provide additional clinical perspectives to our students. Our faculty are committed to helping students succeed, both in the classroom and the clinic. All clinical specialties are represented within our core and associated faculty: cardiopulmonary, geriatrics, neurology, orthopaedics, pediatrics, sports, women's health, and wound care. All faculty are committed to evidence-based approach to student learning and clinical practice.
Our faculty are actively engaged in clinical research, with multiple presentations and publications in the areas of education, Parkinson's disease, pediatric patient care, and sports medicine. UJPT currently has four physical therapy faculty with an interest in individuals with Parkinson's disease. UJPT has recently procured a diagnostic ultrasound machine which affords us the opportunity to conduct research and train students how to use this cutting edge technology.
UJPT has multiple partnerships within the community, where our students participate in experiential learning opportunities. Experiential learning opportunities include practicing patient care in our pro bono clinic, interprofessional activities with other allied health disciplines, hands-on application of knowledge and skills in a simulation laboratory, and working with adult and pediatric community members under faculty supervision. Our pro bono clinic allows students to provide service to the Fargo-Moorhead community by working with clients from populations who otherwise cannot afford physical therapy.
UJPT has clinical experiences interspersed throughout the curriculum that reinforce classroom knowledge and skills through clinical application in a real-world setting with supervision from a licensed physical therapist. Students complete their first clinical experience at the completion of their first year of didactic coursework. UJPT maintains high-quality clinical partnerships across the United States for clinical learning and success in a variety of clinical settings and specialty areas.
The COVID-19 pandemic has impacted our program. Typically we are a traditional program, with in-person classes on campus. However, due to COVID-19, we have changed our methods and delivery of education to ensure a high-quality educational experience while maintaining the health and safety of our students, faculty, and staff. For the 2020-21 academic year, didactic components of courses are held online. Classes that have in-person laboratory components are held on campus. For all in-person learning, strict precautionary measures are in place to protect everyone involved, while allowing students to learn and practice the skills needed to become physical therapists.
There are two avenues to admission to our program. Applicants are encouraged to apply through PTCAS; with deadlines are on October 1 and December 15 of each year. Additionally, current University of Jamestown undergraduate students, and high school seniors who plan to attend the University of Jamestown as undergraduates, can apply for direct entry into the Physical Therapy Program. UJPT will hold a place for the applicant, pending successful graduation and maintaining academic standards. See the website for complete details.