Sponsor Insight
Campbell University Norman Adrian Wiggins School of Law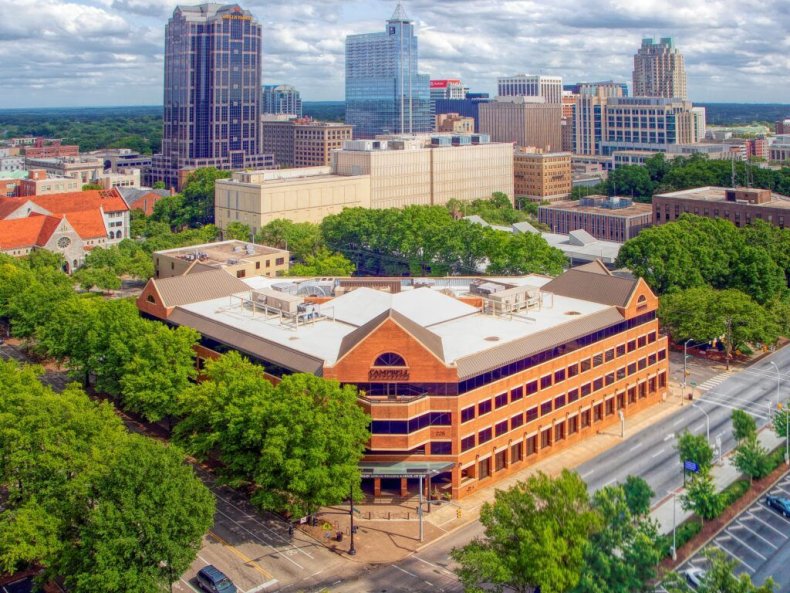 About Campbell Law:
Campbell Law School is a unique community of diverse individuals brought together by a singular purpose — to use the practice of law in order to create a more just and merciful society. We are dedicated to creating compassionate lawyers who are fully prepared for the challenges of the real world.
Why Campbell Law?
A leader in bar passage. An incredible location. An atmosphere of support. An active, engaged, and successful alumni network. That's why.
Bar Passage Success
Campbell Law graduates are historically successful on the bar exam. Most recently, 93.1 percent of the 116 graduates from the Class of 2020 who completed the July North Carolina bar exam passed.
Leader in Trial Advocacy
Advocacy is a hallmark of Campbell Law. Its trial advocacy program is consistently recognized among the nation's top including being ranked 15th by U.S. News & World Report, making it the lone North Carolina school in the Top 20 of the ranking. The historically strong competitive advocacy program has reaped numerous awards in recent years, including six national titles in 2019 alone. Since 2012, Campbell Law student advocates have amassed one international championship, 10 national championships, five national runners-up, nine national semifinalists, nine regional championships, and at least 20 national individual best advocate awards. Campbell Law is one of only two law schools that can boast it has two Top Gun National Mock Trial Competition winners.
Raleigh
Campbell Law is the only law school in North Carolina's capital city, and we're directly in the heart of the action.
Raleigh and the surrounding Triangle consistently top countless lists of best places to live and work in the nation.
Our location offers unlimited opportunities. Within blocks of campus, you'll find the state Supreme Court, court of appeals, capitol and legislative offices, county courthouse, city hall, and myriad law offices, corporations, and nonprofit organizations.
Peer Mentoring
We're committed to fostering a supportive and compassionate internal community.
If you attend Campbell Law this fall, you'll be assigned to a peer mentoring group comprised of second- and third-year students who volunteer to serve as advisors for new students.
Peer mentoring groups hold activities throughout the year and provide a structure of encouragement guidance, support, and friendship.
Active Alumni Network
The majority of our more than 4,400 alumni practice in North Carolina, many in nearby areas.
Our alumni remain active and engaged with the law school.
Our alumni take care of their own, frequently hiring Campbell Law students for externships and later permanent jobs.
Our alumni directory is full of success stories. Campbell Law graduates serve as civic and business leaders.
Campbell Law graduates also hold positions of influence in the local legal community. Four Campbell Law graduates serve as judges on the North Carolina Court of Appeals, and there are more District Court judges in the state holding a Campbell Law degree than from any other law school.
Our People
As passionate about developing skillful and caring lawyers as they are about their pursuit of legal scholarship, the faculty and staff of Campbell Law are committed to the academic and professional success of every student.
Our faculty comes from a variety of educational and practical backgrounds, and they draw upon their real-world experiences to offer relevant and valuable insight.
Our open-door policy extends from faculty and staff members to our highest administrators, ensuring that students at Campbell Law are never lacking an expert to answer questions, a mentor to offer guidance, or a professional role model to lead the way. By taking a genuine interest in each of our students and making ourselves accessible to them, we ensure their success in the future.
Drawn from across the country, our student body represents varied ethnic and social backgrounds. Each new class combines students directly out of undergraduate school, those with graduate degrees, and students pursuing second professional careers. This diversity enriches the character of the student body and each student's educational experience.
EEO/AA/Minorities/Females/Disabled/Protected Veterans