Sponsor Insight
Overseas Family School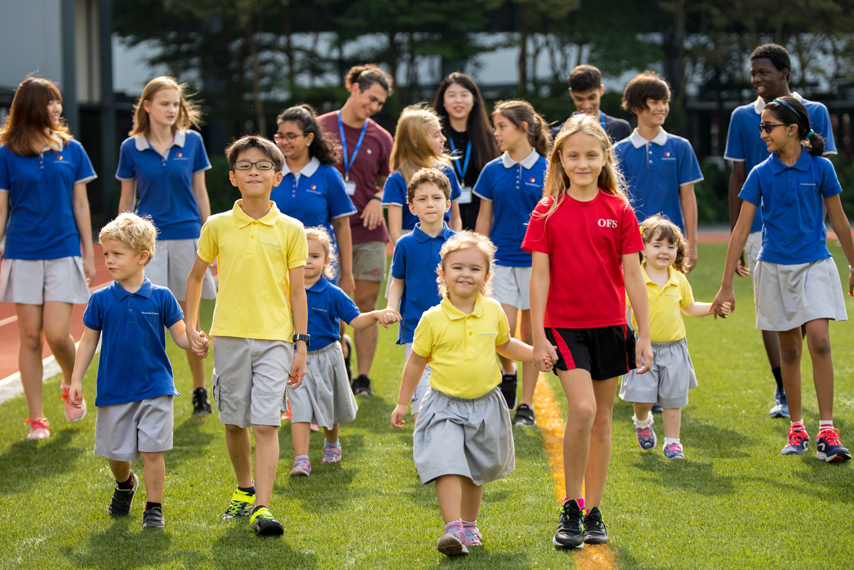 Established in 1991, Overseas Family School (OFS) is recognised as one of Singapore's leading Pre-K to Grade 12 international schools. Distinguished by its long history and incredible attention to student care, OFS serves a vibrant multicultural community of approximately 70 nationalities and is committed to creating an inclusive and supportive learning environment where all students can dream, achieve and succeed. OFS is accredited by Western Association of Schools and Colleges (WASC), and was one of the first international schools in Singapore to offer the versatile and highly-respected International Early Years Curriculum (IEYC) for Pre-K1 to K2, the International Primary Curriculum (IPC) for Grades 1 to 5, and the International Baccalaureate (IB) programs for Grades 6 to 12. All students who complete Grade 12 and earn the required credits will graduate with the award of OFS High School Diploma. This diploma program is accredited by WASC and is recognised around the world. The International General Certificate of Education (IGCSE) curriculum is also offered.
At OFS, academic programs are rigorous and thoughtfully-designed, producing results that well surpass world averages year after year. OFS regularly produces Cambridge International "Top-in-the-World" awardees, students who have achieved the highest standard mark in the world for a single subject in the IGCSE examinations. In the demanding IB Diploma examinations, OFS has produced students scoring a perfect 45 points for six consecutive years running, with extremely high overall pass rates every year. OFS' outstanding IB results are remarkable in light of its inclusive, open-entry admissions and examination policies. Contrary to common practice at a majority of schools in Singapore and worldwide, OFS students are not preselected into the IB Diploma program. OFS believes that every student can succeed and any student who wishes to pursue the IB Diploma program is allowed and encouraged to do so. As the student journey is unique for every individual, OFS pairs all High School students with experienced academic advisors who are on hand to provide one-on-one support every step of the way, clarifying choices and identifying resources as students navigate difficult decisions about classes, colleges and life after graduation.
Catering to the unique concerns of expatriate families, OFS has also developed extraordinary language programs, thoughtfully integrated into the main curriculum at no additional cost, for the best student experience. OFS' Study Preparation Program is best-in-industry for rapid English language acquisition. Grouped into smaller, dedicated classes according to language proficiency, non-English speaking students are quickly immersed in the English language under the nurturing instruction of highly experienced and qualified specialist educators. This dedicated attention and support throughout their learning journey allows many students to quickly progress and join mainstream classes without losing an academic year. OFS also offers the most extensive and immersive Mother Tongue Program in Singapore, with 14 different languages on offer ranging from Danish, Dutch, Finnish, French, and German, to Hebrew, Italian, Japanese, Korean, Mandarin, Norwegian, Russian, Spanish and Swedish. For four sessions per week, students can explore the language and culture of their home country under the guidance of qualified native speakers, gaining and maintaining native-level language proficiency for seamless re-integration.
At OFS, diverse experiences and perspectives are valued and are seen to enrich the school community. In line with strong emphasis on holistic education and personal development, OFS offers a wide array of extra curricular activities (ECAs), ranging from After School Sports and Competitive Sports programs to performing arts and computer clubs. Providing a rich foundation for lifelong learning, these ECAs are open to all students and provide opportunities to join clubs, teams or leadership groups. A well-developed, optional after-school Enrichment Program is also available, offering students the opportunity to discover new interests and hone new skills. These programs are well-supported by OFS' beautiful modern campus sporting purpose-built facilities including well-equipped computer laboratories, a Black Box theatre, music and dance studios and a world-class, competition-ready all-weather 50-metre Olympic-sized swimming pool. OFS' culture of inclusiveness permeates all its programs, from academics to sports. The sports programs cater to both elite athletes and recreational players alike, with many opportunities to compete at intra-school and inter-school levels. With countless opportunities for academic, extracurricular and personal growth, every OFS student is empowered to discover their passions and realise their potential.