Sponsor Insight
Burrell College of Osteopathic Medicine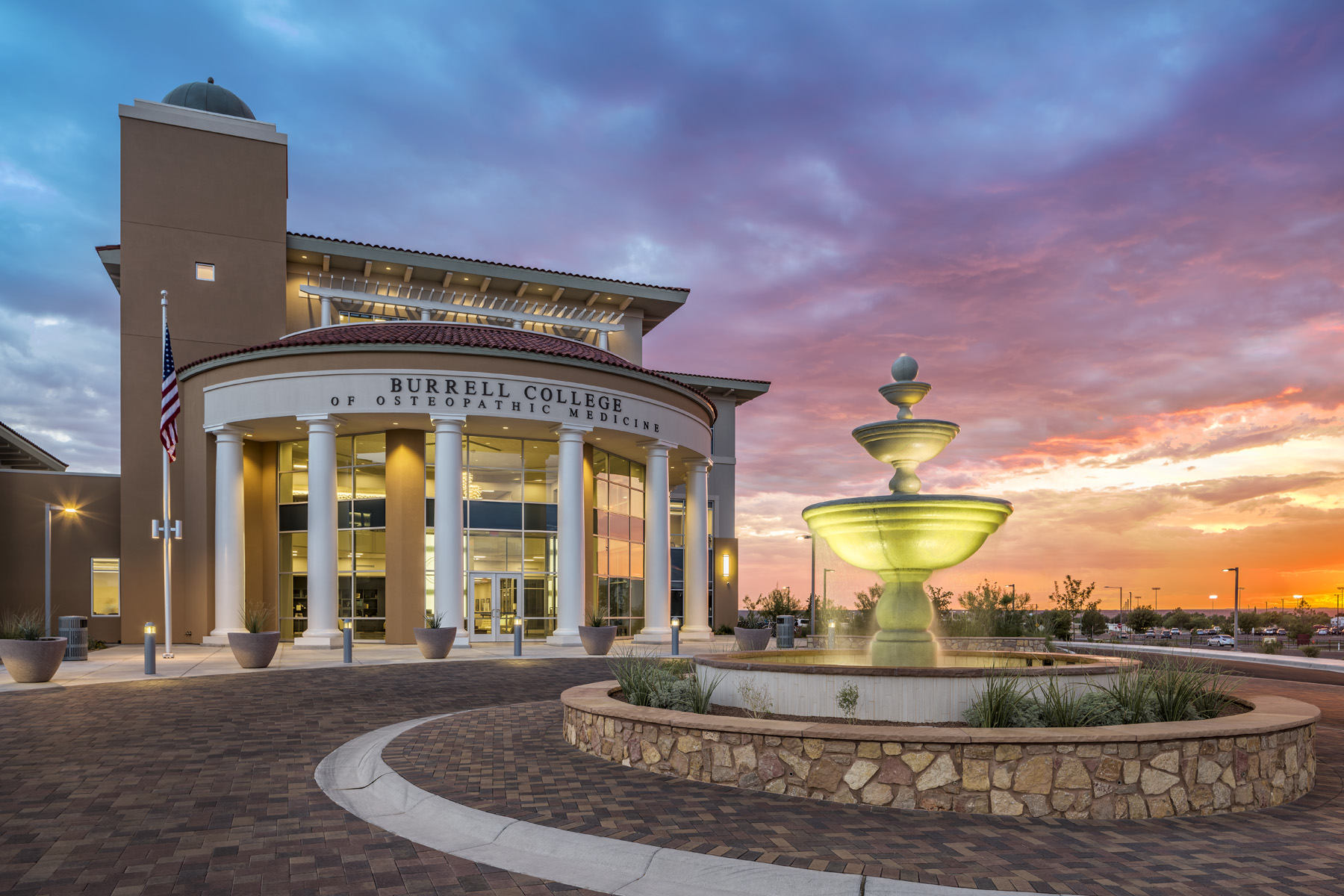 The Burrell College of Osteopathic Medicine is located in the heart of the Southwest region of the United States. Nestled in the Mesilla Valley beneath the majestic Organ Mountains, the Las Cruces community is a culturally and socially diverse population with a unique set of healthcare needs.
Since opening our doors in 2016, our campus has been committed to improving healthcare for the people and the future of New Mexico, Southern Arizona, West Texas, and Northern Mexico through culturally respectful undergraduate, graduate, and continuing osteopathic medical education, research, and support of clinical service to the community.
At Burrell College, we have a vision to significantly impact the physician workforce needs in one of the most medically underserved areas in the country. We are dedicated to providing access for all to quality medical services and increasing diversity in the physician workforce, particularly among Hispanic and Native American populations.
Hundreds of students have already joined our program, which fosters a practice of life-long learning, compassion, respect, and excellence. Since graduating our first class in 2020, we have placed over 278 doctors across the nation, 86 of those staying to train in the Southwest. As the COVID-19 pandemic spread throughout the country, our students sprang into action, volunteering over 400 hours toward COVID-19 testing and vaccination efforts.
Our evidence-based osteopathic medical education program enables students to demonstrate the knowledge and competencies required to enter graduate medical education and the practice of osteopathic medicine. Our medical students train in over 300 hours of Osteopathic Manipulative Medicine, in addition to standard medical training, to produce physicians as equally versed in preventative care as they are in treatment.
Our students have expressed a desire and dedication to serving the underserved, and they have embraced the Burrell College pledge to foster inclusiveness and cultural awareness among all learners and educators. These future physicians will enter the workforce prepared to effectively address the health needs of the diverse populations living in the southwest border region.
The city of Las Cruces is home to over 100,000 residents, with another 840,000 just down the road in El Paso County. This unique area is a hub for the industries of aerospace, agriculture, defense, education, filmmaking, manufacturing, and commerce. Sunland Park and Las Cruces are two of the fastest growing cities in New Mexico and, as our homeland continues to grow, Burrell College will continue to grow and evolve to meet the needs for competent, well-trained health care professionals.
Burrell College is building cooperative bonds all over the region, starting with our campus partner New Mexico State University. Our unique partnership with NMSU allows our students to enjoy the student life and campus community benefits that come with a major public university such as athletic events, health resources, intramural sports, recreational facilities, and transportation.
Burrell College also has signed collaborative agreements with over 500 physician preceptors and 80 hospitals and healthcare facilities, allowing our third- and fourth-year students to gain hands-on clinical training in a variety of settings, from the major metropolitan hubs of Albuquerque and Tucson to mid-sized cities like Las Cruces and Santa Fe, to the smaller, rural communities and pueblos that make up the state of New Mexico. Our commitment to graduate medical education and physician retention has also led to the creation of over 140 new residency positions, with many more in the works.
Burrell College supports faculty and students in their efforts to advance knowledge by creating an atmosphere of inquiry and discovery that inspires excellence in scholarship and medical practice. With an emerging research program and technologically advanced teaching tools, our campus is on the cutting-edge of medical and educational discovery. Burrell College is the future of healthcare in the Southwest.