Sponsor Insight
Sam Houston State University – College of Osteopathic Medicine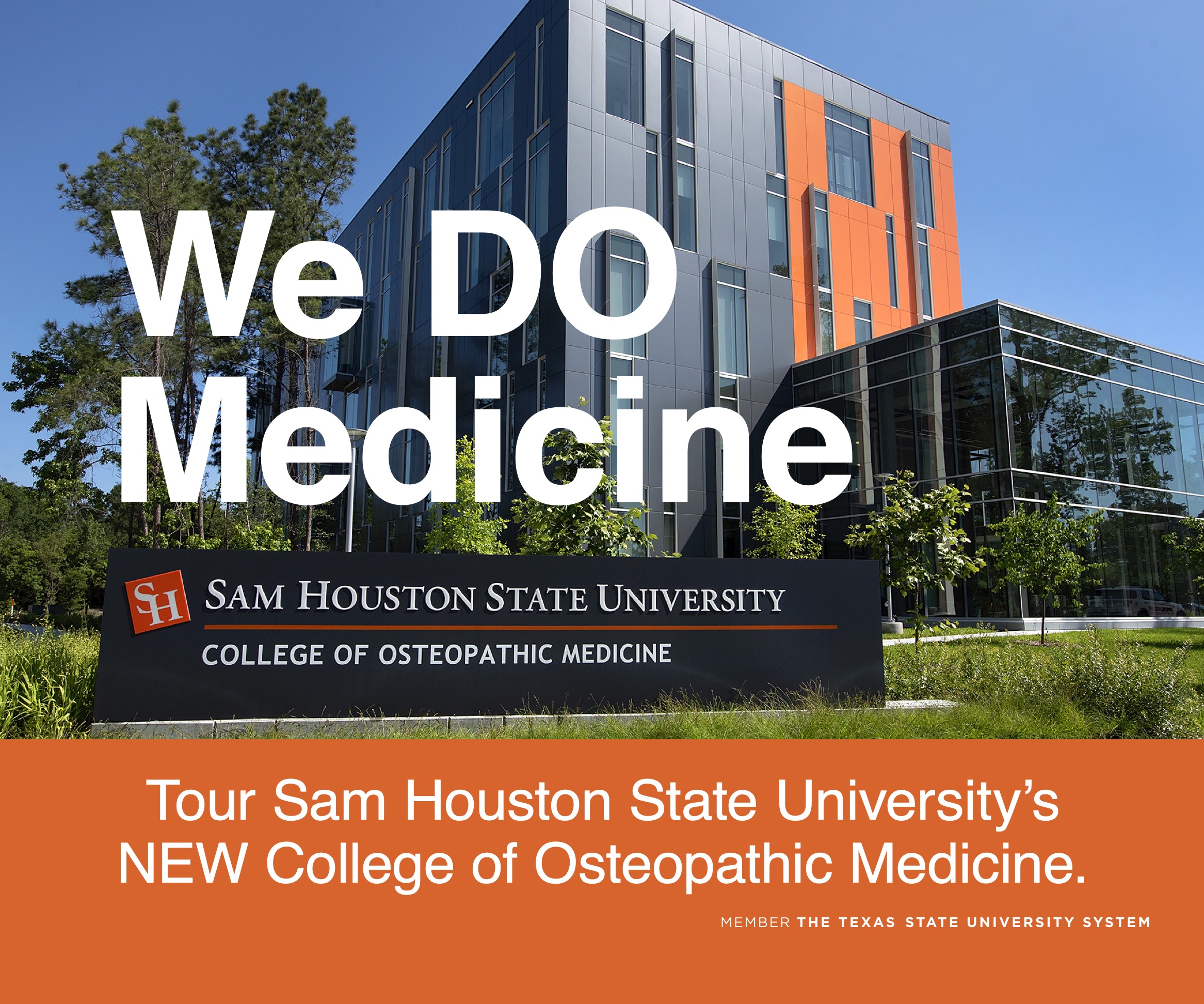 Sam Houston State University, located in Huntsville, Texas, established the College of Osteopathic Medicine (SHSU-COM) in response to a critical physician workforce shortage in Texas. More than 80 percent of the counties in Texas are designated by the federal government as "medically underserved or a health professional shortage area." Data show osteopathic physicians are twice as likely to enter primary care and select rural and urban underserved areas as practice locations. Sam Houston State University is working to fill this crucial void.
Among our student doctors, there is no shortage of fearless leaders, bright minds and inspiring advocates. While most have rural roots, they are a diverse group of left- and right-brain thinkers, differing in age, expertise and ethnicities.
These future physicians have all worked hard for their spots in this highly competitive program and are exceptionally poised to be the driving forces behind innovation and advancement in the region's struggling medical landscape.
They represent individuals, many from small communities, who have chosen to pursue a career in osteopathic medicine after receiving their undergraduate degree from institutions located around the world.
Nestled among the pines, the state-of-the-art teaching facility houses a dynamic academic community and a highly collaborative learning environment. Researchers and practitioners come together to provide the next generation of doctors with a community-based medical experience focusing on promoting wellness for the whole person.
The SHSU-COM, located just a short drive from the Texas Medical Center in Houston, the world's largest medical center, is also at the gateway to a large rural region comprised of mostly medically underserved communities. Here, our third and fourth-year student doctors will serve others and show what it takes to join the ranks of our front-line, healthcare heroes — those who truly make a difference in people's lives.
Although the college just recently opened its doors in 2019, the student doctors at SHSU-COM have already taken to the streets to help area underserved populations in need. Partnering with the county Homeless Coalition and the local Salvation Army, students and faculty provide monthly health screenings and health education to vulnerable members of the local community. This approach helps put what student doctors are learning in the classroom into their hands right away.
"We want to be able to serve all the needs of our community. This is what students go into healthcare for, to be able to help people in need" said Shannon Jimenez, chair of primary care and clinical medicine.
"We helped one person find immediate shelter and healthcare, keeping him out of the emergency room. Others signed up for community assistance, including Medicare and Medicaid, and we referred several to local community health centers for chronic disease management."
Sam Houston State University's history of contributing to the well-being of the state started more than 140 years ago when the university was established to respond to the need for trained teachers. Today, the university continues to respond to another critical workforce demand – shortages in primary care physicians – and Sam Houston's osteopathic medical education will be key to elevating the quality of life for millions of Texans in rural and underserved areas.
Enrollment by the Numbers
Student-Doctors
187
Women
56%
Men
44%
Average Age
23
First Generation
26%
Asian
40%
White/Caucasian
35%
Hispanic
18%
African American
4%
Multiple
2%