Sponsor Insight
Adelphi University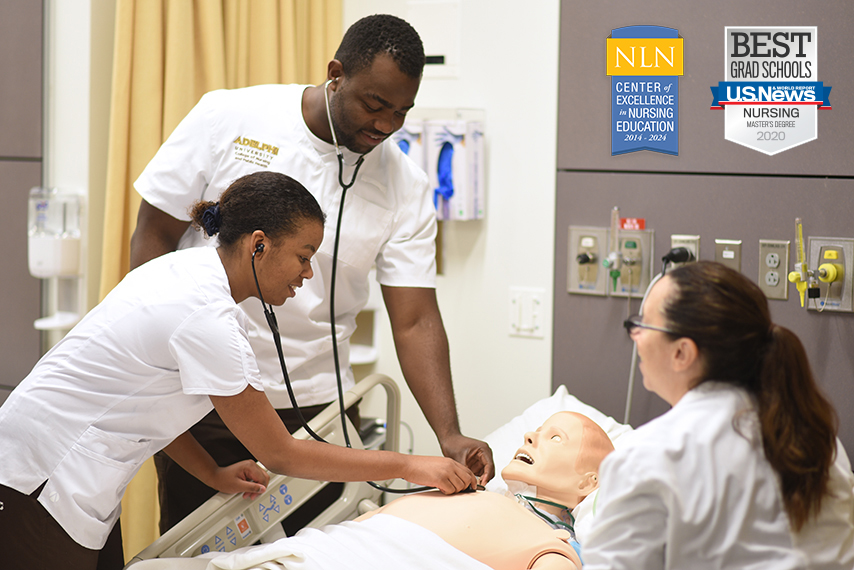 Adelphi University's College of Nursing and Public Health
Recognized as a Center of Excellence in Nursing Education by the National League of Nursing and a Best Nursing School for master's degrees by U.S. News & World Report, Adelphi's College of Nursing and Public Health provides students with a top-rated, comprehensive education grounded in practice, theory and innovation.
With our world-class faculty, state-of-the-art simulation lab and clinical partnerships with top hospitals in the New York area, the College gives undergraduates the skills, knowledge and specialized training needed to launch a successful nursing career.
Additionally, the College's master's degree and doctoral programs prepare registered nurses for leadership positions in the healthcare industry and academia.
Founded in 1942 as the first nursing program on Long Island, the College of Nursing and Public Health currently has 1,658 undergraduates and 375 graduate students. Our home is the Nexus Building on our Garden City, New York, campus. Opened in the fall of 2015, the building houses the Clinical Education and Simulation Lab (CESiL), a 22-bed facility with seven clinical exam rooms, and a fully functioning community health room. Students gain highly realistic experience working with high-fidelity manikins—including a birthing manikin—as well as adult, pediatric, newborn and child manikins.
Our graduate programs are designed to accommodate the busy schedules of working professionals. Graduate courses meet in the evenings and on weekends, and we offer a number of blended programs combining online and on-site classes. Doctoral programs are provided in a Friday executive format.
Our wide range of graduate programs includes:
MS in Nursing Administration
MS in Nursing Education
MS in Adult Gerontology Primary Care Nurse Practitioner
MS in Psychiatric-Mental Health Nurse Practitioner
Post-Master's Nursing Certificates
PhD in Nursing
Doctorate in Nursing Practice (DNP)
A degree from our College of Nursing and Public Health opens career paths. Ninety-four percent of our 2018 baccalaureate graduates were working or continuing their education within six months of graduation. The same was true for 99 percent of our 2018 graduates with advanced degrees.
About Adelphi: A modern metropolitan university with a personalized approach to higher learning
Adelphi University, New York, is a highly awarded, nationally ranked, powerfully connected doctoral research university dedicated to transforming students' lives through small classes with world-class faculty, hands-on learning and innovative ways to support academic and career success. Adelphi offers exceptional liberal arts and sciences programs and professional training, with particular strength in our Core Four—Arts and Humanities, STEM and Social Sciences, the Business and Education Professions, and Health and Wellness.
Recognized as a Best College by U.S. News & World Report, Adelphi is Long Island's oldest private coeducational university. It serves nearly 8,000 students at its beautiful main campus in Garden City, New York—just 23 miles from New York City's cultural and internship opportunities—and at dynamic learning hubs in Manhattan, the Hudson Valley and Suffolk County, as well as online.
More than 116,000 Adelphi graduates have gained the skills to thrive professionally as active, engaged citizens, making their mark on the University, their communities and the world.