Sponsor Insight
Salus University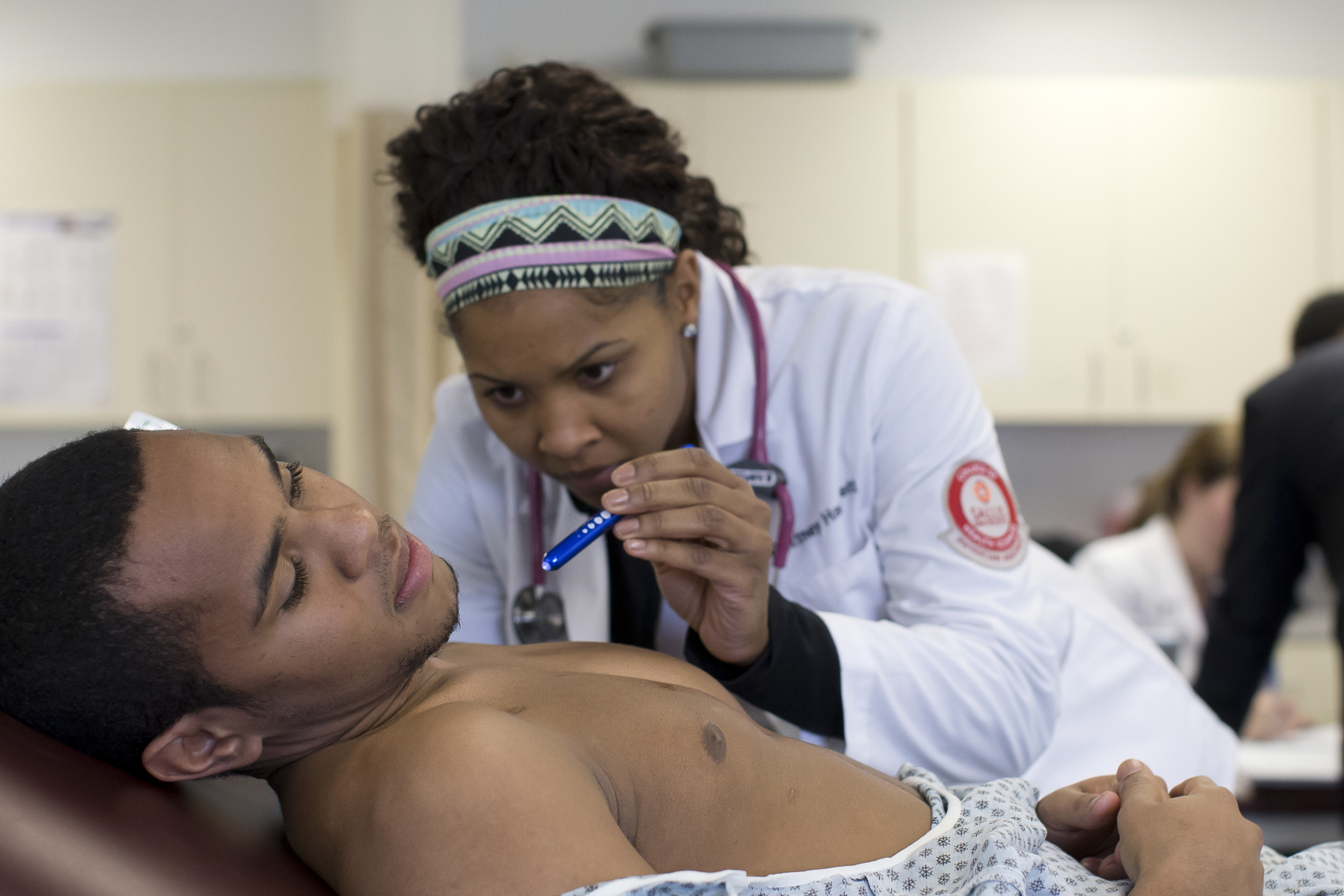 Housed in the College of Health Sciences, Education and Rehabilitation (CHER), the Physician Assistant (PA) Studies program at Salus University mirrors the school's mission to provide students with excellent clinical training, focused on evidence-based medicine theory and holistic patient care. Upon successful completion of the competitive, 25-month full-time program, students receive a Master of Medical Science degree (MMS).
According to the U.S. Bureau of Labor Statistics, the PA profession ranks as one of the top 10 growing professions through 2030. Designed as a draw for prospective students seeking in-demand jobs such as the PA profession, the University recently unveiled a new 2,200-square-foot standardized patient simulation lab. The state-of-the-art facility includes high-tech collaborative learning tools, a mock hospital room and model patient examination rooms where students learn in a real healthcare setting. In addition, the new lab includes a conference room for post-simulation student debriefing, a simulated patient lounge and a video control room. Simulation lab training at Salus allows students to participate in both instruction and practice to improve clinical competence and ultimately patient care.
Salus PA students receive a best in class training experience from our expert PA faculty through the use of models, computerized patient scenarios and standardized patient encounters, sharpening their ability to interview and examine live patients as well as master their procedural skills. Our PA students are known among healthcare providers as highly skilled graduates with an in-depth knowledge of not only how to care for the patients clinically, but also how to treat patients as individuals.
The first year as a PA student at Salus incorporates extensive didactic training along with foundational knowledge through small group and problem-based learning experiences. Students are provided with early pre-clinical experiences to reinforce their classroom instruction. The second year is devoted to clinical rotations in emergency medicine, general surgery, internal medicine, prenatal/women's health, pediatrics, behavioral/mental health and family medicine/primary care. Students also have the ability to deepen their specialty knowledge through two elective clinical rotations.
Our vibrant, 11.5-acre campus is located in Elkins Park—just outside of Philadelphia, home to leading hospitals, academic medical centers and professional private practice sites. Known for its leadership in health disciplines, the Philadelphia area has been at the forefront of medical innovation since colonial times. In fact, Salus University, which was established as the Pennsylvania College of Optometry (PCO) in 1919, was featured in a unique publication, Philadelphia Medica, "Being a Guide to the City's Historical Places of Health Interest." The book was created by SmithKline Corporation in 1976 to commemorate the United States Bicentennial and the 200th anniversary of the adoption of the Declaration of Independence.
Putting virtual plans into action almost immediately at the onset of the COVID-19 pandemic, planning and anticipation helped the University, as well as its clinical facilities, pivot to online learning in just two days. In addition to the safety of the Salus family, an immediate concern was how would the University keep educating its students during the pandemic? Quite effectively. The University resumed student clinical experiences safely and effectively at the start of the following fall semester.
Named for a Latin word meaning health and well-being, Salus continuously strives to bring together a group of students, faculty and staff who reflect the diversity of the Philly community as well as the country. Our Salus community is united in their commitment to improve the welfare of the public­—worldwide. And, we believe we can make healthcare equitable and improve healthcare outcomes for everyone. That's what makes us Salus Strong.
Take a virtual tour of our campus and facilities at salus.edu.