Sponsor Insight
Cotter Schools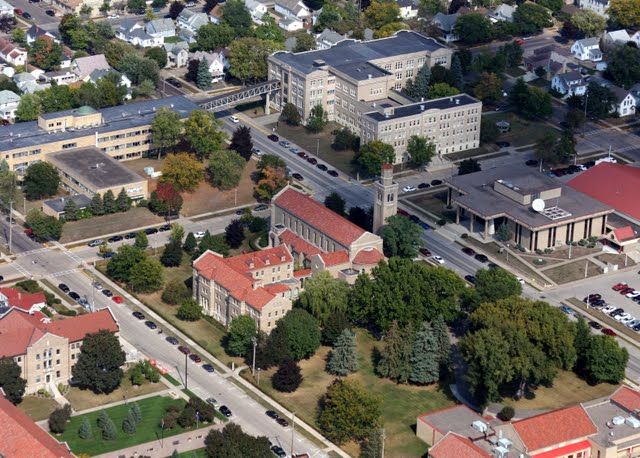 At Cotter Schools, students discover that standards and values matter. Cotter Schools is private, independent, international learning community situated on the shores of the Mississippi River in southeastern Minnesota. Located in the scenic town of Winona, Minnesota, a community of 27,000 residents, Cotter Schools offers local and residential students a unique learning experience in a safe and nurturing environment. Cotter Schools is a learning community that has been guided by Catholic beliefs and values since 1911, and is a school where character, personal development, and academic achievement inspire a world of possibilities for its graduates.
Cotter Junior High and Cotter High School serve motivated and engaged students in grades 7 through 12. Over 365 students from Winona, surrounding towns in the tri-state area, and twelve countries from around the world, engage in rigorous academic study, faith-centered experiences, and enriching athletic and arts activities - all with one goal in mind: that each student discover and develop their fullest potential!
Academic life is the center of Cotter Schools, with core programs in Math, English, Social Studies, and Science, as well as 15 AP courses, and modern languages, art, music, and band classes. In Reading and Science tests, the percentage of students scoring at or above the grade level mean is approximately 70%. In Math, the percentage above the grade level mean is approximately 82.5%. Cotter students rank in the top 25% nationally on both the SAT and ACT.
Extracurricular Activities are abundant at Cotter Schools with 22 sports teams, a variety of clubs, Speech Team, Math Team, Marching Band, National Honor Society, Student Council, and drama and musical productions.
Cotter Residential Program provides a unique and enriching element to the learning community. With over 20 years experience of international and domestic boarders, Cotter Schools provides approximately 80 students from numerous countries, such as China, Korea, Japan, Taiwan, Vietnam, Moldova, and Mexico, with the opportunity to live in a nurturing environment while studying with a local high school students. International students living in the residence center are aided in their preparation for the TOEFL exam and can take the exam at the school.
Accolades
Cotter graduates attend prestigious and excellent colleges and universities, such as Oxford, Georgetown, University of Chicago, University of California-Berkeley, and Northeastern.
Cotter Schools is ranked in the top 1% in the state of Minnesota for college-readiness.
For the past twenty years, 98% of graduating students attend college.
Cotter Band, Choir, Music Ensembles, and Honor Bands consistently rank "Best in Class."
Unique Benefits to attending and graduating from Cotter Schools are several. First, Cotter Schools offers a unique educational experience with its international learning community. Our students literally have friends across the globe. In addition, each graduating senior who attends an American University is offered a renewable four-year scholarship. Monetary awards are based on SAT/ACT scores, class rank, and school involvement. Since 1992, nearly $10 million has been awarded. The average amount given to a student is approximately $1,500/year/four years.
We are Cotter! For members of the Cotter community, this treasured expression means - we are one - we believe in each other - we are family! Cotter Schools – where standards, values, and YOU matter.