Sponsor Insight
University of Central Florida - School of Public Administration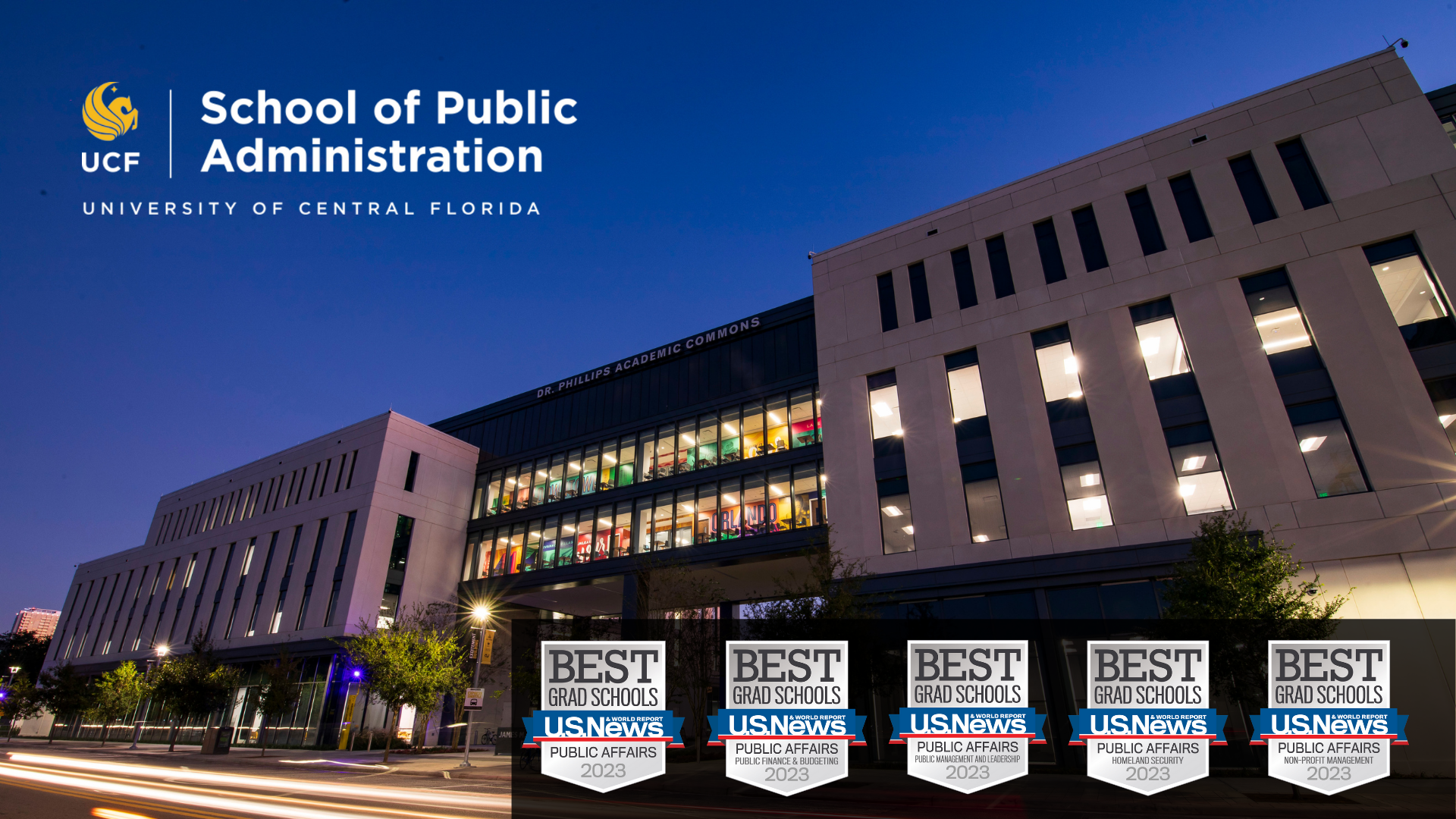 Set amid one of the nation's fastest growing regions, world renowned amusement parks, and a growing space industry, the University of Central Florida's School of Public Administration is a premier urban educational destination for current and future public servants, providing innovative coursework, community-driven research, and unparalleled experiential learning opportunities to students at all degree levels across seven high-demand fields:
PUBLIC ADMINISTRATION – Students seeking a career in the public sector need look no farther than UCF's public administration programs, offering innovative coursework and internship integrations designed to develop real-world experience students can utilize in their careers at all levels of government. Graduate students can take advantage of UCF's NASPAA-accredited Master of Public Administration (MPA) program – the highest-ranked MPA in Florida which offers no-GRE admissions and flexible online coursework options for working professionals. Options for dual degrees with Nonprofit Management and Criminal Justice are also available.
NONPROFIT MANAGEMENT – Meeting the needs of those most in need is the charge of today's nonprofit professionals, and students can learn from local leaders and subject matter experts through UCF's nonprofit management degree programs. Undergraduate students have the opportunity to pursue a unique international dual-bachelor's program in nonprofit administration and public administration at UCF, in partnership with Kaunas University of Technology in Lithuania. Graduate students have access to UCF's Master of Nonprofit Management (MNM) program, ranked #13 in the nation by U.S. News and World Report for 2023.
EMERGENCY MANAGEMENT – Students looking to become professionals in the rapidly growing field of emergency and crisis management can take advantage of UCF's new emergency management bachelor's programs, offering unmatched internship opportunities with the nation's premier emergency management agencies across the public and private sectors. UCF's Master of Emergency and Crisis Management (MECM) Program, developed as a first-of-its-kind, practitioner-driven graduate degree, stands as UCF's highest-ranked graduate program for 2023 – ranked #3 in the nation by U.S. News and World Report.
PUBLIC POLICY – Professionals seeking to deepen their understanding of the interdependence of public administration and policy research can pursue a variety of graduate programs at UCF, including the Master of Public Policy (MPP) degree or graduate certificates in public policy analysis, public budgeting and finance, and social justice in public service. The MPP program and graduate certificates enable students to apply evidence-based policy formulation, implementation and evaluation frameworks in an area that fits your research interests in environmental, education, immigration, homeland security, criminal justice, social policy, health policy and more.
RESEARCH ADMINISTRATION – UCF's Master of Research Administration (MRA) program, developed through a landmark partnership with UCF Online, gives research professionals across all fields a unique opportunity to broaden their skillsets and expand their understanding of the research field in a way that propels advancement of research studies as well as graduates' career tracks.
URBAN AND REGIONAL PLANNING – Students in any UCF undergraduate program can set themselves up for success in an urban and regional planning career through the urban and regional planning degree minor, and planning professionals can pursue the Master of Science in Urban and Regional Planning (MSURP) degree – accredited by the Planning Accreditation Board and lauded by organizational partners across the nation.
PUBLIC AFFAIRS Ph.D. – Established in 1998, UCF's doctoral program in Public Affairs allows students to specialize in one of nine high-impact fields: public policy analysis, public budgeting & finance, public management, urban policy, emergency management, nonprofit management, collaborative governance, comparative public administration, or global & community health services research. Students will learn from world-class faculty across a variety of disciplines to gain a comprehensive and highly effective mastery of the public affairs discipline for both academic and professional endeavors.
As part of UCF's College of Community Innovation and Education, the School of Public Administration strives to provide students with knowledge and skills they need to drive impactful change in communities across the world. First and foremost, SPA is an institution built for service; from award-winning and world-renowned professors, to a focus on experiential learning opportunities, to community driven research and leading partnerships with professional leaders across program disciplines, every aspect of the School of Public Administration is focused on producing the most professional, ethical, and innovative public service professionals in the nation.