Sponsor Insight
Texas A&M University, Bush School of Government and Public Service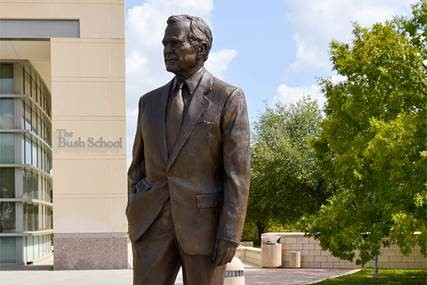 The Bush School of Government and Public Service at Texas A&M University is a presidential school with a clear vision: to prepare principled leaders for service in their community, their nation, and their world, and to do it affordably.
Our dedication to serve others, which reflects the life of our namesake, George H.W. Bush, is a guiding force in our instruction. We offer a high-quality, professional education that prepares students for careers in the public or nonprofit sectors or in the government-focused private sector.
The Bush School is home to four masters' programs: the two-year Master of Public Service and Administration (MPSA); the two-year Master of International Affairs (MIA); the one-year Master of International Policy (MIP), and an online Executive Master of Public Service and Administration (EMPSA).
Key Features of the Bush School:
Community and Collaboration
With an incoming class of about 90 students per department, you will become part of a family—learning from your colleagues, developing life-long friendships, and building strong professional networks. Students share a passion for public service and create an invigorating environment to do more for others. For our students, public service is a noble calling.
Acclaimed and Personable Faculty
The Bush School faculty includes both nationally recognized scholars from a wide range of disciplines and public service practitioners with deep professional expertise. The latter include federal, state, and local administrators; former diplomats and agents; and nonprofit managers. You will have meaningful interactions with our faculty because they are available and dedicated to furthering the lives of our students.
Tailored and Extensive Curriculum
Take advantage of the Bush School's small-school environment set inside a large, tier-one, research university. You can personalize your curriculum to pursue the policy areas or specific concentrations that appeal to you. This includes choosing from over a dozen degree options, tailoring your education to gain the skills needed to be successful in your career field. And if you desire more enriching classes in certain areas, you can check out courses on the Texas A&M campus in urban planning; business; public health; nuclear engineering; agrilife; and much, much more.
Scholarship and Costs
You want your education to be rigorous but affordable, and we give you that option. The Bush School MPSA and MIA programs offer merit scholarships and support to all their students and qualify our non-residents for Texas rates. That results in a yearly tuition/fee cost under $13,000 before scholarship support. You can graduate without crushing debt so you can pursue the jobs that matter to you.
Career Support
Career services works with you every step of the way at the Bush School. You meet one-on-one with our staff to help build your career skills. This includes managing your online presence, tailoring your resume, networking with professionals, and finding meaningful internships and employment. As a result, within six months of graduation, our students find employment in a relevant field at an average rate of 94% in the MPSA and 86% in the MIA each year. You will interact with our dedicated staff and faculty to find the connections and support that get you to that next step in a long and productive career, and we do it for a lifetime.
Online Certificates
The Bush School offers four online graduate certificates in Nonprofit Management (CNPM), Public Management (PBMG), Advanced International Affairs (CAIA), and Homeland Security (CHLS). Individuals can advance their understanding from anywhere and without a full-time commitment.
Leadership Development and Student Enrichment

Leadership education is an integral part of student development at the Bush School. Through courses and workshops, capstone projects, speaker interactions, and self-study, you become actively engaged inside and outside the classroom. You can take part in study abroad opportunities and can join organizations that promote future careers, government oversight, diversity and inclusion, foreign languages, athletics, and social events, and you can serve the local community and Texas A&M University in numerous volunteer capacities.