Sponsor Insight
New York Medical College School of Health Sciences and Practice and Institute of Public Health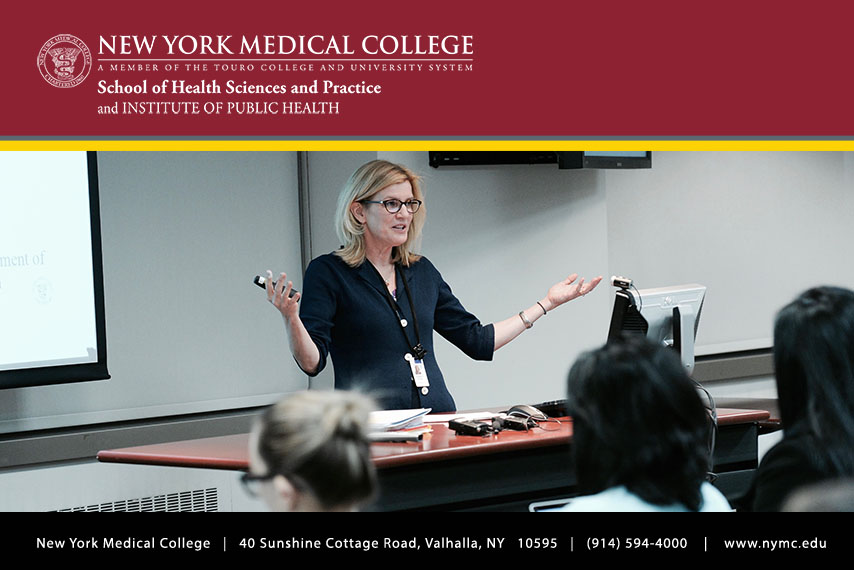 New York Medical College's (NYMC) School of Health Sciences and Practice (SHSP) brings health care to life, offering hands-on experiential training that complements its exceptional clinical and educational programs—turning students into health care professionals with the experience and confidence to hit the ground running.
Offering degrees in public health, physical therapy, speech-language pathology, biostatistics and epidemiology, as well as advanced certificates in critical public health areas, our focus is on educating students to change and improve health and health care quality in communities – locally, regionally and globally. "Opportunities abound for experience and collaboration in all of our programs, along with the chance to do important research that can lead to real change," says Robert W. Amler, M.D., M.B.A., dean of SHSP and vice president for government affairs, NYMC.

Master's and Doctoral Programs in Public Health
The Master of Public Health (M.P.H.) programs in environmental health science, epidemiology, health policy and management, and behavioral sciences and health promotion, provide opportunities for students to engage in public health challenges through practicum and capstone projects.
The Doctor of Public Health (Dr.P.H.) Program uses the extraordinary complexity of the New York metropolitan area to examine the socioeconomic determinants of health and the relationships between policies, regulations, market forces and ethics of health care delivery. Our Dr.P.H. graduates have the skills to oversee the financing and organization of resources; manage and improve delivery and access to health care services; conduct research to examine health care delivery; identify data required to support change; and develop and execute policy to improve health care outcomes.
With one of the first online M.P.H. programs, NYMC is a leader in online health science education. Supported by an innovative e-learning team, SHSP's online M.P.H. students access the same courses taught by the same faculty as the on-campus program. It's all the same benefits of the traditional program with the convenience of online learning.
Located on a beautiful suburban 54-acre campus in Westchester County, NYMC is convenient to New York City and the Hudson Valley, offering prime access to clinical sites and health care organizations. Sharing the NYMC campus with the School of Medicine, the Graduate School of Basic Medical Sciences and the Touro College of Dental Medicine, our students enjoy state-of-the-art facilities and equipment, an extensive health sciences library and a lively health sciences community with vast extracurricular offerings.