Sponsor Insight
Syracuse University Falk College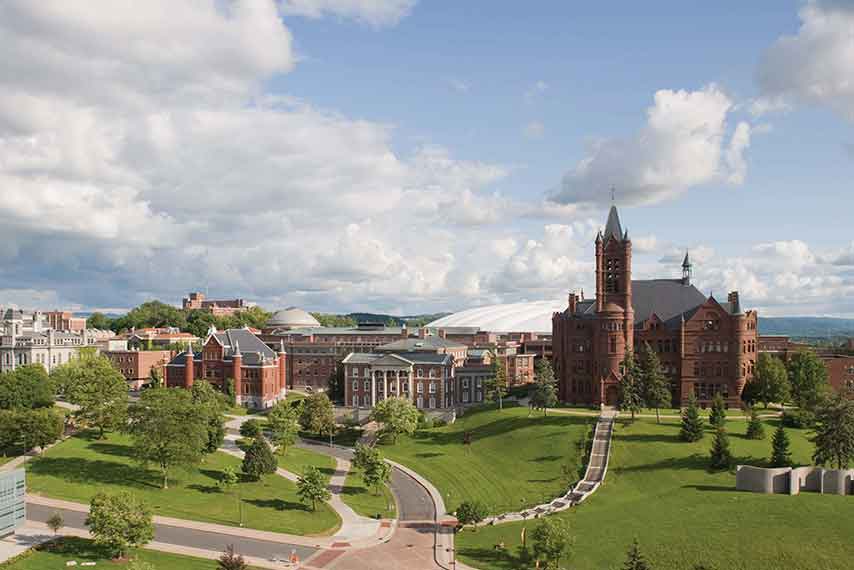 Syracuse University's undergraduate and graduate programs in public health purposefully integrate classroom instruction with hands-on opportunities that customize student learning experiences to prepare future professionals who are ready to address society's most pressing public health needs.
For students who are passionate about having a global impact by reducing health disparities produced by economic, social, and environmental inequalities, Syracuse University offers a Master of Public Health (MPH) degree.
The globally focused MPH incorporates the study of cultural health norms and practices and integrates the study of historical experiences of ethnic groups and their culturally determined patterns of dealing with issues of health and illness. Syracuse University's program introduces students to methods and statistics in public health and, through the program's global health concentration, focuses on applications in the global community, culminating in a 6 to 8-week international placement to provide a real-world application of principles and skills learned in the classroom.
Students can immerse themselves in practice and research projects working with faculty and community partners. Collaborative research projects funded by the National Institute on Disability, Independent Living, and Rehabilitation Research, part of the U.S. Department of Health and Human Services, include ADA-PARC and the Community 4All Project. Faculty and students adopt an interdisciplinary collaborative research approach that frequently bridges multiple laboratories, centers, and institutions. This work has resulted in numerous conference presentations and publications with students as authors and co-authors.
A variety of career paths exist in the field of public health, from opportunities in health promotion and disease prevention in developing countries to health consequences of trauma, violence, war, and displacement. MPH graduates are involved in implementing, managing and monitoring development activities working at national and international development agencies, as well as private companies, consultancies and industries dealing with health such as pharmaceutical and medical companies, the food industry, patent organizations and private consultancy firms. Others are involved in policy-related activities with government bodies and public authorities, or work in research at Universities and research institutions.
Syracuse University also offers a Bachelor of Science degree in Public Health (BSPH), accredited by The Council of Education for Public Health (CEPH), that emphasizes health promotion and illness/disease prevention in individuals, families and communities. Core coursework provides foundational public health knowledge and skills important for entry-level public health practice or post-graduate study, while a concentration in Addiction Prevention, Community Health Education, Health & Society, or Healthcare Management provides tailored career-related training. Our accelerated programs include a BSPH/MPH advanced public health practice program which may be earned in five years.
Experiential, community-based learning requirements are included across the four years of undergraduate study. Beginning freshman year and extending through the Senior-Year Capstone Internship Experience, students work with community partners to improve health in the Syracuse University and regional community.
Syracuse University Abroad operates eight Study Abroad Centers and 60 World Partner programs for semester-long, short-term and summer study abroad.
Mentored research with public health faculty helps students examine public health problems including environmental toxicants, infectious disease, addictions, community level violence, health disparities, and trauma and stress. This work has resulted in numerous conference presentations and publications with students as authors and co-authors.
The program prepares students to pursue careers in health advocacy, community health promotion, employee and college health, public health research, health marketing and communication. Syracuse University's public health major also provides a pathway to advanced studies in public health, healthcare administration, medicine, dentistry, physician assistant, nursing, occupational therapy, physical therapy, or psychology.
Syracuse University has an international reputation for excellence as a private research university and allows you to tailor your studies to align with your specific career interests. Syracuse University is accredited by the Middle States Commission on Higher Education. For more information about the Public Health programs contact Falk@syr.edu, 315-443-5555.