Sponsor Insight
Saginaw Valley State University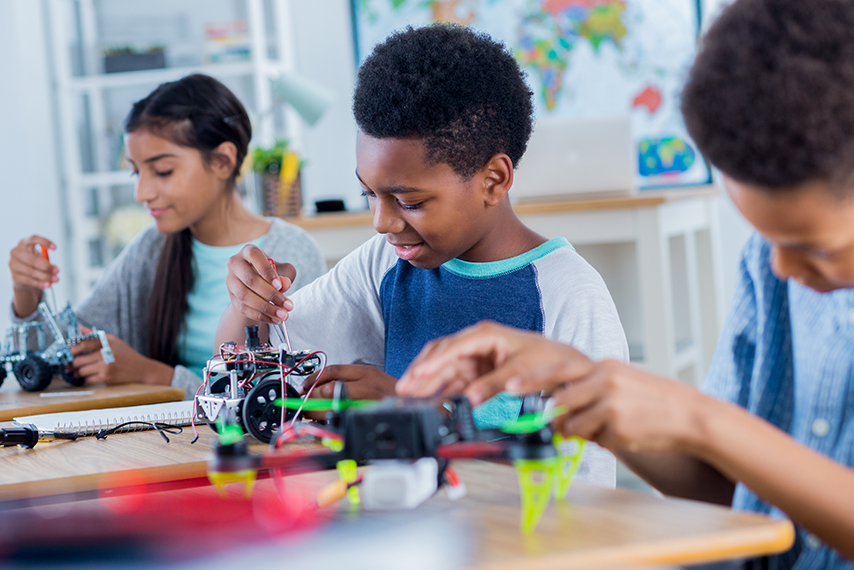 The Fast Track to Your Teaching Career
Do you already have a bachelor's degree in another discipline, but you have always wanted to teach? Saginaw Valley State University (SVSU) offers a unique certification program that allows you to become a teacher in one year. The Accelerated Certification Program with Residency (ACR) was created to prepare and transition college graduates with non-teaching degrees into the field of teaching.
When Lynn Skinner's life changed over the decades, so, too, did her career ambitions. With the help of a unique academic program at SVSU, she was able to earn the certification necessary to become a K-8 teacher within a one-year span.
"I'm living the dream," said Skinner, now teaching seventh graders. "It's the job I should have had 30 years ago. Because of SVSU, I was able to do something I thought about for so long with just one-year of classes."
SVSU's Accelerated Certification Program with Residency helps professionals such as Skinner quickly transition from other industries to teaching. It is a unique program in Michigan, a state in need of more qualified K-12 teachers.
Skinner jumped at the chance to enroll in the program three years ago.
In her 20s, she spent years earning a Ph.D. in immunology and microbiology, then followed that education with a fulfilling first career researching HIV at a university. But, in 1999, she stepped away from that career to care for her young children. Nearly two decades later, the experience of motherhood and providing help at her children's schools inspired a new career ambition within Skinner. She wanted to become a full-time teacher. The problem: The Ph.D. equipped mother was not keen on returning to college to receive teaching credentials that typically take four years to earn.
"With where I was in life, I did not have the energy for four years of college, and I did not want to pay tuition for that amount of time either," she said.
SVSU's efficient and effective one-year Accelerated Certification Program with Residency provided her with the solution.
Alongside peers also transitioning out of earlier careers, Skinner was educated by faculty at SVSU, an institution fully-accredited by the Council for the Accreditation of Educator Preparation.
SVSU's Accelerated Certification Program with Residency includes a residency in a school setting for the entire school year and professional methods courses offered during the summer, fall, and winter semesters in an online and hybrid format that provide teacher candidates with theory and practice in teaching. Throughout the program, candidates are supported by a master mentor teacher, a SVSU supervisor and top-notch professors – all with extensive experience of their own in the field of education.
"The professors – the whole experience in the program – was incredible," Skinner said. "It's exactly what I needed."
To participate in the program, applicants must possess a bachelor's degree or higher from a regionally-accredited institution, have a minimum cumulative grade point average of 3.0 and fulfill all requirements for admission to SVSU and its Accelerated Certification Program with Residency.
To learn more and begin the enrollment process, go to svsu.edu/acr
SVSU is a comprehensive university with more than 90 programs of study for its more than 8,000 students and located on a suburban campus in Michigan's Great Lakes Bay Region. SVSU is a leader in preparing top educators in Michigan. With a placement rate of 98%, join nearly 12,000 teaching graduates who have chosen from our nationally accredited programs. SVSU offers undergraduate teacher certification programs in early childhood education, elementary education, secondary education and special education, and post-baccalaureate teacher certification programs for elementary and secondary education. Leaders in education choose from an endorsement or graduate program in teaching, instruction in technology and e-learning, or an M.Ed. in principalship.