Sponsor Insight
Southeast Missouri State University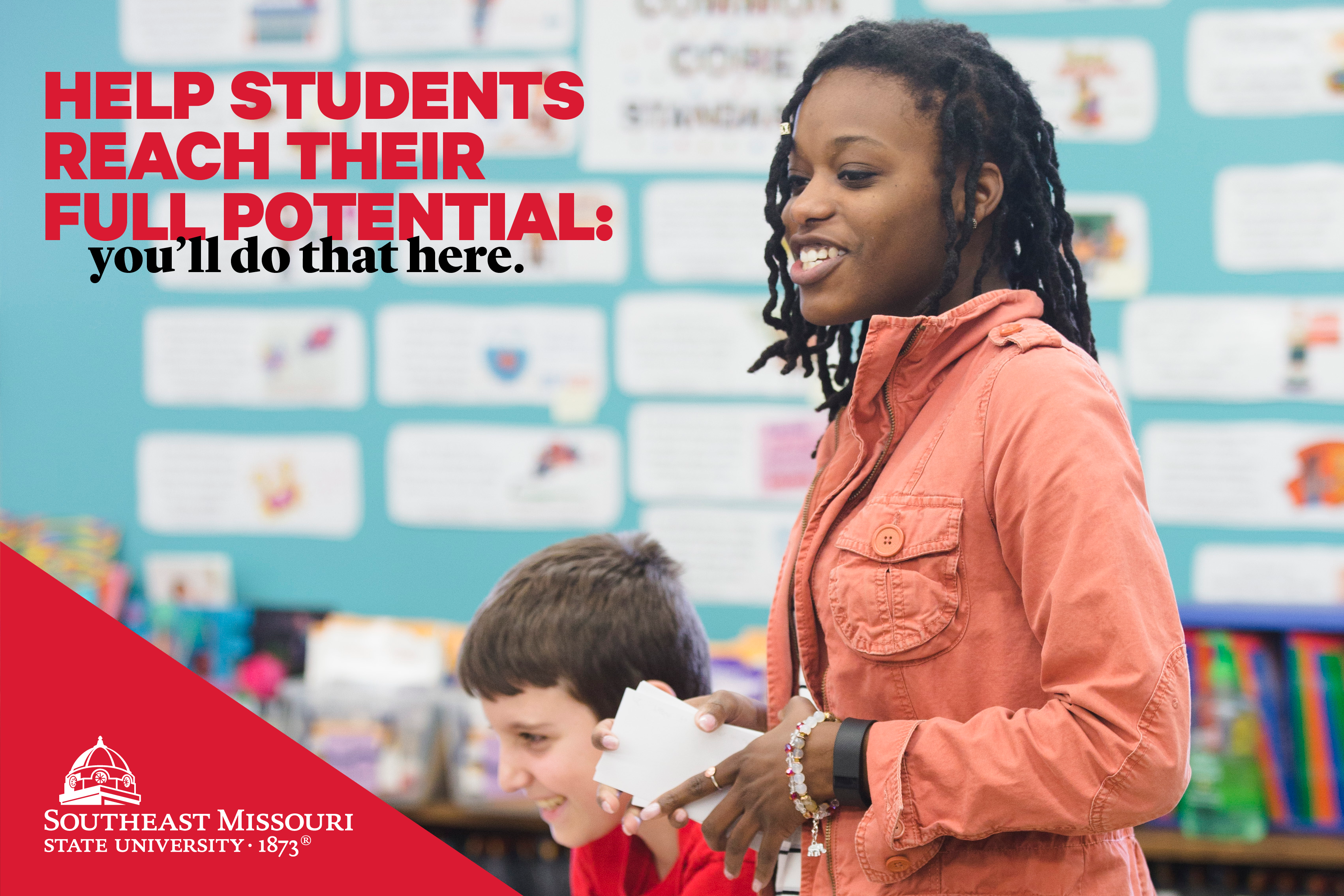 Southeast Missouri State University has been educating teachers since 1873. While much has changed in the field in that time, the quality of our education program just keeps improving.
Help Students Reach Their Full Potential: You'll do that here.
At Southeast, we believe education means more than textbook experience. That's why, here, you'll teach your own class as part of your curriculum and very early in your program. We build our curriculum so when you graduate, you're experienced, well-versed, and confident. The work you'll do is too important for anything less.
This hands-on learning ensures our students are ready to launch extraordinary careers – and 100% of alumni in Elementary, Early and Special Education were employed within six months after graduation. Ninety-nine percent of alumni in all education majors were employed within 12 months after graduation.
Prepare Tomorrow's Classrooms: That's what we do.
Southeast's College of Education, Health and Human Studies is an Apple Distinguished School, recognized as a continuously innovative school for learning, teaching and school environment.
Southeast's EDvolution® initiative develops graduates and future educators who are technologically competent and model 21st century teaching techniques.
The EDvolution® Center is at the heart of Southeast's recognition as an Apple Distinguished School and is the College's premier learning laboratory where emerging technology is practiced firsthand. The Center is a modern, high-tech Apple-based environment that helps Southeast education majors incorporate technology into their educational practices.
We understand technology is imperative in teaching students, so our education program incorporates tech throughout. This means our teaching candidates are ready to launch a career and educate students who are digital natives. Additional technology available in the EDvolution® Center to support this learning includes a podcasting booth, Mediascapes for collaboration, 3D printing, laser-cutting equipment, a large format poster printer, a virtual reality room, a green screen recording room, coding resources, demonstration Classroom, individual study rooms, collaboration spaces, and iMAC and PCs.
Do More than Get a Degree. Find Your Path.
Whatever age of student you want to teach, whatever subject matter you want to share, Southeast's undergraduate programs prepare you with degrees in:
Early Childhood Education (BS)
Elementary Education (BS)
Exceptional Child (BS) with options in Early Childhood Special Education and Mild Moderate Cross Categorical
Middle School Education (BS) with options in Language Arts, Math, Science, and Social Studies
Secondary Education (BS) with options in Agriculture, Biology, Chemistry, English, Math, Physics, and Social Studies
Grades K-12 (BS) with options in Art, Family and Consumer Science, Spanish, Physical Education, Instrumental Music and Vocal Music.
You've earned a bachelor's degree and enjoy teaching students, but now you're interested in taking your career to the next level. Southeast's Educator Preparation programs also prepare you to take the lead in your class, in your school, and for your students.
Southeast's graduate programs include:
M.A. in School Administration
M.A. in School Counseling
M.A. in Elementary Education with options in Reading, Early Childhood, Math/Science, and Math Specialist
M.A. in Exceptional Child Education with options in Mild/Moderate Cross Categorical, Autism, and Early Childhood Special Education
M.A. in Secondary Education with options in Educational Studies and Educational Technology
M.A. Teacher Leadership; Specialist Degree with options in Education Administration, School Counseling, and Teacher Leadership
Doctor of Education, Ed.D. in Educational Leadership
Southeast's Certificates programs include:
Autism Spectrum Disorder
Special Reading K-12 (leads to licensure)
School Psychological Examiner (leads to licensure)
Southeast Missouri State University is a comprehensive, master's degree -level university with numerous national and international specialized accreditations. The University has been regionally accredited by the Higher Learning Commission since 1915, has nearly 10,000 students and is consistently recognized among the best regional universities in the Midwest by U.S. News & World Report, Princeton Review and others.
At Southeast, students receive unparalleled personal support from their first time on campus to the day they receive their diploma.