Sponsor Insight
University of San Diego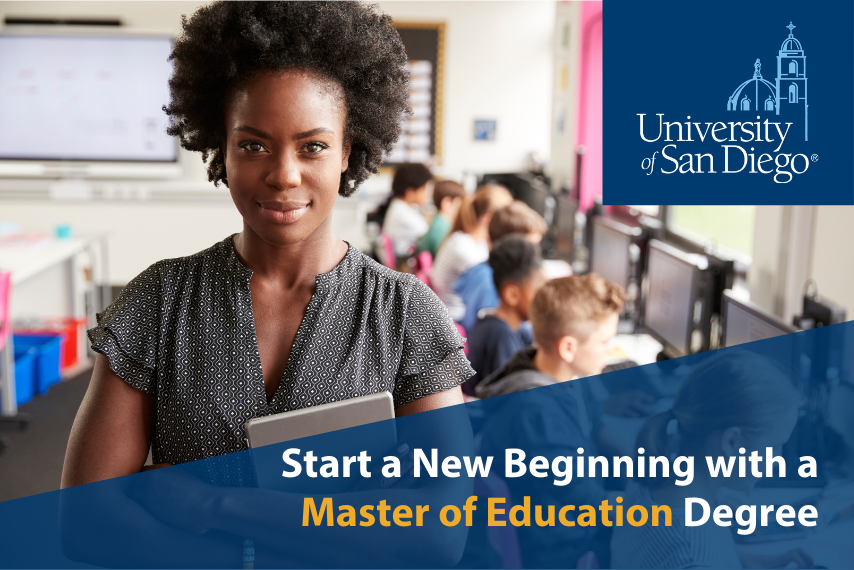 MASTER OF EDUCATION - ONLINE DEGREE PROGRAM
Now is the perfect time to advance your career by earning a Master of Education degree through the University of San Diego's flexible and 100% online program. Specially designed with the busy educator in mind–especially during this unprecedented time of quarantining and social distancing–this authoritative online-only program offers an established route to future success in education.
You'll enrich your education experience as you interact with accomplished researchers and facilitators, gain valuable knowledge and experience from faculty, and engage with other insightful students in a highly interactive and collaborative online environment.
In the University of San Diego's online M.Ed. program, which was established in 2013, you'll take 10 courses to earn 30 units: 5 core courses (15 units) + 5 courses from your chosen specialization (15 units).
The core courses include:
Social Justice and Education Equity
Analysis of the American educational system with a particular focus on issues of diversity, inequity, conflict and social justice within a school context.
Cognition and Learning
Critically discuss research and contemporary debates on cognitive processes, learning, memory, reasoning, problem-solving, developmental mechanism, cognitive styles, motivation, and the socio-cultural foundations of learning.
Educational Research Methodology
Introduction to the major educational research methods and paradigms with an emphasis on reflective, practitioner-directed inquiry.
Qualitative Methods in Education Research
An opportunity to learn and apply a variety of techniques to analyze data and interpret findings.
Capstone Seminar
Candidates have the option of three culminating final projects: studies employing action research, studies employing other methodologies, or the curriculum research project.
Concentrate your studies in one of five distinct education specializations:
Curriculum & Instruction
Improve instructional practice and curriculum design
Literacy and Digital Learning
Strengthen learning with digital tools and critical thinking strategies
School Leadership
Become a leader in the school and the community
STEAM
(Science, Technology, Engineering, Arts and Mathematics)
Utilize STEAM disciplines to develop student understanding
Inclusive Learning: Special Education and Universal Design
Develop classrooms that support equal opportunity learning
With two courses offered asynchronously per semester over five semesters, you'll have maximum flexibility with your current schedule and be able to set your own pace on the way to earning your Master of Education degree in only 20 months!
When it comes to tuition and financial aid, one of our highest priorities is to ensure support is available to all eligible students. In addition, the University of San Diego has a long history of partnering with active duty military, veterans, and their families to provide an outstanding education.
Start a new beginning in your education career and use your University of San Diego Master of Education experience to transform your classroom and make a difference in innovative ways. Applications are accepted on a rolling basis; you can apply and start in any semester (Spring, Summer, or Fall). Visit the University of San Diego's MEd Online website (MedOnline.SanDiego.edu) or contact a personal enrollment advisor today at (888) 832-0239 to request more information.