Sponsor Insight
Discover Tulum With Colibri Boutique Hotels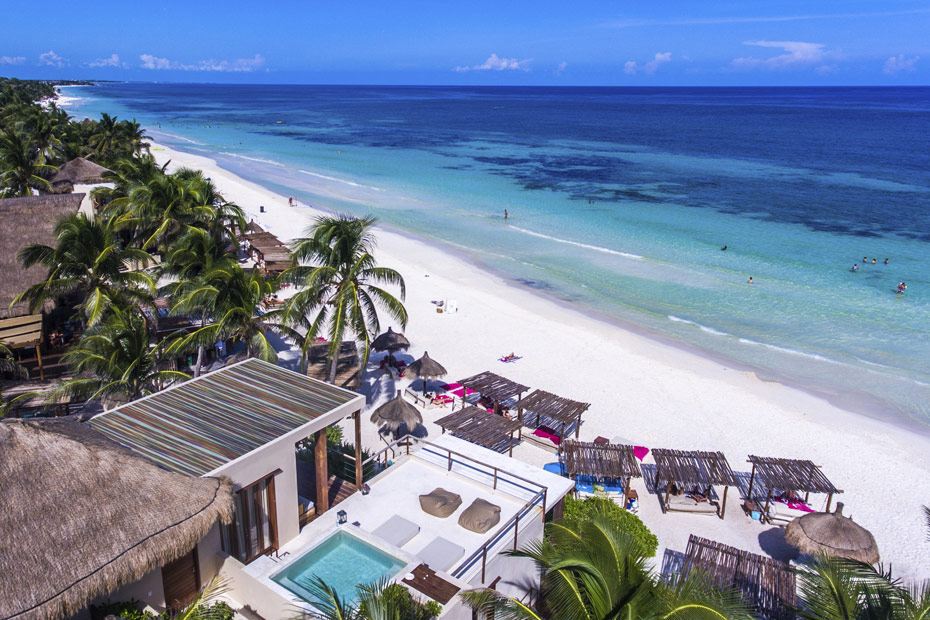 Nested between the jungle and Caribbean Sea, Tulum was relatively undiscovered by tourists until 20 years ago. Today, Tulum is known as a premiere vacation destination that prides itself on maintaining its rich heritage.
Mayan ruins, white sand beaches, pristine cenotes (natural limestone pools), and numerous animal conservancies make Tulum a true natural wonder. It is in this geographic splendor that Colibri Boutique Hotels pioneered a suite of exclusive properties, solidifying Tulum's place as the crown jewel of the Mexican Caribbean coastline.
Named after the hummingbird, which is known for both its traveling and resting prowess, Colibri Boutique Hotels stands out as a group whose properties exemplify the experience of true hospitality. CEO Brendon Leach explains how a sincere connection with the local culture and its landscape has translated into a deeper experience for their guests:
"Connecting with a community and its culture is now more important than ever. I believe everyone is looking for a bit more meaning these days and they'll likely choose their vacation destination with a very different perspective than they did in the past. At Colibri, we are tuned into this and make it a priority to deliver an experience they can trust."
Four properties dotted along Tulum's beaches comprise the Colibri collection of hotels. Each one is distinctly different in feel, yet all offer boutique-quality accommodations, top-notch food and drink, and genuine care for their guests.
Mezzanine is the smallest property of the collection and features nine palm thatched rooms that are perched on cliffs above a stunning stretch of turquoise coastline. It is considered a top destination for its Thai cuisine, refined Margarita menu, and relaxed lounge vibe.
Mi Amor is a modern and stylish property known for the feelings of connection it inspires. Laze in the infinity pool, sip craft cocktails, and engage with the one you adore. Dine daily in its al fresco Mediterranean restaurant. Guests have been known to "come find us" again and again.
El Pez is a favorite among those with an artistic spirit. This 23-room secluded property is nestled in Turtle Cove, a natural turtle habitat. Experience time differently here as you watch the waves from their Seaside Bistro & Bar and let the poetry of the moment unfold.
La Zebra is the most playful property and has a lively atmosphere, where people of all stripes mingle with ease. Tulum's vibrant culture is reflected in its design and the space is punctuated by the Mulberry Project, a pop-up beach bar inspired by its New York City beginnings. Relax in one of their 30 spacious, decked rooms.
Colibri Boutique Hotels is a member of Small Luxury Hotels of the World, a community of just 520 independently spirited hotels in 90 countries around the world. In addition to this honorable inclusion, they have consistently received accolades for their food and hospitality including numerous awards from TripAdvisor, which recently awarded them 2020 Top 1% of Hotels Worldwide for La Zebra and Mi Amor.
These distinctions are an honor in the best of years, but a remarkable feat during a global pandemic. All protocols for tourism reactivation were promptly implemented, a true testament to Colibri Boutique Hotels' dedication to maintaining an uncompromising environment for their guests.
Says Leach, "We realized quickly the advantage in being a group of small boutique hotels—social distancing is baked into our model. All of our communal spaces are open and full of the warm Caribbean breeze with plenty of room for our guests to spread out whilst maintaining the intimate feel and personalized service of a boutique hotel."
According to Leach, these characteristics allow both Mexican and international tourists to have confidence in their safety and to continue to visit during 2021. Since reopening, he said many guests have expressed how safe they feel in the properties.
It is clear, guests are looking for experiences that go beyond the usual in every sense. He says, "For the luxury traveler, just having all the health, safety and hygiene protocols in place is not enough—it must go deeper than that. There needs to be a meaningful connection that we provide for our guests. That's the very essence of our Colibri family."