Sponsor Insight
The Dolphin Company, Where Fun and Conservation Meet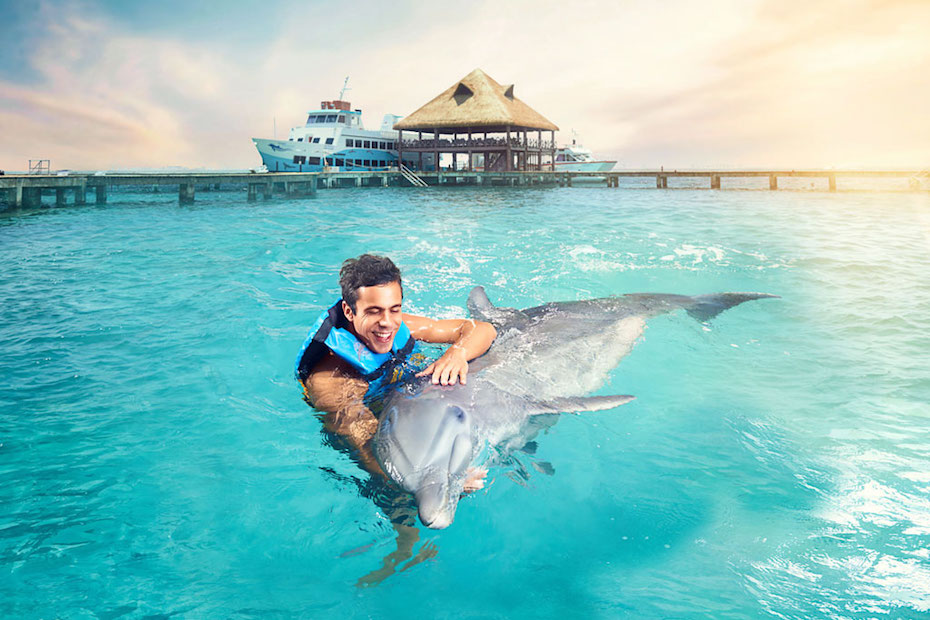 In a region such as the Mexican Caribbean, where vast ecosystems converge, nature is also an endless source of fun. Even though the dreamy beaches and fascinating nightlife are considered some of Mexico's signature draws, fun can also be found beyond these.
Being surrounded by Mother Nature provides us with an opportunity to reconnect with who we are and to be grateful for what we have. That's why nothing compares to a vacation in the Mexican Caribbean; we can have a good time while also learning about local ecosystems and how to preserve them. Additionally, if such plans include hanging out with dolphins, then the experience becomes life-changing.
Since its initial opening in 1994, The Dolphin Company has provided truly unique entertainment and educational experiences to families from all over the world. Through their different facilities—such as dolphin habitats, parks and marinas located in eight countries on two continents—the company promotes activities oriented to the knowledge, care and conservation of marine species and other animals.
"Dolphins, as well as the other species that live under our care, have always been our top priority in all aspects. Dolphins are very close to human beings, and our keepers take care of the species that we have in our parks better than anything in the world," says Eduardo Albor, CEO of The Dolphin Company. He is fully aware of the fact that some attraction parks that offer "swim with dolphins" activities are criticized because of misleading information on how they treat animals, but he is certain about one thing: "No amount of resources, love, or respect is spared in the care of our animals. They are our reason for existing."
In the Mexican Caribbean, specifically, The Dolphin Company has a total of seven dolphin habitats—in Cancun, Isla Mujeres, Playa del Carmen, Puerto Aventuras, Cozumel, Akumal, and Mahahual, where visitors can learn about the marine species by interacting with them directly, hand to fin! These habitats operate under the highest standards of animal well-being and are accredited by international associations such as the Alliance of Marine Mammal Parks & Aquariums (AMMPA), the Association of Zoos & Aquariums (AZA), The American Humane Association (AHA) and the International Marine Animal Trainers' Association (IMATA), which has awarded the company on several occasions for the positive reinforcement techniques it uses to communicate with animals.
"We have also created an association called "AMHMAR," through which, in collaboration with the media, we share information regarding dolphin care and animal rescue; since there are many myths surrounding how animals are handled, we prefer to provide accurate details ourselves," adds Albor.
The coronavirus pandemic has not gone unnoticed by The Dolphin Company. According to its CEO, the company has tried to view this new normal as a process that enabled them to resume activities as soon as possible. "We know that this situation is going to last for a while and that we must adapt to new scenarios and circumstances that will stay with us indefinitely, without changing our very essence. Some of these changes have arrived to stay," said Albor concerning the protocols that the habitats and parks have recently established through a health and safety comprehensive program called Dolphin Cares, thus ensuring the safety of all visitors and staff.
"Tourism and travel have been two of the industries most affected by the pandemic, which is why we have constantly worked on specific reopening protocols for each of our venues. We had better-than-expected attendance in recent months as a result of following all governmental instructions as well as ensuring a great deal of collaboration with all our partners, staff and health institutions."
Its commitment earned The Dolphin Company recognition by the World Travel & Tourism Council (WTTC) for the implementation of standardized health and hygiene protocols. It is also allied with the United Nations Environment Program on a series of strategies implemented to inspire and inform local communities regarding environmental care.
When asked about the future, Albor remains very passionate. "This pandemic has taught us that life can be too short and that time is too valuable. Don't miss out on the incredible opportunity to experience a life-changing encounter with dolphins that you will cherish and remember forever."