Sponsor Insight
Explore Riviera Maya With Andaz Mayakoba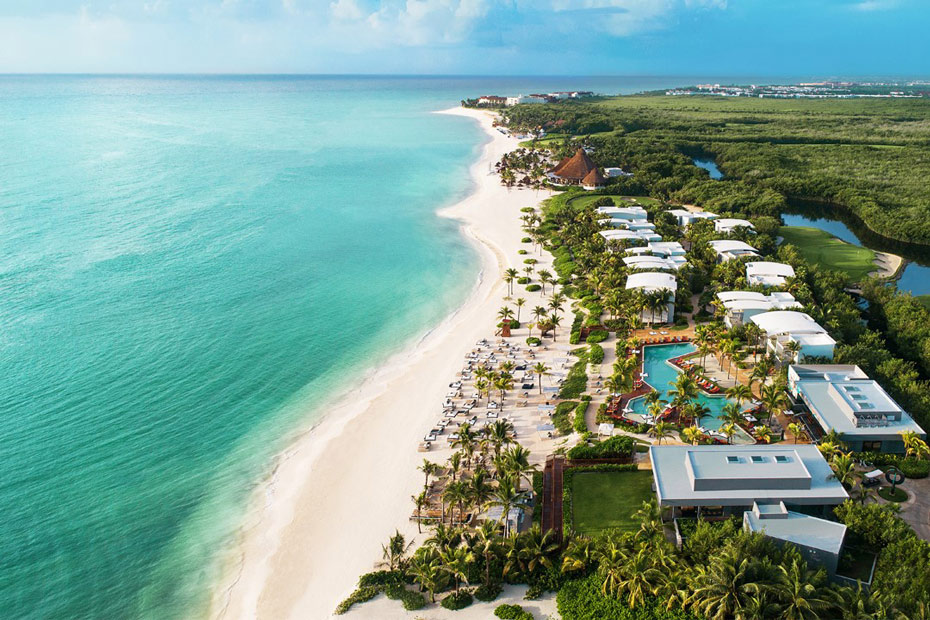 The name Riviera Maya is more than enough to spark visions of pristine white beaches and endless fun under the Caribbean sun. While it certainly offers that, this idyllic destination also weaves in eco-adventures, ancient Mayan culture, and fascinating archaeology. A mere half-hour drive from Cancun International Airport, Riviera Maya has a captivating and magical allure that no other vacation destination in the Caribbean can replicate.
The 100 miles over which the Riviera Maya extends are an infinite path to total relaxation, adventure, and a discovery to whatever your heart desires. Located on the banks of Riviera Maya, Mayakoba complex is a secluded luxury oasis of peace on the shores of the Caribbean Sea. Mayakoba is a 500-plus-acre development south of Cancun that's alive with natural canals, lagoons, rainforest and lavish nature. Out of all the Caribbean's amazing travel destinations, it doesn't get much better than Mayakoba.
To be found in this magical context is Andaz Mayakoba Resort Riviera Maya. The 214-room-and-suites hotel merges a highlighting soulful service with authentic art, creative culinary, luxe landscapes and spacious, yet social facilities.
As Pascal Dupuis, General Manager of Andaz Mayakoba explains: "Andaz Mayakoba offers a wide range of unique experiences to entertain all our guests. Whether you want to immerse in a lushly preserved mangrove environment, practice yoga, enjoy our pools, relax in the 10,000-square-foot Naum Wellness and Spa, or simply unwind in one of our five unique restaurants and bars, Andaz Mayakoba has it all. Moreover, we embrace the local culture and turn it into amazing experiences for our guests."
In 2020, Condé Nast Traveler named the hotel the No.1 resort to visit in Eastern Mexico. It's also the most recent addition to the Mayakoba hotel zone. It offers the perfect scenery and amenities for travelers who are looking forward to a safe vacation in times of coronavirus. Andaz Mayakoba is naturally spacious, making it easy to remain socially distanced. Also, guests should know that strict protocols have been put in place to keep everyone safe while enhancing the resort's natural beauty.
"Despite the adaptation challenges that 2020 has imposed on hotels, the Riviera Maya and specifically Mayakoba continue to be safe destinations to travel to. There was a swift recovery seen nowhere else in the Caribbean thanks to the professional collaboration of the citizens in the region, the private sector and the government."
Pascal Dupuis has been the general manager of Andaz Mayakoba hotel for several years. He's seen the ups and downs and been through the highs and lows that pandemic times have inflicted on tourism. He has also been an active leader in the fast resurgence Riviera Maya is currently experiencing. According to him, this collaborative scheme allowed the hotel to reopen to the public safely after having an opportunity to adjust to the new world in which we live.
"An aspect that I consider to be important regarding reopening was the confidence of doing so by applying all the necessary measures in order to provide safety to all people. We made new plans and revisited all of our activities and procedures. We also wanted to continue to give our guests a memorable experience. All our unique resort activities and culinary experiences have been readapted and improved."
For Dupuis, well-being means a universe of activities ranging from body scrubs with natural ingredients that stimulate blood flow and hydration to Tzolik union (or Mayan astrology) or Mayan meditation sessions with a Chamana traditional healer. There's also Naum Wellness & Spa, where guests can create their own oils or scrubs with natural ingredients prior to a massage session that's guided by experts to help them find the best ingredients that are tailored to their taste.
When it comes to culinary experiences, Andaz Mayakoba includes five different restaurants that feature fresh and local ingredients. The options include Sotavento, our feet-in the-sand experience, and Casa Amate, one of Mexico's Top 120 Restaurants by Guia Culinaria.