Sponsor Insight
October University for Modern Sciences and Arts (MSA)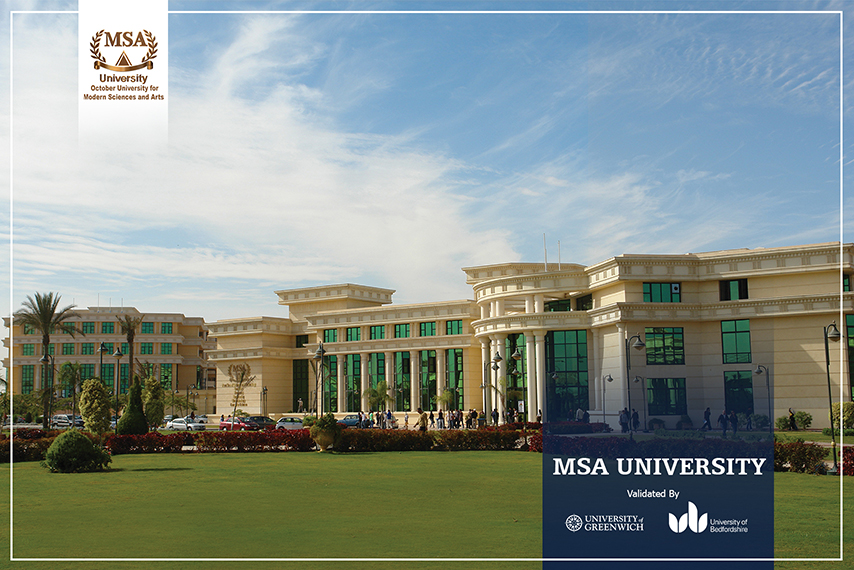 October University for Modern Sciences and Arts (MSA) was established in 1996, in compliance with the article 101 of the 1992 Law, pertaining to the establishment of private universities, and based on the Arab Republic of Egypt President's decree number 244, in 1996, which makes MSA one of the first four private universities established in Egypt.
Since MSA adopts English Language as a medium of instruction, maintains sustainable facilities, and delivers programmes that are designed according to the most demanding international criteria, it has received international recognition by several reputable Universities and bodies in the UK, with which several co-operation and partnership agreements were signed, such as the University of Middlesex (from 2003 – 2014), for Validation of programmes of Faculties of Management Sciences, Computer Science and Mass Communication, the University of Greenwich for Validation of programmes of the Faculty of Engineering (2004), Faculty of Pharmacy (2005), Faculty of Biotechnology (2006), Faculty of Management Sciences (2014) and Faculty of Computer Science in (2014), the University of Bedfordshire for Validation of programmes of the Faculty of Mass Communication, Faculty of Languages, and Faculty of Arts and Design (2014), as well as Membership of the Faculty of Dentistry in the Association for Dental Education in Europe (ADEE).
According to these agreements, MSA graduates are offered a Greenwich University /Bedfordshire University Bachelor Degree Certificate, according to their specialization, along with the Egyptian MSA Bachelor Degree Certificate. Thus, besides more than 20 MSc and PhD MSA scholarship grants to the United Kingdom, MSA graduates pursue their postgraduate studies in any international university, fulfilling the exact same requirements of University of Greenwich and University of Bedfordshire graduates.
During senior years, MSA University students work on distinguished research projects including topics mainly targeting the industry.
Experienced faculty members provide time and effort to personalize students' research experiences and enhance their innovative abilities beyond restrictions of current knowledge. Students benefit from the University facilities ranging from fully equipped research laboratories (Dentistry, Biotechnology and Pharmacy labs, the Bioequivalence Centre) to e-libraries and an enhanced e-learning system.
MSA graduates' employability skills are embedded within all curricula, and the University offers a strong support system to ensure students' productive transition from university to the pursuit of their career goals.
MSA's state-of-the-art campus and its advanced study programmes have enabled students to compete and distinguish themselves in international and national competitions, e.g.: Engineering students acquired the first award among the Private Universities in Egypt in Huawei Global Network and Communication Competition. Also, from the 49 participating teams MSA students achieved the second place worldwide in the same competition.
Our Architecture Engineering Graduates have achieved second and third place competing with 190 applicants from 44 Different Countries in The Rifat Chadirji Prize 2019 - Barjeel Museum for Modern Arab Art in Sharjah.
One student achieved the first place in the competition organized by the international pharmaceutical industries company AstraZeneca Egypt, besides other awards achieved in various scientific and non-scientific fields.
MSA serves the community through a number of channels, most significantly through "Lebaladna" Development Foundation. "Lebaladna" is a development and charitable foundation run by a group of youth who are willing to improve our country through social work and community service.
The Faculty of Dentistry receives 450 – 500 patients to be treated on campus on daily basis. Awareness campaigns are held by the different Faculties inside the University campus such as Diabetes and Breast Cancer, Autism awareness campaigns, while Medical Convoys are nationally sent to various Egyptian governorates, and internationally in Africa by the faculty of Dentistry.
MSA has been ranked among one of the top ten universities in Egypt (9th place) and occupies the 69th place among the top 200 universities in Africa according to Uni Rank 2019.
MSA has acquired national accreditation from the National Authority for Quality Assurance and Accreditation of Education (NAQAAE) for Faculties of Management Sciences, Pharmacy, Biotechnology, and Mass Communication.