Sponsor Insight
Warner Law Offices, PLLC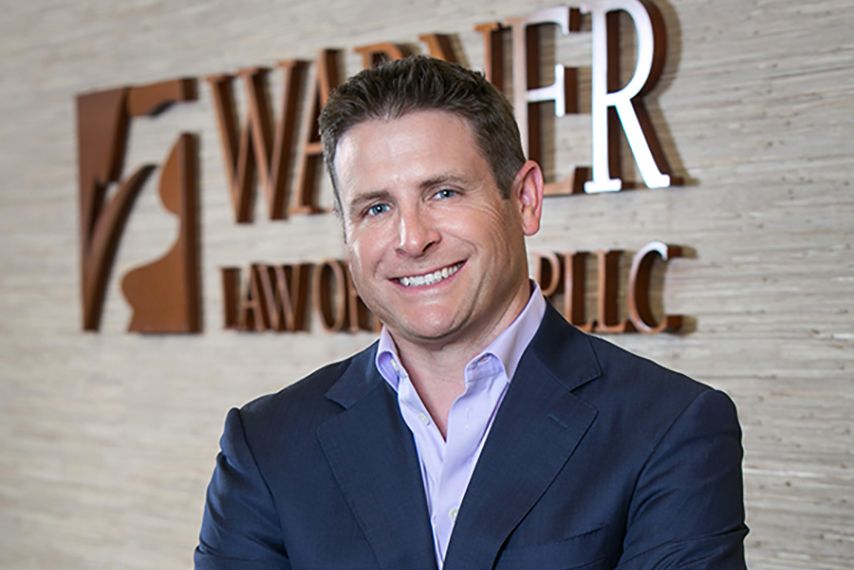 This dynamic and well-respected law firm, with offices in West Virginia and Colorado, provides experienced and effective legal services to clients across the country . Robert "Bobby" Warner, owner of Warner Law Offices, takes great pride in the firm's aggressive representation that has led to the recovery of large verdicts and settlements, as well as his personal philosophy, "Helping people is what we're all about."
Accordingly, Mr. Warner is largely responsible for the exemplary record of services provided by his law firm to clients across multiple disciplines, including personal injury, mass torts, product liability, workplace accidents, wrongful death and more. Moreover, Warner Law Offices has a well-known reputation for giving back to the community, most notably through its Warner Gives Back initiative, booster seat program and Mr. Warner's charitable youth foundation Beyond The Backyard, which promotes outdoor sports and keeping kids healthy to more than 20,000 members.
Mr. Warner founded Warner Law Offices in Charleston, West Virginia, in 2000. Since then, Mr. Warner has earned widespread recognition as one of the top trial lawyers in the United States.
Acknowledged by members of the media as well as his peers in the legal profession, Mr. Warner has received numerous accolades through the years. The National Trial Lawyers included Mr. Warner in its "Top 100 Trial Lawyers" list, and he has been selected a "Super Lawyer" for eight consecutive years in recognition of his personal achievements. Also, Mr. Warner was named to the "Best Attorneys of America" by Rue Ratings, which also named Warner Law Offices to its "Best Law Firms of America."
Mr. Warner is a member of the exclusive Multi-Million Dollar Advocates Forum and the Million Dollar Advocates Forum. In addition, the National Academy of Personal Injury Attorneys presented Mr. Warner with the "Top Ten Attorney Award for Excellence." He recently received the "Top Ten Client Satisfaction Award" from the American Institute of Personal Injury Attorneys, and he was selected as a Member of the Nation's Top One Percent.
The firm has repeatedly distinguished itself in the handling of major personal injury cases, including, most recently, obtaining an eight-figure result for an injured worker who was exposed to an unsafe working condition.
Warner Law Offices has flourished through the years and now has offices in Charleston, West Virginia and Crested Butte, Colorado. Furthermore, the firm is in the process of opening offices in Clarksburg, West Virginia and Morgantown, West Virginia, in the second quarter of 2016.
The firm recently welcomed Mr. Warner's father Boyd. L Warner, a Clarksburg attorney with more than 50 years' experience, to assist in managing the firm's operations in North-Central West Virginia. Boyd Warner has been inducted into the American College of Trial Lawyers, which is by invitation only, and just one percent of trial lawyers in the state may be inducted, and he has been inducted as a Fellow to the West Virginia Bar Foundation.
Warner Law Offices also recently announced Truman Griffith as partner. Mr. Griffith, recognized by Super Lawyers, has significant courtroom experience, obtaining favorable verdicts and settlements representing clients in a variety of auto and truck accidents resulting in serious injuries and deaths. His practice also includes representing clients in deliberate intent matters, insurance litigation and premises liability. Mr. Griffith is a dedicated advocate for his clients and has successfully represented more than 1,000 injured men, women and children during the course of his law practice.
Attorney Lynnette Simon Marshall concentrates her practice on insurance coverage and bad faith, premises liability, product liability, construction law and workplace injury cases. Before joining Warner Law Offices in 2011, Ms. Marshall had an active civil defense litigation practice. This year, the National Academy of Personal Injury Attorneys named Ms. Marshall a "Top Ten Attorney" for personal injury in West Virginia.
Attorney Andrew D. Byrd, named a Super Lawyers Rising Star, also serves the West Virginia House of Delegates. Through his legal career, he has developed significant civil litigation and courtroom experience in consumer law, employment law, governmental liability, personal injury, automobile collisions, workplace injuries, premises liability, medical malpractice and product liability.
Each of the firm's attorneys is motivated by the same over-riding passion to fight fearlessly for their clients and to ensure that justice is done. At Warner Law Offices, initial consultations are always free and attorneys are happy to meet their clients at home or in hospital.
Warner Law Offices devotes substantial time, energy and effort to charitable endeavors. The firm has donated more than 1,000 booster seats to families in need. In addition, through the Warner Gives Back initiative, the firm pledged to give away $100,000 across 100 local programs that actively help their communities.
"While some people need help in the form of legal services, Warner Law Offices recognizes that others face challenges that cannot be addressed in the legal justice system," Mr. Warner said. "Every year since its inception, Warner Law Offices has dedicated itself to financial support of organizations whose existence make our communities a better place to live and to individuals in need of assistance."
Aside from practicing law, Mr. Warner is an avid outdoorsman. The experiences he shared with his family encouraged him to create Beyond The Backyard, which promotes outdoor sports, such as hunting, fishing and camping. This small grass roots effort has grown to an organization that includes members from more than 20 states.
Because of his dedication to community service, Mr. Warner was presented with the "West Virginia State Senate Community Award" for extraordinary efforts and commitment to serving and protecting the citizens of West Virginia.
What the accolades can't measure or define is the firm's commitment to and passion for clients and community. Often motivated by injustice and a sense of fair play, Warner Law Offices seeks to even the score whether a client is an individual or a large corporation.
Have you been injured? Now's the time. Call (304) 345-6789. You may also connect at www.wvpersonalinjury.com