Sponsor Insight
WHY CHOOSE A PRIVATE EDUCATION FOR YOUR CHILD?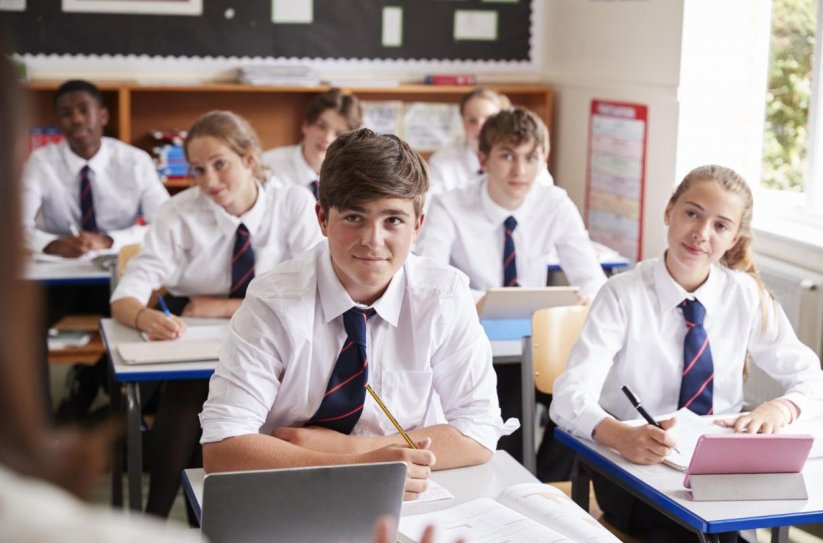 Did you know that nearly a quarter of all schools in the U.S. are private? This is despite the fact that sending your child to one necessarily involves an investment. However, it's an investment that clearly yields real dividends.
The trend of better academic performance among private school students is well-documented in surveys and rankings. A report by the U.S. Department of Education found that on average, private school students were subjected to more demanding graduation requirements and were more likely to perform better than their public school peers on standardized achievement tests. This is a result of a combination of factors including a more involved teaching approach, a more stringent admission process and a higher likelihood of the students having socio-economic characteristics beneficial to academic success.
Here are some other areas where private schools shine:
Smaller class sizes guarantee more involvement and opportunities for the teachers to inspire their students;
Private schools enjoy greater parental involvement, therefore stronger parent-child relationships;
The teaching staff are committed to the private school community in a way that public schooling rarely achieves;
Private schools provide a more nurturing and inspiring environment to in which to learn.
How comfortably a child fits into their educational surroundings of course counts for a great deal in their development and academic performance. This also drives the continuing popularity of independent schools among parents, as they are known for offering a solid discipline and structure. Students face fewer classroom distractions and work in a more respectful environment. Orderly classrooms benefit well-behaved children and create a safe, pleasant environment for learning. In the words of education specialist Michael J. Petrilli of the Thomas B. Fordham Institute, the reluctance of some public schools to enact a thorough disciplinary code "elevates the rights of the disruptive students above the needs of their peers. The well-behaved kids are the ones who will pay the costs."
Private schools also tend to emphasize a holistic approach to education in order to develop more well-rounded individuals. Their smaller student numbers make it possible for them to invest both resources and time in building in state-of-the-art facilities and developing robust extracurricular programs. Look at their arts and sports programs, for example, when selecting a school; they tend to be much more comprehensive, and their importance cannot be undervalued. They teach students valuable life skills such as teamwork, responsibility and confidence – things you cannot learn from books and blackboards.
The flexibility of private schools to adapt their curriculum to world trends and their willingness to explore specialized subjects means that they are better placed to develop children with a more global outlook, with the hope that they will carry this mindset with them into adulthood and the leadership roles they may take on in the future. Students are encouraged to examine and address current world issues in their class work, while extracurricular activities may also include field trips – local and international – and community outreach projects for students to understand their responsibility to give back to the community. Lastly and importantly, many private schools offer afterschool programs allowing students do their homework in school – something that can be a real boon to working parents.
It is well documented that private schools set their students higher standards. As the expectations grow, so does the performance. Students are sparked into producing excellent results as they live up to the expectations set and seen all around them. Private high schools require more courses for graduation, meaning that students are tested more, learn more and have a broader scope of knowledge. They are more likely to be studying a foreign language – a great boost to their future job prospects, whether it's in their home state, overseas or in international business. In addition, students tend to be more proficient in subjects like math, science and social studies, as well as excelling in extracurricular activities. Every aspect of a private education is stretching the student to ensure he or she is developing their mind and their spirit.
Private education in the U.S. boasts the most accomplished, dynamic and innovative student and teaching bodies. This helps to explain why their examination results are consistently higher than public schools and more graduates go to college, too. In fact, the National Assessment of Educational Progress revealed that 8th grade students at private school are twice as likely to have completed a bachelor's or higher degree by their mid-20s.
This isn't due to them coming from privileged backgrounds, either. Students from the lowest 25% status of socioeconomic background were four times as likely to have completed such a degree by a similar age. Private schools are also considered statistically safer than public schools. Students are less likely to engage in anti-social behaviors, whether something as simple as tardiness or more serious such as drug abuse.
With that being said, deciding on a good school isn't as simple as finding the one closest to home and thinking it is guaranteed to deliver success. It pays to research and examine what makes the school unique. Private schools can offer specialized programs in particular areas or perhaps have outstanding facilities, which can be a big draw if your child has a sporting talent or special interest to nurture. Libraries and media centers can be impressively comprehensive stocked with state-of-the-art technology, the kind of thing public schools struggle to justify.
It is also the norm for private schools to make their students consider which of the country's top universities they should be applying to. Personal development is key, empowering students to emerge with both a high-level qualification and a sense of purpose.
If you want to learn more about the nation's leading private schools take a look at the schools on the right.
For more information on Educational Insight Sections, please contact inquiries@insight-team.com.