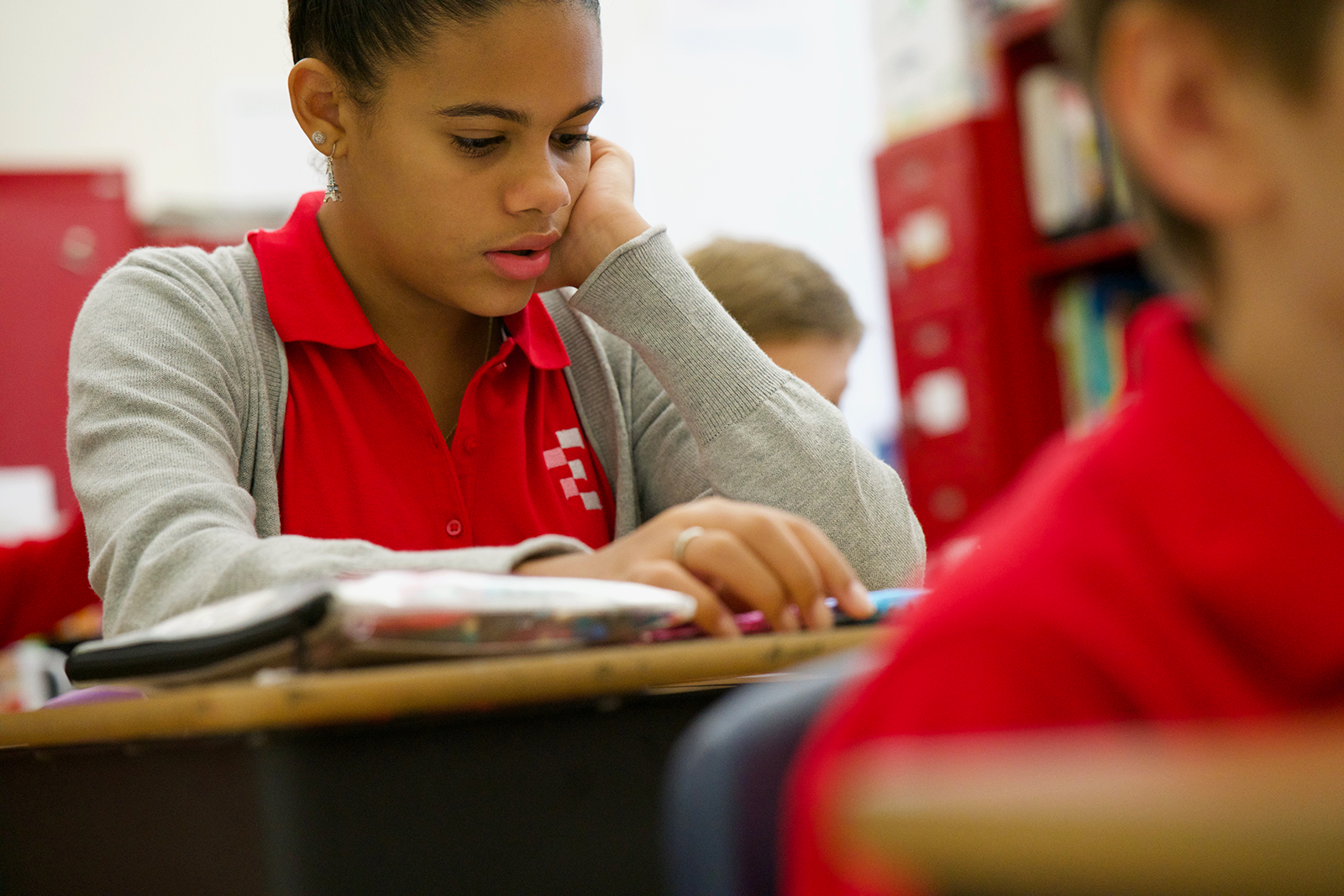 Located in New York's vibrant Flatiron District, The École, formerly École Internationale de New York (EINY), is an intimate and independent, French-American bilingual school serving an international community of Maternelle-to-Middle School students. At The École, we artfully blend the best of the French and American educational systems, gifting our students with deep academic bi-literacy, whole-child skills and knowledge, and an optimistic, multi-cultural perspective. Through their illuminating journey, students grow more flexible and fluid, interested and interesting, persistent and positive. And always ready to shape and share their life's successes, whatever the moment and wherever they go.
The École's focus on bilingualism is what sets it apart, as can be seen in the school's motto: Light through language. Students do not just learn French and English at The École; they learn in French and English. From nursery onward, each class has both a French and an American teacher, who work together to make cohesive lesson plans. Some math classes, social studies, and science lessons are even taught in both languages simultaneously, allowing the students to make connections between the two different programs. Mandarin is introduced in 3rd grade, and in Middle School, students can either choose to continue with Mandarin or switch to Spanish.
Benefits of our Bilingual Program
Agile Minds - The École's bilingual program embraces and amplifies the flexibility and fluidity of developing minds, enhancing our young student's innate ability to adapt to changing environments. Immersed, from Maternelle to Middle School, not just in two languages, but in two educational systems, students at The École have the unique opportunity to learn two ways to approach every problem, no matter the subject, giving their growing learning muscles twice the exercise and twice the opportunity to understand. As they progress, they develop the confidence to select and apply those that work best for them, whether in the classroom or out in the world.
Open Hearts - Surrounded with classmates of wide-ranging nationalities, but connected through their two shared languages, students at The École develop an understanding of themselves and how they fit into the world that is shaped by friends and families with experiences and perspectives other than their own. Through these personal connections, they discover how differences make their world more interesting and rewarding and why empathy, respect, and integrity are so important. Together they learn to nurture in themselves and champion in our school community the character of truly caring global citizens.
Bright Futures - From the first day of Maternelle to Middle School graduation, we aspire to build our students' excitement about, capacity for, independence in, and success at learning. Over their years at The École, both French and American standardized tests provide opportunities to honor achievements relative to a larger body of students, focus activities around personal growth areas, and map long-term educational plans. The strong performance of our growing alumni community is a source of great pride and proof that The École's unique bilingual program prepares students to both flourish in and contribute to the world beyond our walls.
Beyond the Classroom
Education at The École extends beyond the classroom with students of all grade levels taking trips to expand both their minds and their horizons. Maternelle students and students in Grades 1 through 3 take field trips to cultural institutions throughout the city, taking advantage of all of the museums, theaters, and markets that New York City has to offer. Students in Grades 4 through 8 go further afield, taking trips outside of the city, to France, Costa Rica and even China! The two-week trip to China takes place every other year. Students who join this trip visit cultural sites, stay with Chinese families and even spend a couple days going to a Chinese school!
For more information about The École, please visit our website or write to us at bonjour@theEcole.org. Follow The École on Facebook, Instagram and Twitter to see what we're up to!