Sponsor Insight
Thornton-Donovan School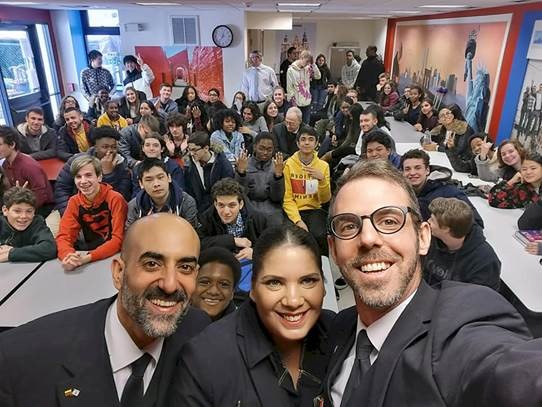 WORLD CLASS
As I write this, three T-D upper schoolers are engaged in diplomatic work in Guatemala City. Their efforts are facilitated by the folks at the Evelyn Rogers School. T-D's association with Evelyn Rogers began two scores ago. Evelyn Rogers is one of two dozen institutions from around the world that host and send their own students to us almost on an annual basis.
T-D is individually focused and globally engaged. Just yesterday T-D was visited by administrators from the Prywatna Szkota Podstawowa Gaudium et Stadium in Poznan, Poland to discuss a 2020 student exchange. It is happening now!
Early in 2020 T-D will receive a half dozen exchange students from Sera High School, located in the Hiroshima Prefecture in Japan. Sera High School and Thornton-Donovan have been exchanging students for over a decade. Sometimes Sera students stay in America for a full school year. Sometimes the exchange is just a few weeks. T-D does likewise and every once in awhile a T-D student spends his/her entire academic year in Japan. The focus is peace studies.
Just as 2019 was about to close, T-D participated in a Leaders for Peace program at the United Nations and hosted by the Permanent Mission of Italy to the UN. For close to a decade T-D and Vittoria Colonna have been exchanging students. This exchange, like all others, is only successful when our school family members serve as hosts. Rondine, a peace academy outside of Arezzo, is one of T-D's favorite peace destinations.
For the past few years T-D has received high schoolers from La Plata, Argentina. The Lincoln School has sponsored dozens and dozens of travel-study jaunts to the U.S. and, of course, everyone involved calls New Rochelle a great second home.
Later in March, after students from Sera Town, Japan return home the entire school family will prepare itself for 17 days in Israel in a program aptly named – Sacred Geography. Over 70 T-D family members will be traveling throughout the Holy Land until May 2nd.
Upon our return in May T-D is set to host a dozen students from Sligo, Ireland and the Coola Primary School. Many current T-D students have already traveled to Ireland and spent several days at our sister school there.
So why all the emphasis on travel and travel-study?
T-D's raison d'être is international understanding and with a K-12 school that has the world inside, T-D aggressively pursues the world outside.
Each T-D student is raised to be a good ambassador and diplomat for our school. To do this, T-D primes its students to represent America abroad.
Customarily when students fill out their college applications, not only does the school post their 20–24 high school credits, it documents all travel-study while at T-D. Some students graduate with travel-study experiences in at least one half dozen sister schools. No graduate leaves with none.
As T-D itself is extremely poly, it has a world language program unlike almost any other school. French, Spanish, Italian, Latin, Greek, and Russian are always taught. Dutch, Portuguese, and Japanese can be offered each spring after regular school classes are finished.
So while T-D has everything other schools have like math without a ceiling, music studies and digitized music, drafting, art and architecture, engineering, numerous world languages, English from basic to AP, social studies courses and the usual science classes offered each year, it also has dozens and dozens of thematic courses only taught on Overlook Circle.
Colleges and universities have so many factors in evaluating and accepting each new freshman class. Everyone is competing with the same paper work – credits earned, high school averages, and SAT and ACT scores. None document travel-study. For tomorrow's graduates, the same high school classes with good grades, is no longer enough. To live in the world of tomorrow, high schoolers must surf the world today.
T-D's advantages have been recognized by Ivy League colleges and universities and those trying to grow some ivy. T-D's graduates also attend and graduate from colleges and universities abroad that are equally attractive when compared to American ones.
To get somewhere, one has to go somewhere. T-D's sister schools are located on four continents and many T-D alumni have graduated high school with travel-study experiences embracing all four.
As I do this missive two parents are here with their son who attends school in Bern, Switzerland.
Oh what a wonderful world!