Sponsor Insight
RAPID DATA IS THE KEY TO REOPENING THE COUNTRY: HERE'S HOW YOU CAN HELP
This is sponsored content, not Newsweek editorial
The United States is facing an unprecedented public health crisis. At the time of this writing, more than 20,000 people in the U.S. are known to have died from COVID-19, the highest reported death toll anywhere in the world.
Across the country, businesses are shuttering, workers are being laid off, and several states have issued shelter-in-place orders, with millions of Americans staying home to help safeguard the nation's health.
As local, state and federal leaders grapple with the challenge of responding to the peak of the pandemic, it is also important to look to the future. Pressure is mounting to reopen the country for business and get the economy moving again. The big question is when.
The answer lies in gathering accurate data to understand how COVID-19 is moving through the country and monitor the impact of such measures as social distancing and sheltering in place. And as officials aim to lift restrictions and get back to normal, it will be vital to stay vigilant for localized outbreaks or a larger second wave hitting through the winter months.
Crucially, this means large-scale tracking of the early symptoms of coronavirus infection, rather than relying solely on the number of intensive care unit admissions or deaths, which lag several weeks behind the first signs of illness. As most of the people affected by the virus will have mild or moderate symptoms that don't require hospitalization they won't be counted in hospital data. And although testing has significantly ramped up at many sites across the U.S., it's not enough to keep track of the deadly virus as it burns across the country.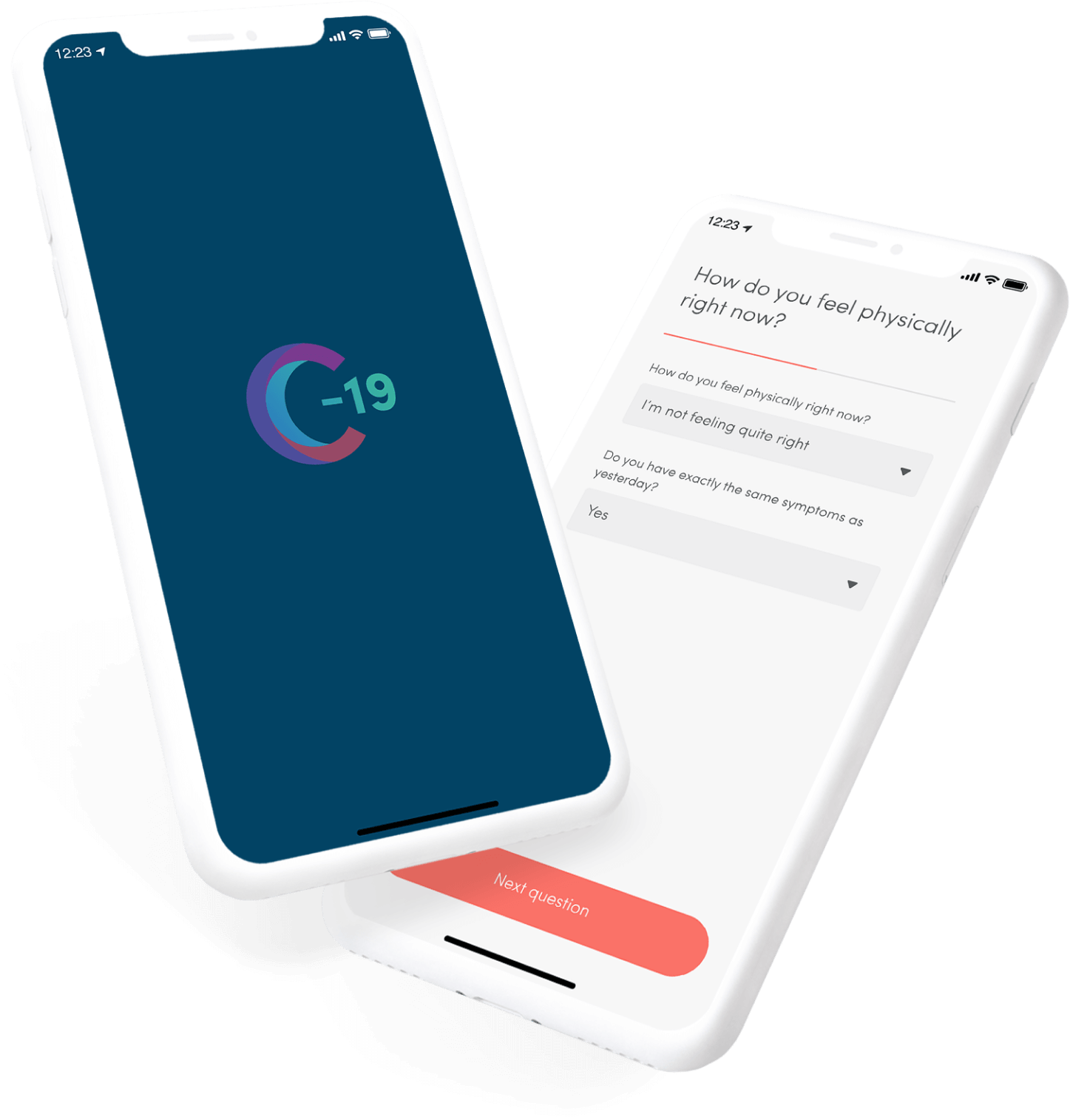 This symptom-monitoring approach has already proved extremely effective in the U.K. Three weeks ago, just as British Prime Minister Boris Johnson announced stringent lockdown measures, my team at King's College London and health data company ZOE launched a new symptom-tracking app in the U.K. We've also now released a U.S. version in partnership with colleagues at Massachusetts General Hospital, Stanford University and the Harvard-led Nurses' Health Study, available from covid.joinzoe.com.
The idea is simple: Create a user account, answer a few questions about yourself and your health, then spend just a minute checking in every day, whether you're feeling well or experiencing symptoms such as tiredness, fever or persistent cough, along with newly identified complaints we are finding from our users, like loss of smell and taste.
We've been stunned by the app's success in such a short time. More than 2.2 million "stay-at-home scientists" are now using it to regularly track their health, generating more than 12 million individual daily reports. We believe this is the largest collaborative health project of its kind in the world.
Secure, fully anonymized data from the app is already being used to inform U.K. government and health care decision-makers about the spread of COVID-19 and to monitor the effectiveness of measures such as social distancing and self-isolation.
Reassuringly, it looks as if the U.K.'s collective lockdown efforts are working, and although the daily death count is still high, the number of symptomatic cases in the U.K. is on the way down.
Looking at the data from more than 360,000 of our most regular U.K. contributors who were well when they first started using the app, we're seeing a steady fall in the percentage of people reporting new symptoms related to COVID-19.
Extrapolating this to the wider population, we calculated that on April 1 there were likely to be 1.9 million people in the U.K. actively suffering from COVID-19 symptoms. Just five days later, this figure had already dropped about 30 percent, and it continues to fall, now being around half of the peak about 10 days ago. London previously had the highest symptom rate in the country, but this has fallen by 50 percent.
We still expect the daily death toll to keep rising for some time yet, due to the month-long lag from first symptoms to fatality, but the data from our symptom-tracking app reveals what's happening in our communities right now and where the trend is heading.
This kind of detailed early-warning "radar" is going to be essential as decision-makers at every level try to determine who has had the infection and how to commence the slow return to normality.
People in the U.S. can follow the U.K.'s example and start using our app to gather as much data as possible, mapping how symptoms are rising and falling across their part of the country and keeping a lookout for the inevitable outbreaks re-emerging once restrictions on daily life start to ease.
Although we are already gathering data from more than 100,000 users in the U.S., we need many more people to build an accurate picture of what's going on. The limited U.S. data collected so far suggests that rates of coronavirus infection have also been falling for the past five days, but there isn't enough data yet to be sure what is happening in major cities like New York.
To help with this effort, we would urge everyone to download the app and get in the habit of checking in daily. In case you're concerned about data security and privacy, you can find full information on our website, and you're free to delete all your data at any time.
Finally, don't just keep it to yourself. Given the size and federal structure of the U.S., it's likely that decisions to open up again will be made on a local level. By sharing the app with your family and friends, you can help to make sure there's accurate information coming from your community on when these decisions can be made.
There is no room for complacency. This is a long haul, and there are no quick fixes or bandages—either for public health or the economy. Right now, we need to stay apart, but we can all work together wherever we are, for just one minute a day, to generate the data that will get us through to the other side.
Tim Spector, M.D., is a professor of genetic epidemiology at King's College London; an honorary physician at Guys and St. Thomas' Hospital; and the scientific co-founder of ZOE (@timspector). For more information, regular updates and to download the app, go to covid.joinzoe.com and follow the links to the Apple App store or Google Play.