Sponsor Insight
Why Should You Consider A Career In Teaching?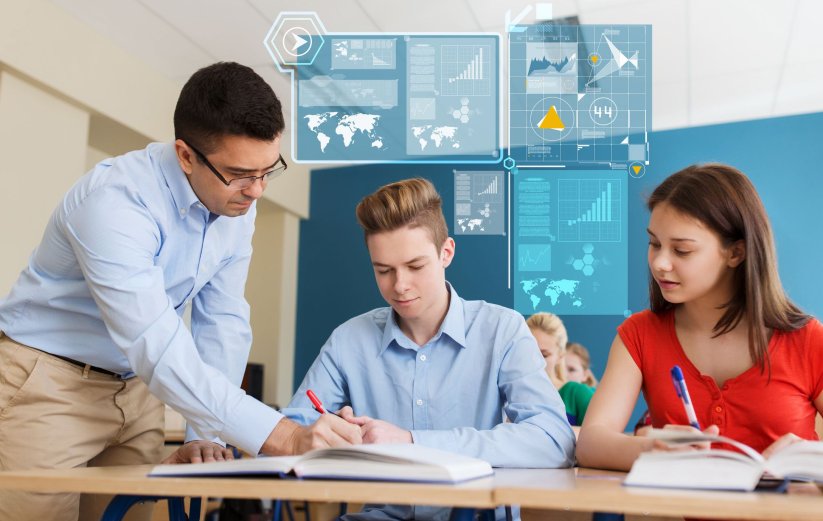 There are a handful of people, outside family and friends, that I look back upon with affection from my childhood, but no one measures up to Dr. Pierce, who taught me history from 9th to 12th grade. His passion, enthusiasm and insight took me from a child who was at best indifferent to the past, to a young adult who was, and is, fascinated by the seismic events that shaped the trajectory of the world we now live in. I was also intrigued by, and learned from, the complex, controversial and (occasionally) noble characters that have gone before me. It's fair to say that Dr. Pierce changed my perspective and possibly my life.
The transformative power of teaching can be enormous then, but could you become a teacher?
Well, teaching is a constantly challenging, evolving and continually rewarding career, and if you want to be one of the best, it will require levels of creative energy and passion possibly unequaled in any other line of work. Ask yourself what could be more stimulating and fulfilling than nurturing and encouraging young minds to reach their true potential? If you agree, like me, that there's no other vocation that could grant you so much satisfaction, and you are prepared for the challenge, then you have the ingredients to be a successful teacher.
You will, then, be pleased to know that one of the great things about the teaching profession is that it is relatively accessible even if your prior educational qualifications have not been in that area. It's because of this that teaching is a popular choice with people looking to embark upon a second career, with thousands making the move into the profession each year, even if they have no prior experience or qualifications.
Consider too, that there is a clear and present need for quality educators. The U.S. Labor Department predicts that the teaching sector will grow 6% by the year 2024. In addition to this, a recent Learning Policy Institute report raised concern about the number of underprepared teachers who have been assigned to some schools. More than ever, opportunities for effective and inspirational teachers are at an all-time high.
In an effort to aid the nurturing of new educators, the Department of Education recently initiated several initiatives aimed at improving teacher preparation. One of the most significant was in 2016 when they announced their 'Notice of Final Rulemaking' revision of the Teacher Preparation Regulations. This is intended to strengthen and better resource teacher preparation programs and allow undergraduate teaching majors to be better prepared for the exacting demands made on them, both within and outside of the classroom setting.
What are the Educational Requirements to Become a Teacher?
These vary depending on where you plan to teach, but to obtain a teaching license, the first step is to gain a bachelor's degree. Step two is to complete the Teacher Preparation Program in your state of choice, (as requirements can differ from state to state). Some schools offer the Teacher Preparation Program as a component of their bachelors' degree, which serves to hasten your qualification process. In addition, most states now approve programs that can help professionals already holding a bachelor's degree in a different academic area to attain this certification via an accelerated process. These programs include volunteering opportunities and other diverse practical training options.
More information on State Teaching Requirements can be found here:
http://teach.com/where
Higher Qualifications and Master's Degrees
There are clear paths to progression once you are a qualified and practicing teacher. Earning your National Board Certification, which was created by teachers for teachers, is one option. In addition to mastering tests in content knowledge and the accumulation of numerous teaching hours, earning your NBC qualification demonstrates your competence in leadership and your ability to successfully collaborate with other educators and academics. The certification will also help with designing lessons and identifying assessments and methodologies to promote better learning outcomes. In short, it serves to refine your expertise and increase your effectiveness and, by the same token, your job satisfaction. Additional perks include a higher salary and more varied and extensive teaching opportunities.
There are numerous and varied master's degrees available for the teacher seeking to bolster his or her professional development, or for educators looking to specialize in a particular teaching discipline. Available programs are as diverse as 'Mind, Brain and Education' which covers cognition, neuroscience, and educational practice (from Harvard Graduate School of Education); 'Educational Leadership' program at Bowling Green State University, which prepares educators to meet the most challenging issues facing school districts today; and Rutgers' 'Early Childhood / Elementary Education' degree, which is designed for teachers looking to specialize in the education of younger minds. Beyond master's degrees, there is a wide selection of doctorate level options available for educators looking to further explore their area of expertise.

What to Look for in a Teaching School
Choose the school you wish to study at carefully. The best teaching schools will provide you with opportunities to manage a classroom before you qualify, giving you invaluable 'hands on' experience that will allow you to connect with your students in the most effective and confident manner. This is key in allowing you to develop your own teaching style and approach. Many schools will also give you options as to which subjects or age groups you want to specialize in, with some preparing you for teaching two subjects or more, as well as providing a grounding in extra-curricular activities such as sports or drama. Having in-depth expertise in a particular subject is highly valuable, but having multiple strings to your bow gives you greater career flexibility and makes you more attractive to potential employers. Take a look at the schools on the right to see what they have to offer you.
If you are thinking about teaching, then get off the fence and take the plunge, as the timing could not be better.
I'm very glad that Dr. Pierce did.

For more information on Educational Insight Sections please contact inquiries@insight-team.com