Sponsor Insight
AIM Code School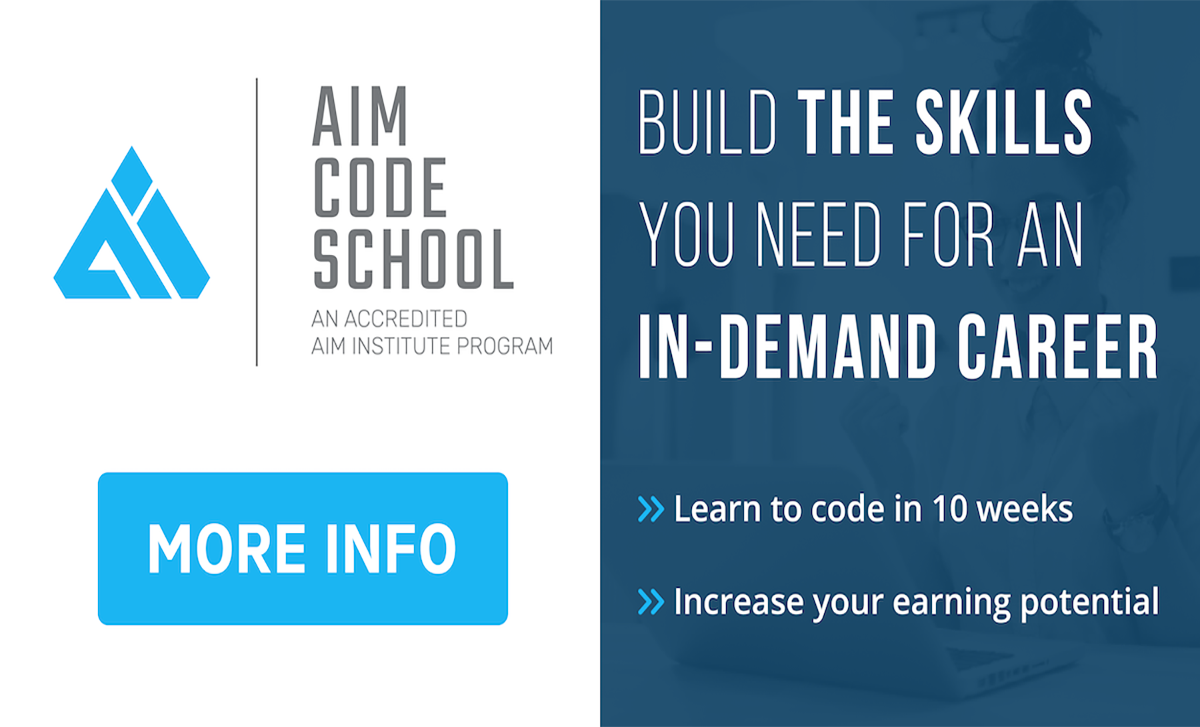 Code controls nearly everything around us, yet only 0.3 percent of people know how to
write it. So it's no surprise there's a shortage of skilled tech workers in the U.S. In fact,
technology is so essential to the U.S. economy that the Bureau of Labor Statistics
expects employment in IT occupations to grow 12 percent by 2028, adding an estimated
546,200 new jobs. Despite the current economic downturn, the positive outlook for tech
jobs makes sense when you consider every business generally requires multiple kinds
of software to function.
And it's never been easier to learn to code. For instance, the AIM Code School offers an
accessible pathway to building the skills that lead to a high-paying tech job.
Upgrade Your Life
The AIM Code School offers accredited tech education that helps people develop the
skills employers need while allowing them to keep their day jobs. From day one,
students are assigned a tech navigator that will connect them to employers and
professional development resources right away. Students build meaningful connections
within the community—the kinds of connections that lead to new jobs, new opportunities
and new perspectives.
Here's an overview of our accredited courses. No matter where you are on the tech
continuum, we have something for you.
Foundations of Web Development
Our twice weekly, 10-week course can take you from potentially no knowledge of how a
computer works to coding your own websites from scratch and being a certified
front-end web developer. Former student and current Mutual of Omaha Technical
Specialist Jordi Becceril credits this class for allowing him to enter the field right after
high school. Other students, like Danielle Wegman, took this class to help her make a
powerful mid-career shift.
Business Intelligence and Fundamentals of Data Science
During this course, students will learn the basics of programming through Python, a
widely utilized language that lets you work quickly and integrate with systems more
effectively. This is Module One of our Business Intelligence certificate course, after
which students will go on to learn more about data processing.
Specializations in Web Development: Full Stack Java and .NET
For students already proficient in HTML, CSS and Javascript, AIM Code School offers
specialization courses in both Java and .NET. Our Full Stack Java course helped Eric
Swanson transform himself mid-career from small-business owner and part-time DJ to
happiness engineer at Flywheel, a Wordpress hosting site. Happiness engineers work
on technical issues in customer service, engineering the technical happiness of
Wordpress customers.
AIM Code School also offers a certificate in data science through the Omaha Data
Science Academy and customized corporate training. Visit our courses page or contact Emily Matis at info@aiminstitute.org for more details.