Sponsor Insight
Springboard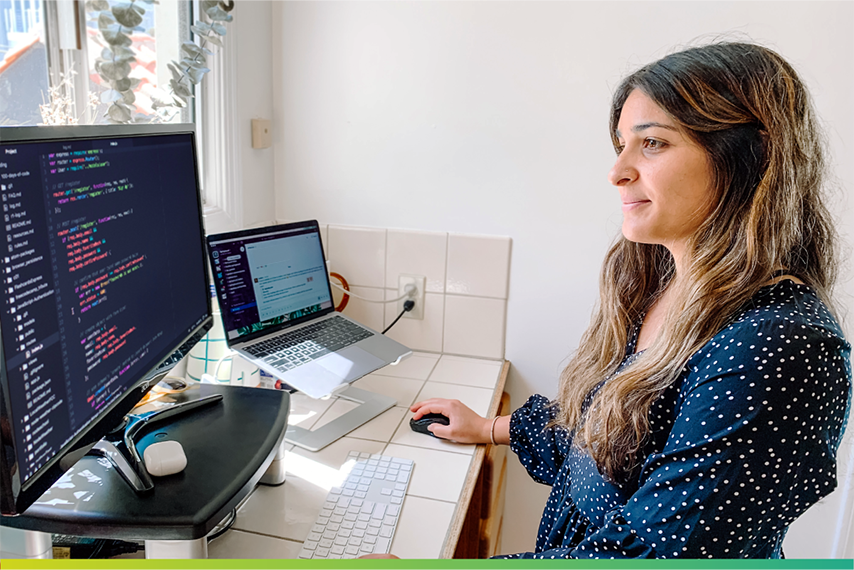 In the era of online learning, it can be difficult to choose a career path that's both rewarding and recession-proof. The good news is that companies who have committed to perfecting their e-learning methodology have been working on their curriculums for years. Enter Springboard: an online education platform that aims to bridge the world's skills gap. They are best known for their data science and design courses, but they also offer a course in software engineering.
Founded in 2013, Springboard has been setting the standard for a fully online model that promotes project-based learning to help students secure a job in the tech industry. They have brought together students from all kinds of backgrounds and learning journeys, connected by a shared goal of building a dream career.
What can I learn in Springboard's coding bootcamp?
Springboard's Software Engineering Career Track is 100% online. During the nine-month, self-paced flexible course, students master key aspects of front-end web development, back-end web development, databases, data structures, and algorithms.
For students who want some extra preparation before diving into the Career Track, Springboard also offers a Software Engineering Prep course. Students who enroll in the prep course can then use their tuition paid towards the cost of the corresponding Career Track.
What's special about Springboard's coding bootcamp?
Designed in partnership with the Rithm School—experts in software engineering education—Springboard's Software Engineering Career Track helps students to gain the skills, experience, and build a portfolio needed to get hired in a software engineering role.
The course curriculum was designed and created with Colt Steele, one of Udemy's best-selling and top-rated coding instructors.
Upon course completion, students master:
Building static webpages with HTML, CSS, and JavaScript
Creating beautiful, interactive client-side web apps
Making well-designed server-side JavaScript applications using Node and Express
Building powerful single-page web apps with React
In addition to those skills, students will build two full-stack capstone projects to be able to showcase their skills to potential employers. To accomplish this, students work directly with a personal mentor, an expert software engineer currently working in the industry.
What is Springboard's 1:1 mentorship model?
Upon enrolling, students are paired individually with an industry expert who has a role in their desired field. Learning with a mentor not only helps students to bridge the gap between course material and the real world application of what is being learned, but can also help to enable career growth.
During the course, mentors:
Conduct 1:1 weekly calls with students to check in on course progress and offer inside industry tips to trending topics and skills
Work with students directly to guide and provide advice on how best to showcase capstone projects to potential employers
Help students polish their interview skills
What is Springboard's job guarantee?
Springboard's one-of-a-kind job guarantee is what sets us apart from other online bootcamps. After completing a career track curriculum, students get a six-month runway to secure a role in their industry of choice. If students don't secure a role after six months, they receive 100% of their tuition back.
How do I enroll in Springboard's coding bootcamp?
If you're interested in enrolling in Springboard's Software Engineering Career Track, apply to the course today. Before enrolling, all students complete an free online application and go through an admissions process to ensure that the course is a fit for their skills and experience level.
Not sure if the Springboard's Software Engineering Career Track is right for your background and career goals? Head over to Springboard.com to learn more and find the course that's right for you.