Sponsor Insight
Cogent University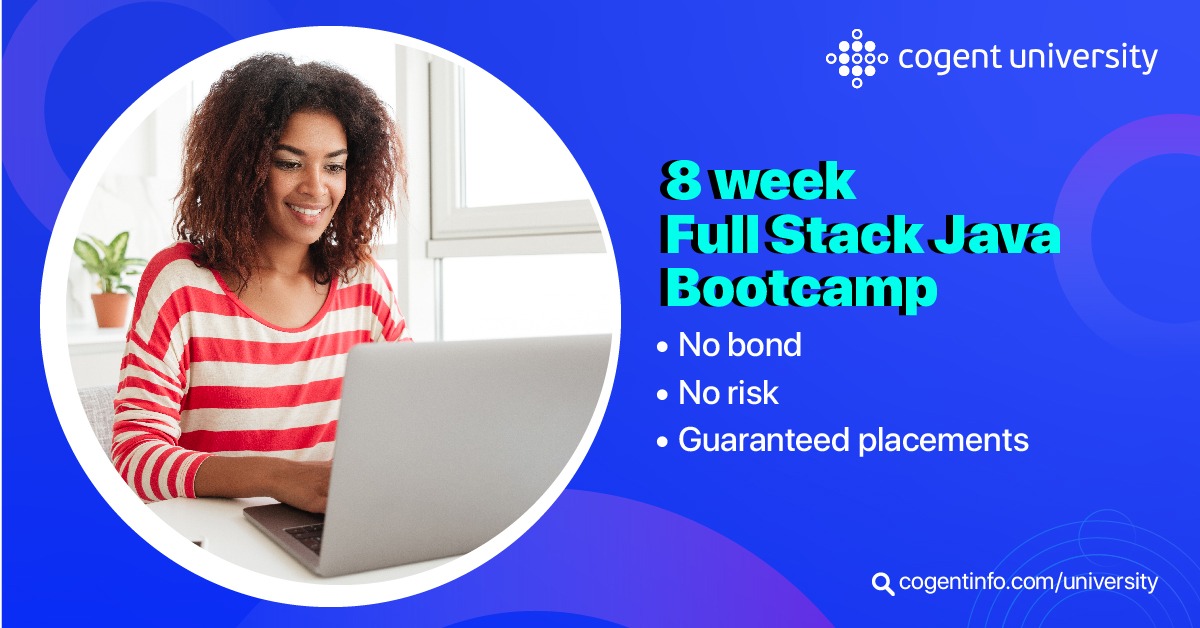 Cogent University was established in 2011 with a mission to bridge the technical gap in America. The uniquely designed 8-week Java Bootcamp is constantly evolving with the latest technology, industry, and hiring trends.
Over eight weeks, students establish an intimate understanding of technologies such as Java, Java SE/EE, Hibernate, Spring framework, Spring Boot, Angular, AWS, CI/CD with Jenkins, JIRA, among others. As full-stack Java developers, students now carve out a niche in a competitive job market.
The course is meticulously designed by industry experts and bridges the gap between theoretical skills and practical knowledge with hands-on live sessions, workshops, mock tests, and a capstone project. In just eight weeks, students develop and deliver outstanding capstone projects such as a live COVID tracker, a social media publishing tool - OrderWORKS management, a recruitment process management app, ranch management, and a memory vault app. Students also
Receive personalized career counselling
Get access to best practices for resume preparation
Participate in mock interviews to build confidence and conviction
Receive 24/7 access to mentors and career support
Till date, over 600 students have successfully completed the 8-week Java Bootcamp and are pursuing dream careers in Fortune 500's such as JP Morgan, IBM, Moody's Analytics, and SAS, with starting salaries averaging between $75,000 to $100,000.
This full-stack Java Bootcamp is open to anyone with a basic understanding of Java and the willingness to learn. Simple technical and aptitude tests are used in the applicant selection process to ensure a suitable fit between employment opportunities and a candidate's abilities, interest and career goals.
Here are three more reasons why you would want to enroll in Cogent University Bootcamp
There is NO upfront cost to attend
Every successful graduate is guaranteed placements. You pay nothing until you secure a job
This is one of the only Bootcamps that does not require you to sign a bond. Students are free to pursue opportunities that are in-sync with their career goals and aspirations
An abstract of student experiences
"Plenty of resources to read, the trainer was available to answer questions whenever it was needed."
"I love the teachers. They are very helpful. They go out of the way to assist and coach candidates and impart their technical know-how to the team."
"The Java and Advance Java Boot Camp with Cogent University helped me a lot in learning in-depth Object-Oriented Programming concepts. The eight-week program covers comprehensive Java web development that is vital in today's technological demand in various industries. I have learned a lot on the backend side, especially Spring Boot and Hibernate. I also was able to implement a front-end framework - consuming RESTful API using Angular."
About Cogent
Cogent Infotech is a global, award-winning IT consulting firm that helps businesses solve problems leveraging cutting edge technology and top 5% digital talent. With over 18 years of experience working with Fortune 500's and the Public Sector, Cogent understands what skills are in demand and who is the right fit for the job.
Apply to the next cohort now!