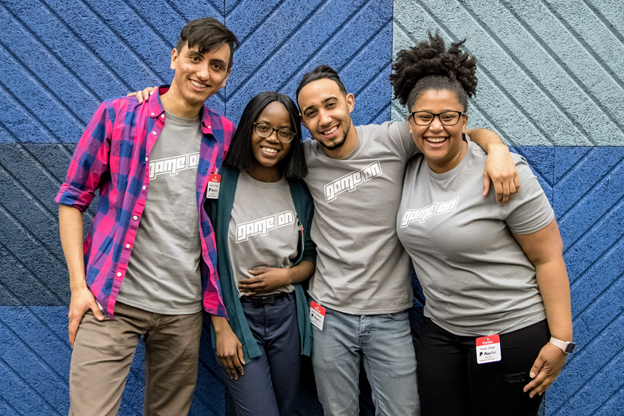 What is Pursuit?
Pursuit is a rigorous program that trains adults from underserved communities to code and build careers in the tech industry. Their Fellows go from making $18,000 pre-program to over $85,000 post-program on average. Their Fellows have been hired at over 200 leading companies, including LinkedIn, Spotify, Pinterest, Peloton, Microsoft, and Twitter.
What makes Pursuit different from other programs?
Pursuit is not a short-term bootcamp. They offer a four-year Fellowship with training and a supportive community to help their Fellows build thriving careers in the tech industry. After the first year, Fellows gain the coding skills and industry smarts to land their first tech job. Three more years of mentorship and networking help ensure Fellows thrive in their new careers.
Pursuit's mission is transformation. They believe that everyone should have the opportunity to achieve their dreams regardless of gender, ethnicity, and socio-economic background. Their Fellows are representative of the community they aim to build:
100% from low-income backgrounds
50% women or non-binary
70% black or hispanic
40% immigrants
55% do not have a bachelor's degree
50% receive public assistance
What do I learn at Pursuit?
You'll start with coding fundamentals and work your way to full-scale web app development. But just because you know how to code doesn't mean you'll land a job. That's why Pursuit's curriculum is built on the three Pursuit Threads:
The Technical Mastery Thread encompasses the technical skills and knowledge you'll need to get your first job in technology. Start with a foundation of basic concepts and build your way up to complex applications. Learn best practices, how to work as a developer team, and how to use top industry tools Pursuit currently offers a full-stack web development curriculum (HTML, CSS, JavaScript, Node.js, Express, SQL, React, and Redux). You'll also learn and apply computer science concepts including data structures and algorithms.
The Industry Readiness Thread refers to the non-coding knowledge, skills, and assets you'll need to secure and thrive in any job. Build your resume and professional network, sharpen your interview skills, and get ready to navigate the professional environment and tech industry.
The Leadership & Personal Development Thread includes values and competencies that prepare you to be a valued and effective team member at Pursuit and on your teams in future jobs. You'll learn about and embody the Pursuit Values on your journey to becoming a leader in the tech industry.
Where do Pursuit Fellows work?
Pursuit works directly with hiring partners to create job opportunities exclusively for their Fellows. You'll still need to apply, interview, and complete their hiring process. But Pursuit is creating demand for you and your skills. From fast-growing startups to large public corporations, Pursuit graduates are now writing code and creating innovation across all industries.
How much does Pursuit cost?
Through their Pursuit Bond funding model, Pursuit is able to provide the Fellowship with no loans and no upfront costs. Instead, they have an income sharing agreement with Fellows. That means you'll pay a percentage of your future earnings for a set number of payments when you get a high-paying job. If you don't get a job or make above the salary threshold, you pay nothing. And if you lose your job, your payments pause until your next job. Pursuit also provides computers and other critical equipment for their Fellows.
How do I apply?
Pursuit's rigorous application process is designed to help identify qualified candidates who can thrive in their Fellowship. You don't need any coding experience. But passion, dedication, and commitment are required.