Sponsor Insight
theCoderSchool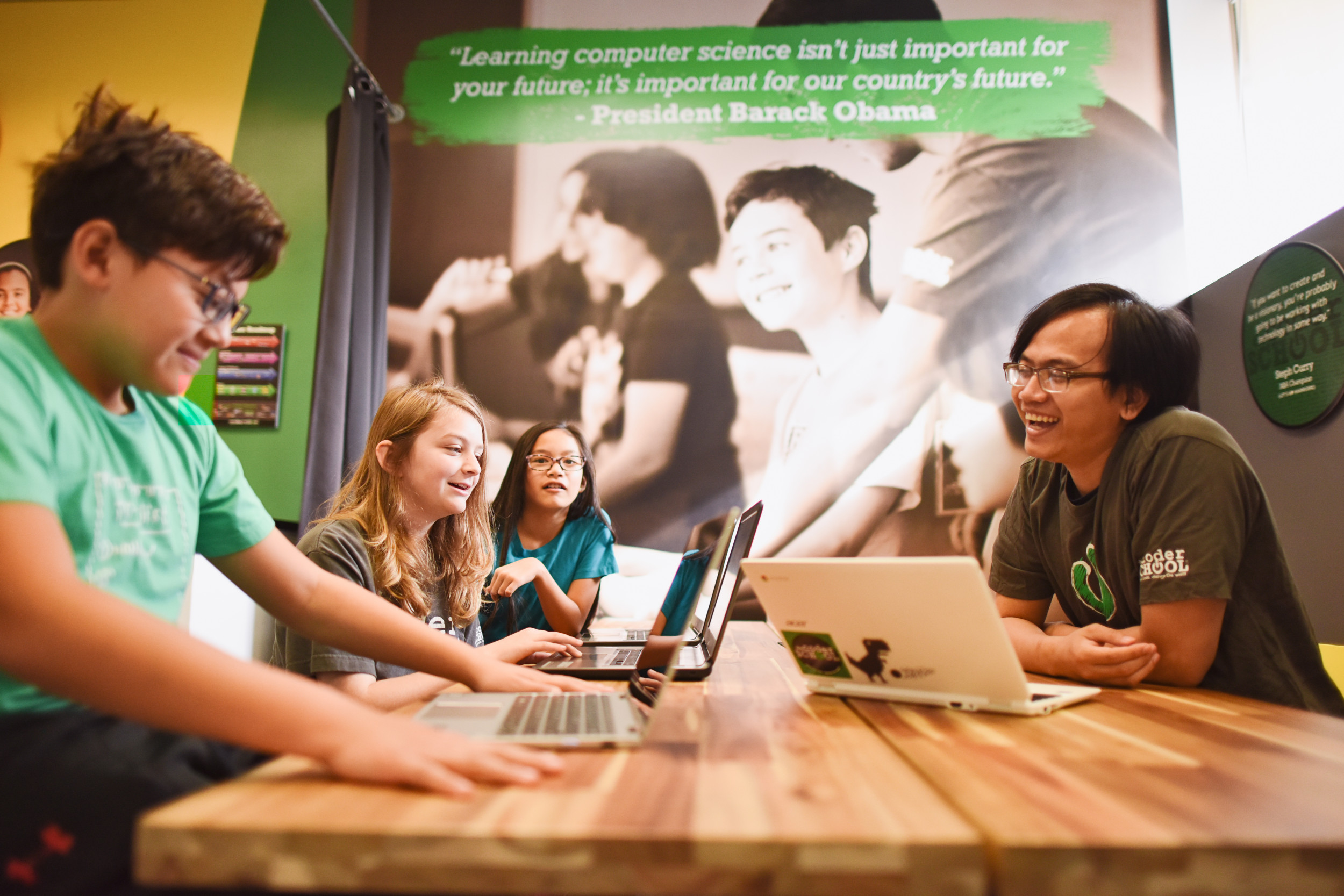 Welcome to theCoderSchool, a place where kids aged 7-18 learn to code all year round. Founded in 2014 and headquartered in Silicon Valley, theCoderSchool combines a super-small teaching ratio with an individualized immersion style to get kids learning to code in no time. We don't believe in kids being taught by software, and we don't like one-size-fits-all curriculums. Instead, we focus on a mentor relationship with experienced coders, Code Coaches who can guide our students through their amazing and unique technical journeys.
We've taught tens of thousands of students since we started, and to no surprise of any parent, we've found that kids are all different! Some learn faster, some learn slower. Some want web, some want games, others still want algorithms or specific languages. Our core philosophy is based on that – all kids learn differently, so let's teach them differently.
Code Coaching, our core program, uses an immersion and mentoring approach in a 2:1 student to teacher ratio. This allows our Code Coaches to personalize and customize their lessons and projects based on the students, making for a much more engaging experience. Interested in an artificial intelligence tank vs tank game? Sure. Prefer to make an interactive website from scratch? We got it. Rather analyze data from NASA feeds or simulate bioengineering DNA interactions? If you're advanced enough, we'll help you do it. From Python to JavaScript, Scratch to Java and well beyond, we teach a wide range of languages on a wide range of platforms to help your kids build their custom projects at a pace that's right for them.
Parents and students can track progress through our proprietary Notes+ system, a custom-built tool that identifies concepts learned, projects built, and languages used over time. Our quarterly App Reviews provide a quantifiable measurement of progress over time and a sunset review of app(s) built, and our Coder Fairs provide a demo-day experience for our parents to see their kids' projects firsthand. In other words, if you're the kind to track progress, we've got you covered.
Got more questions? Let's get some answers.
Not ready to dive into custom immersion yet? We also offer a traditional class format for young beginners at a more economical price called Code Class.
No time to drop off kids at our location? We also offer our traditional Code Class at select local elementary schools through a program called @School.
Not near a location? We offer remote Code Coaching over Zoom too, using the same 2:1 teaching methodology to students around the world.
Need the kids out of your hair in the summer? We definitely do summer camps (and even some holiday or spring break camps)!
Founded and headquartered in Palo Alto, California, theCoderSchool is run by two down-to-earth best friends with over 40 years of combined tech experience. Founder Hansel Lynn came up with the idea after his then-10-year-old clicked through an online coding course without really learning anything (sound familiar, parents?). Operations guru Wayne Teng jumped on board shortly after to help steady the ship while locations expanded, predominantly through franchising.
With 55+ locations around the country, 800+ Code Coaches on staff, and 5500+ weekly students, we know a thing or two about teaching kids to code. We even offer FREE TRIALs to make sure we're the right solution for you. Find more info or your nearest location at www.thecoderschool.com. Learn to Code. Change the World.®