Sponsor Insight
Mary Alexander & Associates, P.C.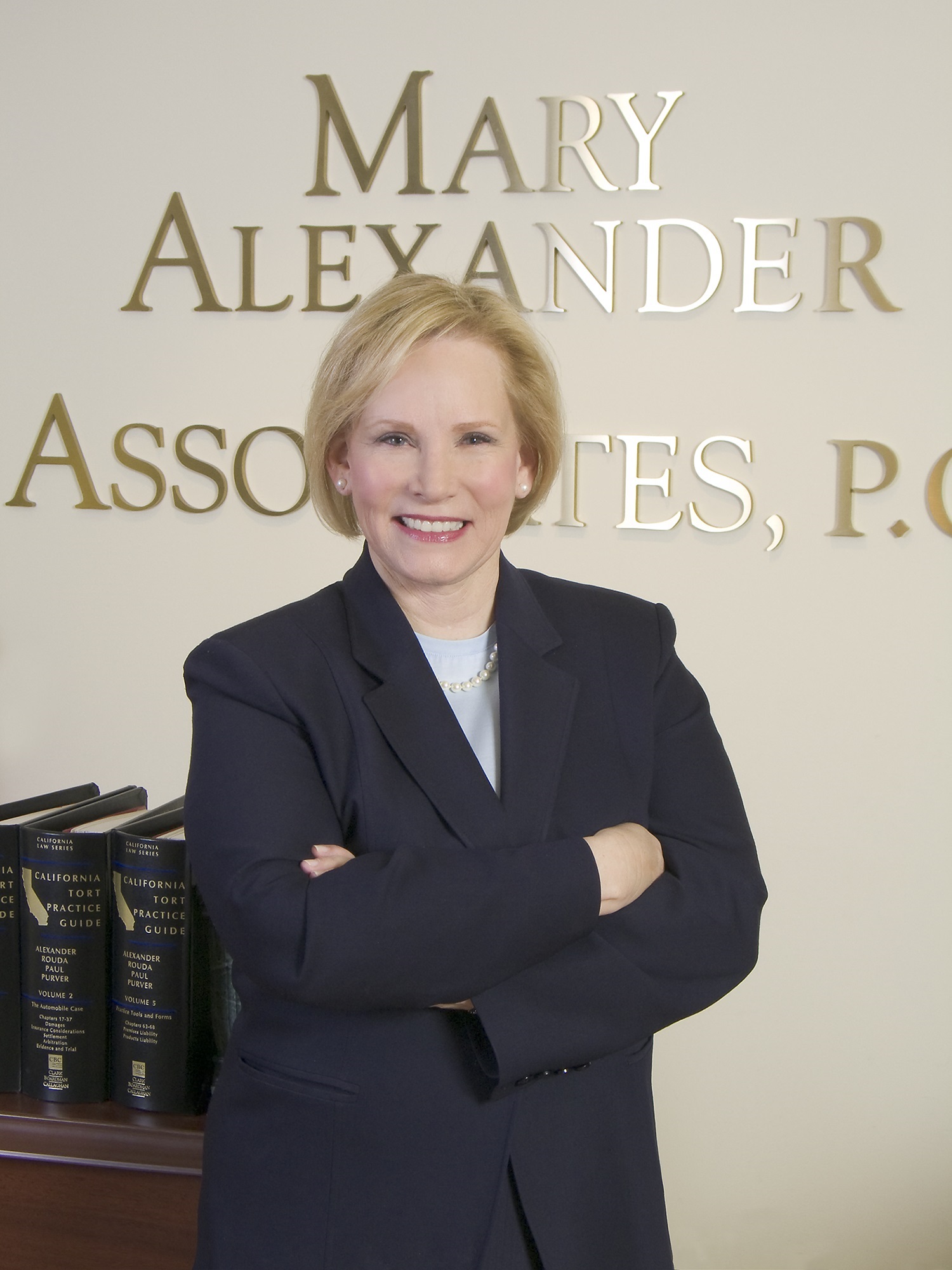 Widely recognized as one of San Francisco's top personal injury attorneys, Mary Alexander established her stellar reputation in the legal community after obtaining some of the largest and highest profile verdicts and settlements in the state of California over the course of her career.
She earned a national reputation for her work protecting consumer rights, and her dedication to her clients has won her numerous awards from attorneys, clients, legal publications, and others. In November of 2019, Consumer Attorneys of California recognized Ms. Alexander with the Consumer Attorney of the Year award as she was a leader in the legal team that obtained an historic $305 million settlement. She is regularly named one of the Top 100 Attorneys in California by the Daily Journal which also listed her as one of the Top Women Lawyers and Top Plaintiff Attorneys in California for several years running. She has been a Northern California Super Lawyer every year since 2006 and been recognized by Lawdragon as one of the 500 Leading Lawyers in America for several years.
Ms. Alexander is a Past-President of both the Association of Trial Lawyers of America and Consumer Attorneys of California, and her lobbying work for consumer rights is matched only by her success on behalf of her clients.
RESULTS
Mary has built a notable record of success, both before juries and at the negotiation table. Some of the highlights include:
She was a lead attorney working tirelessly to negotiate a $305 million settlement on behalf of ten California counties against several paint companies involved in the nearly 20-year lawsuit over lead paint in California. Ms. Alexander worked on this case for its entirety with the settlement ending two decades of litigation, which included a $1.15 billion bench verdict.
A $45 million verdict for a San Mateo victim who had her neck broken and as a result became a quadriplegic who was paralyzed for life when her car was struck by a driver speeding through a red light.
Ms. Alexander helped lead a legal team that obtained a $32.7 million settlement on behalf of thirty-two families, along with a survivor who suffered brain damage and burns, who were killed or injured during the Ghost Ship warehouse fire in December of 2016.
A $21.4 million jury verdict on behalf of the families of two brothers who died of cancer as a result of their exposure to the known cancer-causing chemical benzene.
A $13.3 million verdict for a severely injured client in Hall v. Yosemite Park and Curry Company, in which faulty bicycle brakes triggered a crash resulting in quadriplegia.
A $5.5 million settlement for a long-haul trucker who was run over by another trucker while outside the cab of his rig safely locking and inspecting his load.
A $4 million settlement in a San Francisco Municipal Railway accident, Landsverk v. CCSFA.
A $4 million settlement in a pedestrian accident, Ruszak v. State Farm.
But it's not just the results that have made Mary one of California's most sought-after trial attorneys. It is also a unique combination of capabilities and compassion that few lawyers can bring to their cases – or their clients. A scientist before she studied law, Mary leverages her technical background in every matter she takes on, and is well known for her ability to explain complicated theories to juries – and for using high-tech courtroom exhibits that help make difficult points easy to comprehend. She's taken on cases other lawyers will not or cannot – such as child sex abuse cases – and assisted clients from all walks of life because someone who has been harmed is someone who should be helped.
Ms. Alexander is also a leader in the legal community, having served as a president, treasurer, and/or board member of several prominent trial lawyer associations such as the American Association for Justice, Consumer Attorneys of California, Bar Association of San Francisco, American Board of Trial Advocates and many others.