Sponsor Insight
Why Nursing is a Career You Should Consider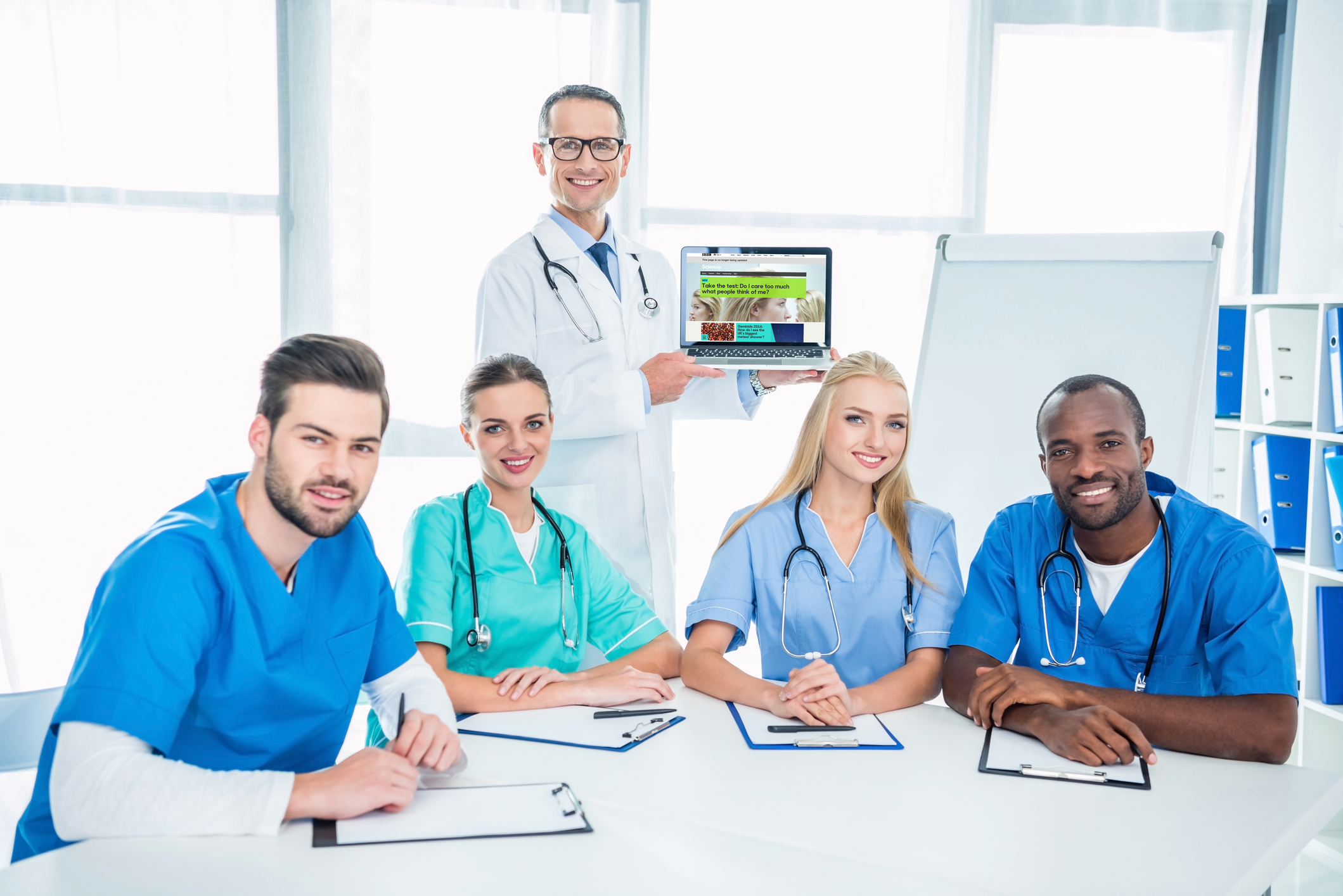 Nurses represent the front line of patient care. If you are admitted to a hospital, you will be spending 95% of your time being attended to by one. A nurse will be the first staff member you see upon admission when they assess your condition, and the last one you see as they discharge you. During your stay, nurses will be making decisions on the type of care you receive, what unit or wing of the hospital best suits your needs, what tests need to be administered and how the results should be interpreted, as well as what schedule and in what form you should be taking your prescribed medication. Nurses will also be interacting with family and friends and advising them on your condition and outlook, as well as attending to your day to day questions and needs as you recover. In short, although doctors get a lot of the plaudits, nurses are the unsung healthcare heroes.
With an expanding and aging population, it is hardly surprising that The U.S. Bureau of Labor Statistics estimates the nursing profession will experience 9% job growth by 2030, which is considerably more rapid than the average for U.S. occupations. For newly minted nurses, as well as ensuring that it will be relatively easy to find a job, this stat also ensures that they will have a high degree of job security during their working years.
Nurses also stand to be financially rewarded during their career – the median pay for the profession in 2020 was $75,330 per year. Those going on to earn a Bachelor of Science in Nursing (BSN) after their initial qualification (more below) can expect to be making around $87,000 a year according to payscale.com.
The icing on the cake might be that if you want to get into the field, you can get qualified in as little as two years with an Associate Degree in Nursing (ADN), which allows you to become a registered nurse (RN), and enter the workforce straight away. There are also other options offered by some schools to allow potential nurses to get qualified while working an existing job and attending school part time, or learning online.
If this has piqued your interest, the first decision you have to make is where to get your educational training.
At the USF Health College of Nursing, they are committed to a culture of bold innovation and inclusive excellence. Founded in 1973, the USF College of Nursing is one of 14 colleges that comprise the University of South Florida, the fastest-rising university in America, according to U.S. News and World Report 2022. Serving over 2,200 undergraduate, masters, and doctoral students each year, the College of Nursing is recognized as a leader in nurse education and community outreach. Also distinguished for its health care research, the college is consistently ranked #1 in Florida and in the top 25 in the nation for National Institutes of Health research funding.
USF College of Nursing is ranked in the top 50 on the 2022U.S. News & World Report Best Graduate Schools list. Their master's program is ranked No. 56, and the Doctor of Nursing Practice program is ranked No. 62.
Find out more to the right
Seattle University College of Nursing is dedicated to preparing values-based, compassionate professionals who will serve the health care needs of their community. They embrace the Jesuit tradition of developing the whole person and focus on the connections between the practical, academic, spiritual, and humane needs of people.
Since its establishment in 1935, the college has graduated health care leaders who are held in high regard by their communities, employers and professional colleagues. The school's graduates live its vision of movement toward service and creating a more just, humane world.
Find out more to the right
The Golden Isles is the home to the College of Coastal Georgia (Coastal Georgia). Located in Brunswick, GA, Coastal Georgia is just a few miles from the beaches of St. Simons and Jekyll Islands. While the College's location is quite a draw, the reputation of the nursing program is more impressive.
Coastal Georgia is a small state college that allows the nursing programs to provide low student-to-faculty ratios. Smaller classes allow professors to get to know their students, tailor instruction to student needs, and help guide students along their career paths. One common campus phrase is "Every Student, Every Time, " perfectly describing the College, faculty, and staff mindset. Faculty and staff incorporate this concept through teaching, interacting, and guiding students.
Find out more to the right
UNLV School of Nursing is known for sustained excellence in student learning and professional development in nursing and is the first institution in Nevada to earn the distinction. The School of Nursing admits 72 students per trimester in the traditional BSN program. Additionally, all of UNLV Nursing's graduate school courses are online. Graduate nursing courses offered at UNLV include Master's, Post-Master's, PhD (only Nevada school to offer a PhD in Nursing), Doctor of Nursing Practice, and Psychiatric Mental Health graduate tracks. Moreover, UNLV SON offers Continuing Education that align with current healthcare trends and issues. CE courses range from birth doula training; forensic nursing; and nurse executive and business certification.
Outside the classroom, UNLV Nursing fosters extensive community partnerships to not only promote evidence-based health practices for the public but grow its nursing students through first-hand experiences.
Find out more to the right
Jefferson College of Nursing (JCN) has been creating nurses who lead and impact society in innovative ways for more than 130 years. Their award-winning faculty are exemplary teachers with decades of experience and a fondness for boundary-breaking ideas. What's more, Jefferson College of Nursing is an integral part of a premier academic health center, Thomas Jefferson University Hospitals (TJUH), that provides students with the unique opportunity to participate in clinical care education at an 18-hospital system that continues to top the list of hospitals in Pennsylvania (3rd) and the Philadelphia metro area (2nd) in U.S. News & World Report's annual listing.
Their award-winning faculty are outstanding clinicians and exemplary teachers, many of whom maintain a clinical practice at the college's top-tier academic health center and are leaders in the most prominent nursing associations and organizations.
Find out more to the right
Sacred Heart University's nationally recognized nursing program is helping to meet the increasing demand for nurses in the workforce. With a full range of nursing tracks offered on-ground and online, they have degrees and certificates for every stage of your career. They know that each student's path to a nursing career is unique, which is why they offer multiple pathways to earn a BSN, the most popular nursing degree, as well as a variety of other undergraduate and graduate nursing programs.
Sacred Heart offers nursing programs to help you achieve your career goals at all levels of study, including the associate, bachelor's and advanced degrees.
Students who have already earned a bachelor's degree in another field but wish to become a nurse can pursue the Second Degree Accelerated BSN to graduate in fifteen months.
Find out more to the right
SUNY Empire State College's online nursing programs are designed for working professionals with busy lives. Students can take courses on their schedule, full or part time. 86% of SUNY Empire nursing students work full time while earning their degree.
Their online RN to BSN, M.S. in Nursing Education, and M.S. in Nursing Administration programs are accredited by the Commission on Collegiate Nursing Education (CCNE), which means they meet nationally prescribed standards for nursing education.
Their RN to Bachelor of Science in Nursing program for registered nurses prepares them to assume more responsibility in patient-care delivery, public health, research, and policymaking. Students take their courses online and complete two community-based, precepted, clinical experiences and can transfer up to 79 credits into the RN to BSN program. Most students complete their program in two to three years — or sooner, as they offer flexible 8-week course options.
Find out more to the right
The University of Providence (UP)is a faith-based Roman Catholic university that was founded in 1932 by the Sisters of Providence. Dedicating their lives to serving the poor, sick, and the vulnerable, the Sisters of Providence arrived in Great Falls, MT to open the city's first hospital. That legacy lives on in UP's educational mission in providing healthcare professionals the opportunity to further their education at an affordable rate.
UP offers multiple nursing programs for students including RN-BSN, BSN, Masters in Nursing- Adult Gerontology Nurse Practitioner, and Masters in Nursing- Nurse Educator. Each program is unique and is created in order to prepare nursing graduates, at any level, to be leaders in healthcare.
The programs offered by UP are conveniently developed for working professionals and are taught by highly qualified doctoral faculty that represent diversity in nursing experiences and specialties.
Find out more to the right
For over 50 years, the UA Little Rock School of Nursing has prepared leaders in the nursing community. Whether students are seeking new knowledge and training to become an RN or are practicing professionals taking their next career step, the school has a program that fits their needs.
The school is located in a state-of-the-art facility with competency-based teaching by the best faculty in the state.
All degree options offer the knowledge, skills, and attitudes essential to the competent nurse and are taught in settings ranging from the classroom, campus skills laboratories, simulated hospital rooms, area hospitals, outpatient, online, and other health care facilities.
With a state-of-the-art simulation hospital, high-tech lecture halls, and clinical rotations at the top facilities in central Arkansas, the UA-Little Rock RN Program prepares students to become a competent, dedicated, and compassionate nurse.
Find out more to the right
One is an important number at Texas State University. Whether at the College of Business or the School of Nursing, there are thousands of Bobcats waiting to welcome new students. The University is united by one shared purpose: to make a positive impact in the world. At Texas State, their 38,000 undergraduate and graduate students may choose from more than 200 bachelor's, master's, and doctoral degree programs — from biology to music to business to nursing and more. And each student finds the personalized support and opportunities they need to succeed beyond the classroom. One is never a lonely number at Texas State, because each one of us has thousands of Bobcats guiding and inspiring us on the way.
Founded in 1899 Texas State has a legacy of preparing students to make an impact in the world, including Lyndon B. Johnson, the only U.S. president to graduate from a college in Texas. The name has changed a few times, but the universities commitment to lifelong learning has never wavered.
Find out more to the right
For more information on Educational Insight Sections, please contact inquiries@insight-team.com