Sponsor Insight
Sacred Heart University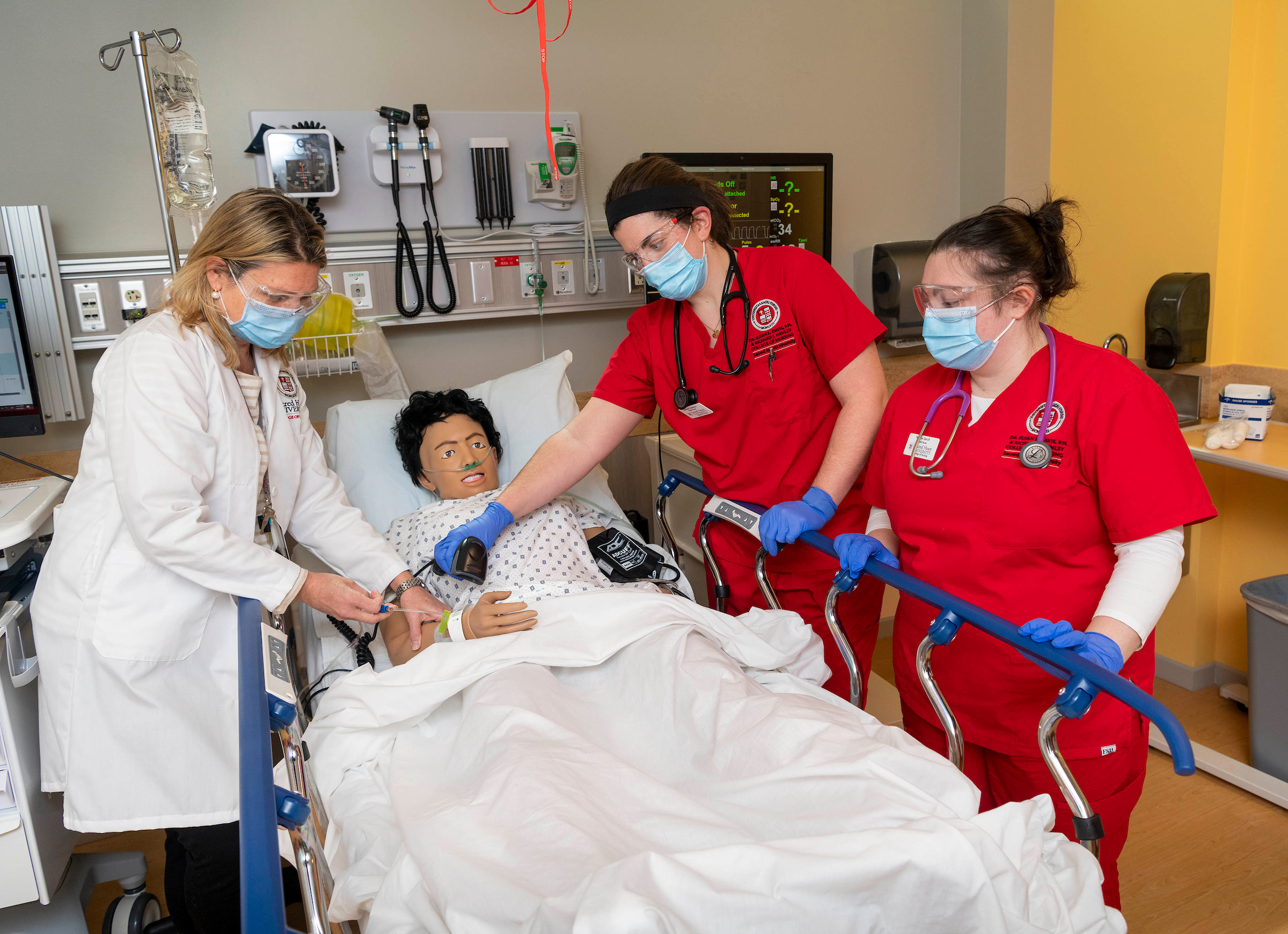 Your Destination for Nursing: Sacred Heart University
Taking nursing school to the next level.
As demand grows in the nursing workforce, Sacred Heart University's nationally recognized nursing program is helping to meet that need. With a full range of nursing tracks offered on-ground and online, we have degrees and certificates for every stage of your career. We know that each student's path to a nursing career is unique, which is why we offer multiple pathways to earn a BSN, our most popular nursing degree, as well as a variety of other undergraduate and graduate nursing programs.
One field of nursing. Many paths to success.
Sacred Heart offers nursing programs to help you achieve your career goals at all levels of study, including the associate, bachelor's and advanced degrees.
For those seeking a traditional college experience, the four-year Bachelor of Science offers that and more–it is ranked among the best in the country by U.S. News & World Report. Students who have already earned a bachelor's degree in another field but wish to become a nurse can pursue the Second Degree Accelerated BSN to graduate in fifteen months.
For working Registered Nurses (RNs), the online RN to BSN and RN-BSN-MSN programs are an excellent opportunity to advance a nursing career.
Graduate students can further their expertise with the online Master of Science in Nursing that offers the following specialties: clinical nurse leader, nursing management and executive leadership, nursing education and family nurse practitioner. The online Post-Master's Doctor of Nursing Practice prepares tomorrow's leaders in nursing.
Certificate programs provide opportunities to earn credentials online with options like home health care management for RNs, Advanced Graduate Certificate in nursing education and Advanced Graduate Certificate in nursing management & executive leadership.
These CCNE-accredited degree programs and certificate programs are housed within our Dr. Susan L. Davis, R.N., & Richard J. Henley College of Nursing, recently named a College of Distinction.
We know not every person–and not every promising health care career–needs a four-year degree. Our ACEN-accredited associate degree in nursing gets you started working and making a difference quickly. The associate degree is housed within our St. Vincent's College, which uniquely meets the needs of learners seeking a program close to home with future pathways to continue their education.
Professional-level facilities. Real-world learning.
In state-of-the-art simulation and skills labs, you'll develop essential skills as you safely practice what you'll encounter in clinical scenarios. You'll learn alongside your cohort by working with high- and low-fidelity manikins that represent adult, geriatric adult, birthing mother and pediatric patients. As a Bachelor of Science in Nursing student, you can also experience international study opportunities to gain a global perspective of health care through observation and clinical learning abroad, including at SHU's own campus in Ireland.
Professional experience. Meaningful mentorships. All before graduation.
Your clinical rotations will be both extensive and diverse, spanning top hospitals and clinical locations across Southwestern Connecticut. Our focus on hands-on learning under the tutelage of health care professionals will give you ample opportunity to put theory into practice, prepare you for professional nursing work and help you make connections in the state's dynamic and evolving nursing industry. Sacred Heart's dedicated faculty–made up of scholars and experts–are deeply invested in student success and meaningful mentoring relationships with their students through small class sizes within a supportive community.
Nursing at Sacred Heart: Join the community. Leave a Pioneer.
We know a nursing education is not one-size-fits-all. Whether you want to pursue your BSN or take an accelerated degree pathway or earn the certificate that takes your career to the next level, SHU has it. As you consider choosing your own path, make it the one where you can learn to make the biggest impact through a mission-driven curriculum. The one that gets you exclusive access to professional-level simulation facilities right on campus. Make your next step the one that fits. Study nursing at Sacred Heart.