Sponsor Insight
University of Arkansas at Little Rock School of Nursing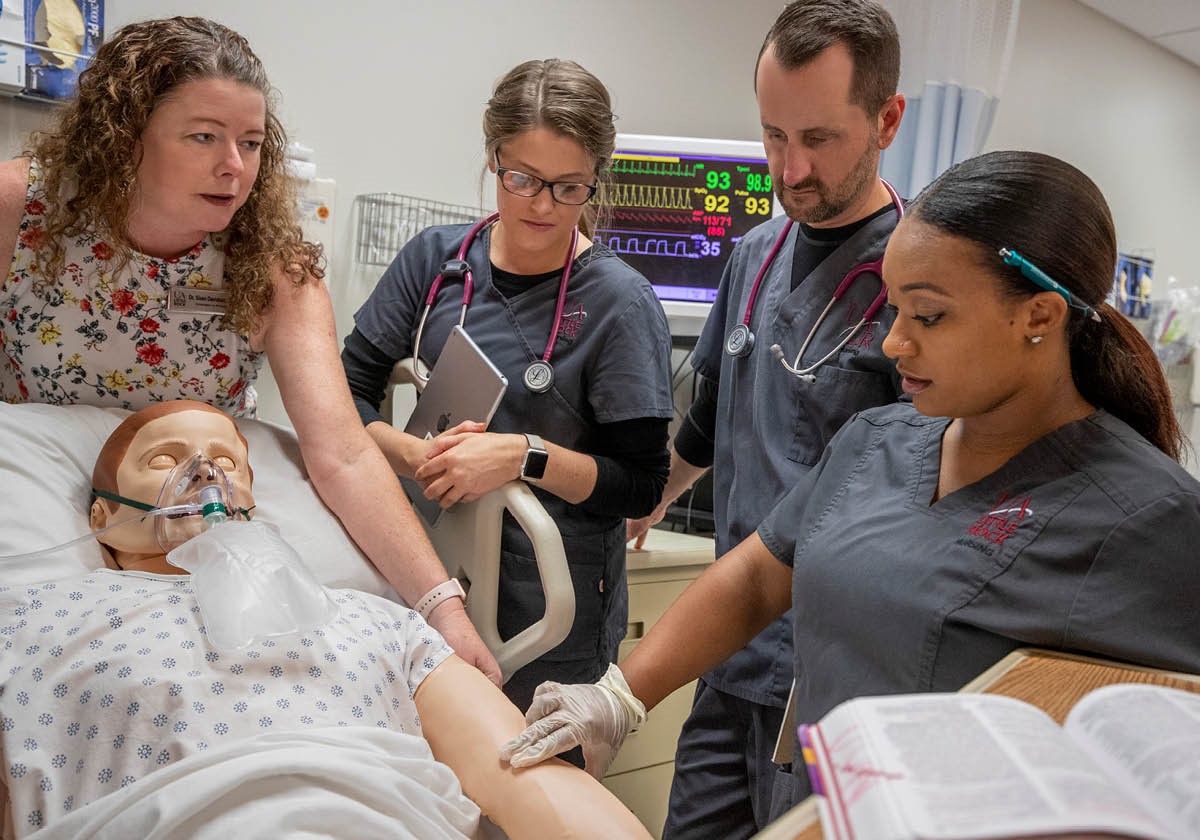 For over 50 years, the UA Little Rock School of Nursing has prepared leaders in the nursing community. Whether you are seeking new knowledge and training to become an RN or a practicing professional taking your next career step, we have a program that fits your needs.
The school is located in a state-of-the-art facility with competency-based teaching by the best faculty in the state.
Associate of Applied Science in Nursing
With a state-of-the-art simulation hospital, high-tech lecture halls, and clinical rotations at the top facilities in central Arkansas, the UA-Little Rock RN Program prepares students to become a competent, dedicated, and compassionate nurse.
The School of Nursing offers the knowledge, skills, and attitudes essential to the competent nurse and is taught in settings ranging from the classroom and campus skills and simulation laboratories to major area hospitals, outpatient facilities, and other health care facilities. Students will be prepared to enter professional practice settings such as hospitals, long-term care facilities, physicians' offices, and community settings. This course of study includes 27 credit hours in liberal arts and sciences and 33 lower-level nursing credits.
The UA Little Rock School of Nursing Ladder program is a sequence of courses designed to progress students through all competencies of nursing. A First-Time Freshman can graduate with a Bachelor of Science in Nursing within 4 years AND have 1 year of work experience as a registered nurse. Please attend a Pre-Admission Information Session before contacting a pre-nursing advisor about your individual plan of study.
RN to BSN
Are you ready to take your career to the next level? Earning your Bachelor of Science in Nursing will help you do just that. The courses you will take for this degree cover the areas of health assessment, wellness promotion, economics, research, legalities, leadership, and advocacy. Enhancing your skill set, employment potential, and future educational opportunities.
The UA Little Rock Online RN to BSN Program offers current registered nurses and soon to be graduates of Associates of Nursing programs the opportunity to earn their BSN entirely online.
Our 12-month and 18-month tracks allow students the opportunity to further their education at a fast or slow pace while working part or full-time as an RN or completing the last semester of their associate's program.
LPN/Paramedic to RN
The UA Little Rock School of Nursing LPN/Paramedic to RN degree is one year (three terms) and is designed to prepare students to sit for the NCLEX-RN State Board Exam.
This degree consists of two Nursing classes in the summer, two Nursing classes in the fall and two in the spring. Upon completion of spring coursework, the student will receive an Associate of Applied Science in Nursing.
Beginning in summer at the end of May, LPN's/paramedics will enter NURS 1415 Nursing Role Transitions followed by NURS 1420 Mental Health. In the fall, courses consist of NURS 2410 Pediatrics and NURS 2420 Obstetrics. Spring semester consists of NURS 2550 Adult Nursing III and NURS 2350 Competency for Entry. All of these courses consist of clinical, lecture, and simulation lab training.
Students may continue into our online RN-BSN completion immediately after passing their final course.
The School of Nursing at UA Little Rock meets the state education requirements for the Associate of Applied Science and Bachelor of Science in Nursing Registered Nurse license in the state of Arkansas. UA Little Rock has not determined if the School of Nursing meets the state education requirements in any other state, any U.S. territory, or the District of Columbia.
The Associate and Baccalaureate nursing programs at the University of Arkansas at Little Rock located in Little Rock, Arkansas are accredited by the: Accreditation Commission for Education in Nursing (ACEN).