Sponsor Insight
UNLV School of Nursing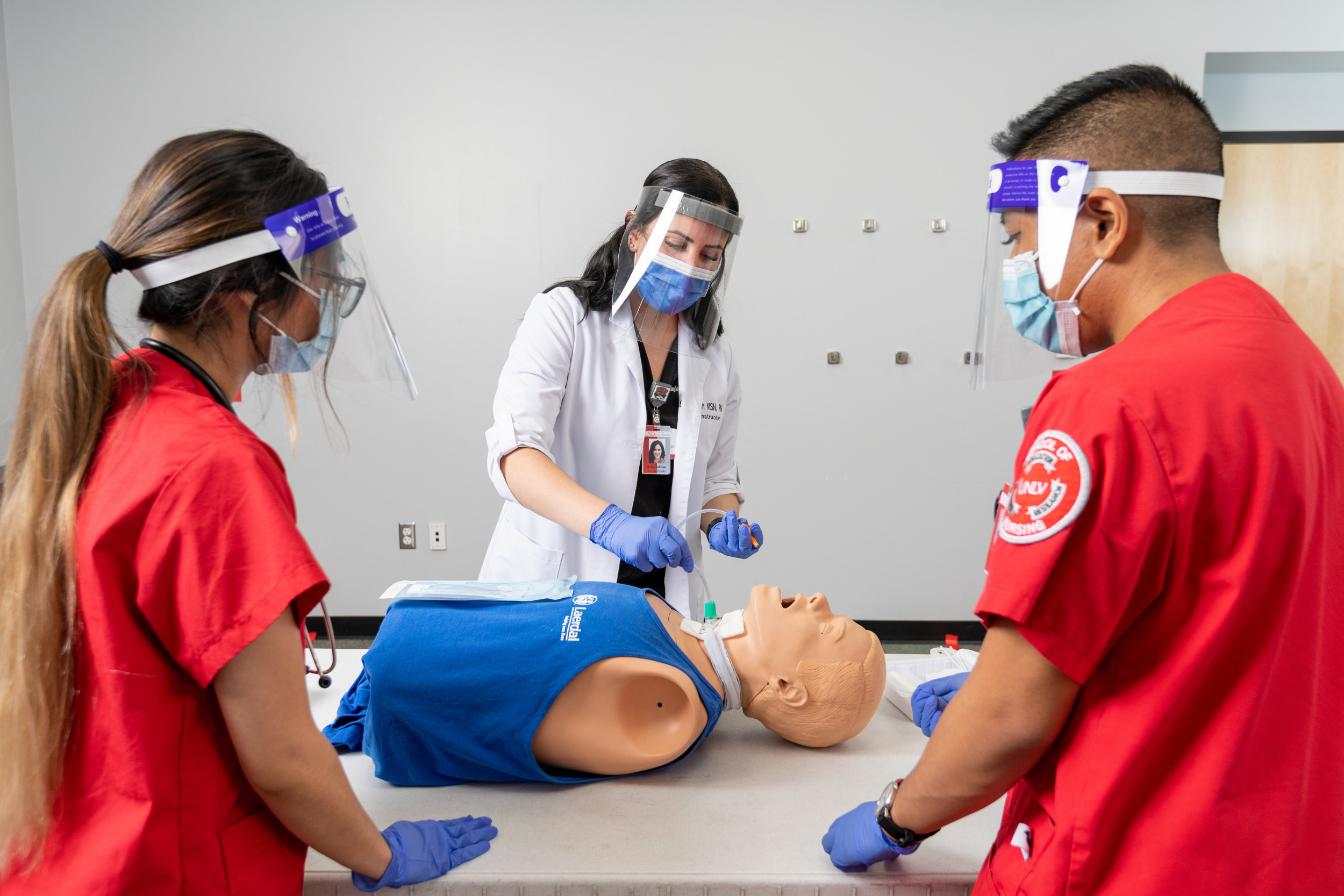 Nurse leaders begin here at UNLV. UNLV School of Nursing is known for sustained excellence in student learning and professional development in nursing and is the first institution in Nevada to earn the distinction. The School of Nursing admitted its first cohort of students in 1965. The 26 women and one man graduated with their associate's degree two years later, beginning what has become a history filled with successes, accomplishments and pride.
The School admits 72 students per trimester in the traditional BSN program. Additionally, all of UNLV Nursing's graduate school courses are online. Graduate nursing courses offered at UNLV include Master's, Post-Master's, PhD (only Nevada school to offer a PhD in Nursing), Doctor of Nursing Practice, and Psychiatric Mental Health graduate tracks. Moreover, UNLV SON offers Continuing Education that align with current healthcare trends and issues. CE courses range from birth doula training; forensic nursing; and nurse executive and business certification. Outside the classroom, UNLV Nursing fosters extensive community partnerships to not only promote evidence-based health practices for the public but grow our nursing students through first-hand experiences. Currently, UNLV SON maintains 187 clinical partnerships, making up nearly 300 clinical sites for undergraduate and graduate students.
UNLV Nursing faculty and staff altered their procedures in 2020 to maintain productive clinical experiences during the height of the coronavirus pandemic. Through hybrid courses, undergraduate students could continue their education. Through virtual clinicals and evaluations, Family Nurse Practitioner students were able to simulate telehealth scenarios while receiving the necessary feedback for their performances. Undergraduate students participated in UNLV vaccination clinics in 2021, helping a campus-wide effort to distribute at least 75,000 doses to the Southern Nevada community. In non-academic scenarios, our faculty stepped up to help others throughout the area, including volunteers for hospital shifts to check visitor temperatures; signing up for Nevada's Battle Born Medical Corp; and creating hundreds of homemade face shields and masks.
In 2019, UNLV Nursing created the successful Nurse Camp, an interactive summer camp for high school juniors and seniors and recent graduates to see what it's like to be a nurse, using hands-on activities like CPR and Stop the Bleed training; roundtable discussions with real nurses; hospital tours; and skills training at the Clinical Simulation Center of Las Vegas.
Our connection to our alumni and donors helps guide our success. We offer a multitude of programs designed to enhance alumni engagement, including mentoring programs, board of directors, and speaker's bureau. Additionally, every School of Nursing donor makes a significant impact in the lives of our future nurse leaders. Donations allow our students, programs, research, and efforts within the school to develop and grow, contributing to the quality of nursing education. Annual donations, endowed funds, and scholarships provide invaluable resources for the school that facilitate efforts to enroll, educate, and graduate the best students, and see them move on to successful nursing careers here in Nevada, and around the world.
UNLV Nursing boasts a Top 50 best undergraduate nursing program; a Top 10 best online master's nursing program, and two Top 100 graduate nursing programs (for its master of science in nursing and doctor of nursing practice programs), per 2021-2022 U.S. News & World Report rankings. Additionally, the School of Nursing was one of 10 nationwide named a Center of Excellence by the National League for Nursing in 2019.