Sponsor Insight
The University of Alabama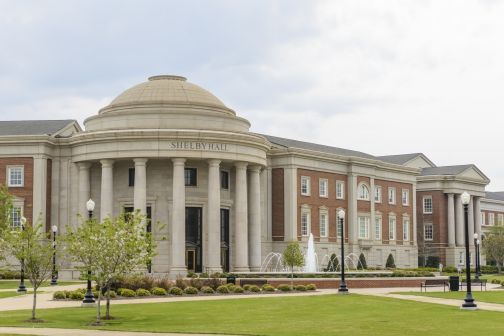 The University of Alabama
Online options for engineers
The University of Alabama has been driving innovation in engineering education for over 175 years. From cutting-edge research led by world-class faculty to premier facilities and programs, UA's College of Engineering prepares thought leaders for the workforce. Nationally accredited by the Engineering Accreditation Commission of ABET, the College of Engineering offers a wide variety of programs both on and off campus.
As educational technology and the needs of students have changed, UA's College of Engineering has emerged as a leader in online engineering education. In addition to the excellent programs offered on campus in Tuscaloosa, four programs are currently offered online or primarily online to meet the needs of students unable to enroll in a traditional program.
These distance programs feature:
Campus-recorded lectures taught by the same faculty who teach on campus
Convenient online delivery with labs available across the state and close to major airports
One low tuition rate for distance learners, regardless of residency
Bachelor of Science in Mechanical Engineering
One of the most versatile engineering degrees, the BSME prepares students for involvement in all aspects of the manufacture of products. BSME students pursue careers in the automotive, aerospace, chemical, computer, communication, defense, energy, railroad and robotics industries, just to name a few. Increasingly, BSME students are needed in the environmental and bio-medical fields, and many of our graduates have pursued education in medicine and law. Without a doubt, virtually every product or service in modern life has been touched in some way by a mechanical engineer .
Most of UA's BSME major coursework is available online with the exception of lab courses which are offered face-to-face. Other courses not currently available online can be completed at a community college or university near you. Labs are offered weekends in Dothan, Gadsden or Tuscaloosa, Alabama.
Master of Science in Mechanical Engineering
Develop your research skills, design a specialty and magnify career opportunities by earning your MSME. The MSME is a 30-credit-hour program and can be earned entirely online. One of our newest programs, it features highly flexible course options that allow you to focus your education within the areas of mechanical engineering that are most relevant to you. This program does not require a thesis or campus visits.
Master of Science in Aerospace Engineering and Mechanics
Since 1993, the MSAEM program has been offered through distance learning. Once a favorite of military students, this program now graduates military and corporate engineers alike. The MSAEM consists of 30 credit hours and can be earned entirely online. This program does not require a thesis or campus visits.
Doctor of Philosophy in Aerospace Engineering and Mechanics
One of the first engineering PhDs to be offered online, the Doctor of Philosophy in Aerospace Engineering and Mechanics provides an opportunity to earn a research-based degree that allows students to propose, complete and defend an approved dissertation on a research topic that contributes to the field of aerospace engineering and/or engineering science and mechanics. The program is designed for engineering professionals with five or more years of experience within their field who appreciate the use of technology and seek ownership of innovative ideas through research and experience.
Like a traditional program, you will work closely with your faculty advisor, but your coursework will be completed primarily online. Students are required to attend campus for various responsibilities only once a semester.
Gain your competitive edge by combining your experience with an advanced degree from a name you know. For more information about the distance learning programs mentioned above, visit BamaByDistance.ua.edu or call Bama By Distance Student Services at 800-467-0227. For information about engineering programs offered on UA's campus, visit eng.ua.edu.