Inslee Issues Drought Declaration, Warns Washington Could Face Its 'Worst Wildfire Season'
Washington Gov. Jay Inslee issued an emergency drought declaration on Wednesday and said that the state could face the "worst wildfire season to date."
"I have declared a drought emergency in most of our state. Many areas of WA are currently under the stress of these extreme drought conditions," Inslee tweeted.
"Wildfires are raging in Central & Eastern WA. Our state could be facing the worst wildfire season to date and the impact on people, wildlife and property could be devastating. As we've seen in recent years, smoke from wildfires will impact every Washingtonian's health," Inslee wrote in a subsequent tweet.
Inslee said in his announcement that the drought declaration "excludes metro regions of King, Snohomish & Pierce counties" as they are expected "to have sufficient water storage to meet needs through the summer, & to maintain adequate water levels in nearby rivers to protect fish."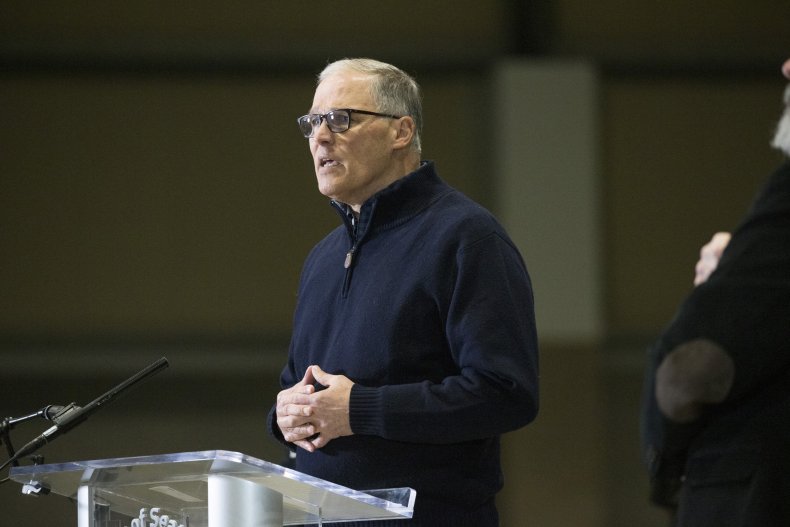 The Washington Department of Ecology said in a statement that the announcement comes after "A historically dry spring and summer, followed by a record-breaking heat wave," which has affected the state's water supply.
"In late May, the fourth-driest March through April on record, prompted Ecology to issue a drought advisory for 29 counties. Dryness persisted through June. Averaged statewide, March through June precipitation ties 1926 as the second driest such period since 1895," the statement said. "Now Ecology, along with the departments of Fish and Wildlife, Agriculture, and Natural Resources, are reporting signs of stressed fish; farmers and ranchers are being forced to cut back on irrigation, and wildfires are burning through dry vegetation."
According to the state's ecology department, "A drought emergency means water supply is projected to be below 75 percent of average, and there is a risk of undue hardship to water users and uses."
Over the past several weeks, Washington and several states in the Pacific Northwest have faced a wave of blistering heat. Record-breaking temperatures were previously recorded in Seattle and the Washington Department of Health previously reported that at least 91 people had died because of the heat wave.
The heat wave and dry weather conditions have led to numerous wildfires burning across the state. According to the National Interagency Fire Center, there are currently four active wildfires in Washington, all of which have burned a combined 25,182 acres.
Inslee previously issued a wildfire state of emergency, which included a statewide ban on outdoor burning.
"Washington is facing a historic drought and we have already experienced record-breaking heat. We must be vigilant in our efforts to prevent wildfires, and the loss of life and destruction of land and property that comes with them," Inslee said in a statement on July 6.
Newsweek reached out to Inslee's office for further comment but did not receive a response in time for publication.