Inslee, Newsom Ask Biden for More Resources to Battle Wildfires 'Blowing Past' Every Record
Governors from California and Washington asked President Joe Biden on Friday for additional resources to combat the ongoing wildfires that are "blowing past" records.
During a briefing hosted by Biden and Vice President Kamala Harris, California Governor Gavin Newsom said that the state is "blowing past every record and not in a good way."
"We're at over 5,700 fires here today, we suppressed 59 just yesterday with some initial attacks. Over half a million acres already burned in California," Newsom said. "To put it in perspective, record breaking year last year, we were at 130,000 acres burned, we are at 504,000 as I speak to you today."
Newsom went on to talk about the need for emergency fuel supplies for the state's aerial fleet that helps to combat the fires. The California governor told Biden that the state also needs more "boots on the ground," to help fight the ongoing active wildfires.
During the briefing, Newsom said that California has the "largest civil aviation fleet for firefighting in the world," but noted that it still "does not come close to the tools" the state needs to contain the fires.
"We need your support to dramatically increase the aerial support in addition to boots on the ground," Newsom said to Biden.
According to data from the National Interagency Fire Center, there are currently five active wildfires in California. The largest wildfire in the state is the Dixie Fire, which has burned over 226,000 acres and is just 23 percent contained.
Washington Governor Jay Inslee also made similar comments during the briefing, telling Biden that "everything we need to fight forest fires is in dire need across the Western United States, not just in Washington state."
"We have a huge need for additional aerial assets, additional dozer bosses so we can get our dozers into fire lines, we need more trained people. We do have an emerging concern about our fuel supply for our aerial assets," Inslee said. "We've had 1,000 fires. It's burned four times more at this time of year than normal."
"Everything you need to fight a fire we could use your help on," Inslee continued.
Data from the National Interagency Fire Center showed Washington is currently fighting nine active wildfires, including the Cub Creek Fire and the Cedar Creek Fire, which have combined to burn over 80,000 acres.
Several other states are also battling numerous wildfires as the National Interagency Fire Center recently reported that there are currently 83 active wildfires across 13 states. Oregon's Bootleg Fire is currently the largest active wildfire in the U.S., burning over 413,000 acres.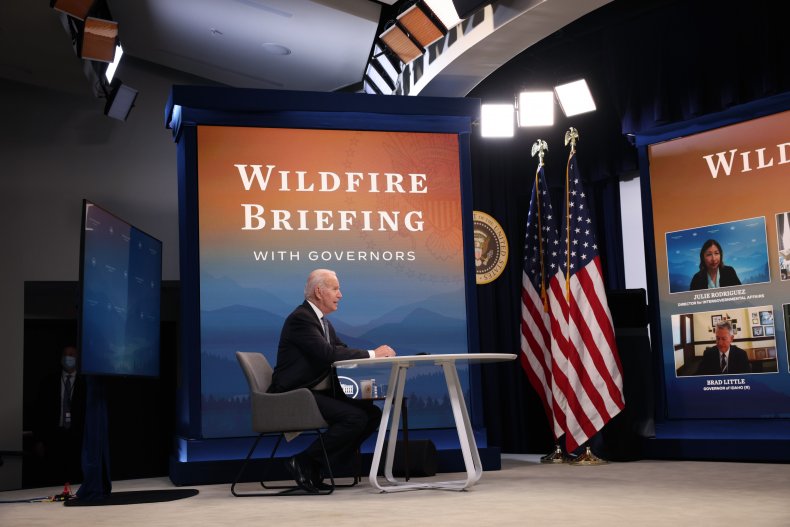 During the briefing, Biden said that the ongoing threat of wildfires across the West coast requires "urgent action."
Biden said that the combined factors of extreme heat, prolonged drought and increased wildfire conditions "are affecting the country."
"And so this is a challenge that demands our urgent, urgent action," Biden said. "Our resources are already being stretched to keep up. We need more help, particularly when we also factor in additional nationwide challenges, the pandemic-related supply chain disruptions and our ongoing efforts to fight COVID."