Instagram Changes Nudity Policy After Deleting Black Plus-Size Model's Photo
Black plus-size model Nyome Nicholas-Williams is celebrating a win against social media giant Instagram after she successfully campaigned for the platform to change its nudity policy.
Nicholas-Williams accused the site of racial bias when a topless photograph of her taken to celebrate body diversity was removed, while similar images of nude white celebrities were allowed to remain.
In the picture, posted to the site in August, Nicholas-Williams covers her breasts with her hands. Almost immediately it was removed after Instagram deemed it to violate guidance on pornography. Nicholas-Williams argued that as a Black plus-size woman, her body was being discriminated against, while nearly-nude pictures of white, slim, models like Emily Ratajkowski, Kylie Jenner, and Kim Kardashian, remained on the platform.
She was supported by thousands of people re-posting her picture alongside the hashtag #IWantToSeeNyome. Other Black influencers and models came forward in droves to report having their own similar photos removed in a way that white users weren't. Instagram and its parent company Facebook has said it will be updating its policy on nudity to "better support the Black community" and "ensure all body types are treated fairly".
Nicholas-Williams tells Newsweek: "I knew that plus-size bodies were being censored online but this was the first time I had pictures of myself deleted. It was a genuine shock. That's what was so powerful about people who started using the hashtag and re-posting my picture. Even white influencers were seeing it being taken down.
"It was a realization that there is this bias being woven into the algorithm that is deleting marginalized bodies over and above anyone else. It is hitting Black people, and Black women, hardest of all. That was wild to see."
The model - who relies on her social media posts in order to book work - says the impact of her picture being removed made her afraid to use the site. "I became really afraid to post anything," she says. "I had worked hard to build up my Instagram, it is where clients go to look at you and pick you for a job. I didn't know what to do, I am about self-love, body-love, what if my images keep getting taken down? It's not a great feeling at all."
Photographer Alexandra Cameron - who shot the deleted picture - and activist Gina Martin campaigned alongside the model. The trio spent three months fighting the removal of the picture, working alongside Instagram to bring about the change. Cameron said she was annoyed about her work being removed but says the biggest shock was "seeing how someone's body was effectively being deleted by an algorithm" in this way. "More than any other group, Black plus-size women are the most targeted and the most likely to have pictures taken down," she says. "It was definitely one of the most important aspects to us, that they should be represented everywhere - in particular on Instagram."
She says support for the campaign was overwhelming. "When you feel passionate about something you always hope that other people will feel passionate about it too - we never expected it to take off in the way it did," she says. "I think a lot of it had to do with Nyome and her picture, how striking she is, and her presence within the image. People were just as shocked as we were that it was taken down."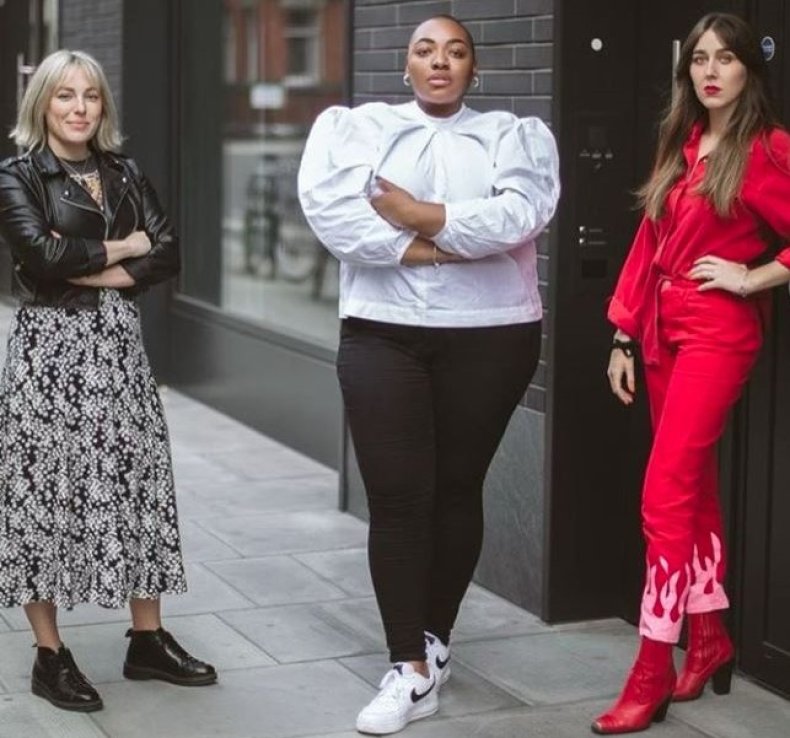 Martin - who last year successfully fought to make "upskirting" a criminal offense in the U.K. - jumped on board to support the campaign as soon as she heard about it. She says her prior experience in influencing British lawmakers gave her a particular skill set with which to take on the world's biggest social media empire. She also came up with the #IWantToSeeNyome hashtag, helping to spread the campaign to thousands more users online.
"I've got experience in forcing policy change and I know how hard it is to get the attention of the people who can make it happen," Martin says. But that's exactly what she did, setting up meetings with key policy leaders at the site and eventually Instagram head Adam Mosseri himself.
"He actually listened and heard Nyome speak on how important the change is and from then it's been really positive," she says. "We hope it will have a massive impact on Black plus-size women going forward - the people whose voices are constantly being erased from the movements they start.
"It was women who led the campaign and women who made the change happen. With both upskirting and this policy change, I succeeded because women in positions to help made it their issue and took it on. It was a female employee at Instagram who saw me posting about it and said 'maybe I can help'. When women come together they are far stronger. Instagram's willingness to engage with us on this shows that holding platforms accountable respectfully really works."
Even after her successful campaign brought about the policy change, Nicholas-Williams has found she continues to be erased from the discussion. In many international reports of the campaign, White Australian model and comedian Celeste Barber is being credited with leading the fight. The model feels the shine has been somewhat taken off her success.
"This discussion is still being whitewashed," Nicholas-Williams says. "I am overjoyed with the change but I can't believe it's now being overshadowed. I don't have anything against her speaking up as a 'plus-size model' but she's not a marginalized person in a marginalized body. This was the point, that Black women's bodies are the most likely to be erased."
Instagram said it deleted images that included "breast squeezing because it can most commonly be associated with pornographic content" but admitted there were times when that policy would "fall short". It accepted the pictures of Nicholas-Williams that had been removed were intended to demonstrate self-love and body acceptance and said "it was an instance where our policy on breast squeezing wasn't being correctly applied".
In a statement, the site said content where someone is simply hugging, cupping, or holding their breasts will be allowed, but said: "We do have to draw the line somewhere so when people squeeze their breasts in a grabbing motion with bent fingers", that content will break the rules. The policy will apply across Instagram and its parent company Facebook.
Kira Wong O'Connor, head of policy at Instagram, said: "We know people feel more empowered to express themselves and create communities of support - like the body positivity community - if they feel that their bodies and images are accepted. We are grateful to Nyome for speaking openly and honestly about her experiences and hope this policy change will help more people to confidently express themselves. It may take some time to ensure we're correctly enforcing these new updates but we're committed to getting this right."
Instagram said it has already committed to "ensure we better support the Black community on our platform." It said: "This work is going to take some time, but we're going to continue to provide updates. Our goal is that this work will get us closer to making sure Instagram is a place where everyone feels safe, supported, and free to express themselves."
Describing the policy change as a "huge step" Nicholas-Williams says she is hopeful it will now protect all Black plus-sized women. "I hope that we will feel able to share our art without our bodies being censored," she said. "That's what I care about."