I Attended a Swanky Wedding for Instagram-Famous Dogs—It Got Weird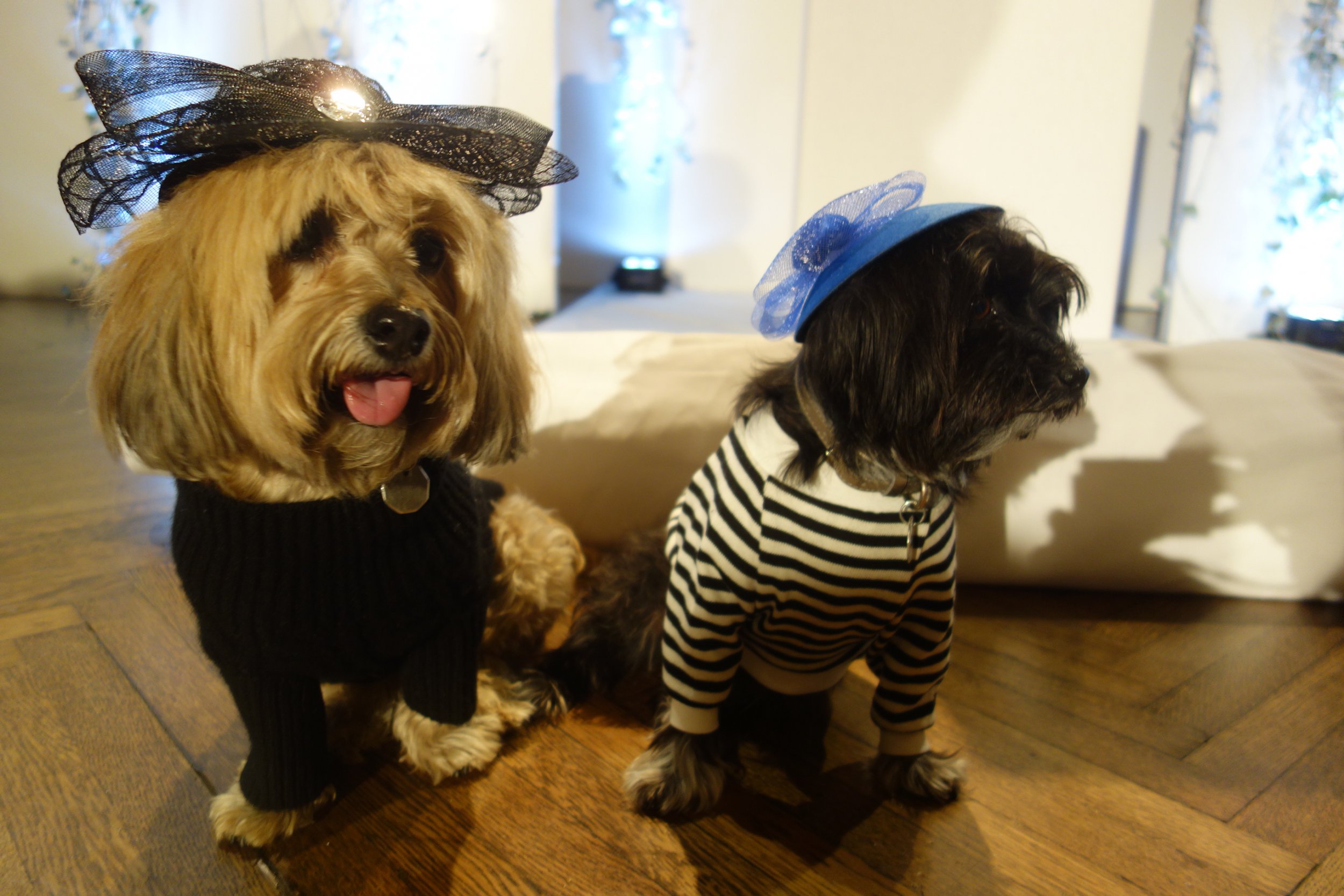 I was running late to the wedding, and I hoped the bride and groom wouldn't be offended. I figured they wouldn't, because they're dogs.
Welcome to the bizarre, dog-themed fête of the season: a celebration of holy matrimony between two Instagram-famous dogs at the High Line Hotel in Manhattan last Wednesday evening.
Toast, the "bride," is a ruby Cavalier whose glamorous-seeming life — from Star Wars costumes to Christmas-themed photo shoots — is broadcast to a handsome 338,000 Instagram followers. Finn, the "groom," is a Dachshund-Chihuahua mix belonging to socialite/activist Amanda Hearst, and has a more modest 16,000 Instagram followers.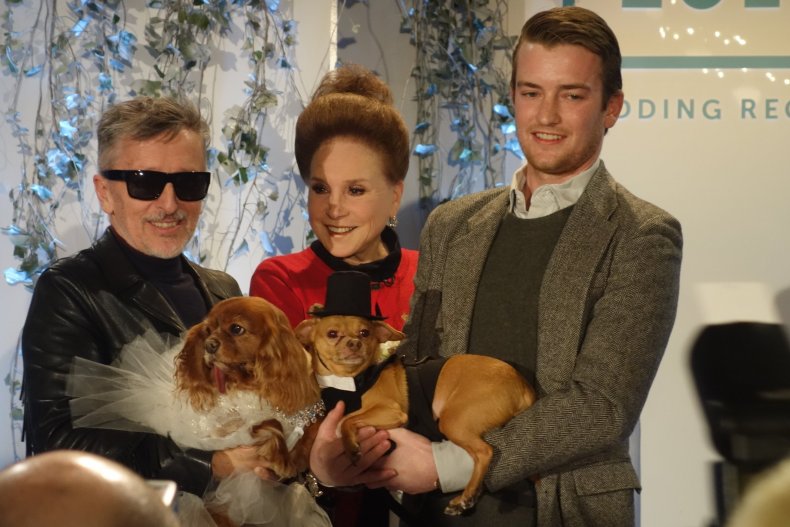 I was late because I missed my subway stop because I was engrossed in the press release for the lavish affair, which ruthlessly anthropomorphizes the pooches for the sake of promoting Zola wedding registry, the event's sponsor. "Toast and Finn's love story began when they met at a charity gala and instantly became best friends," it states. "With approval from Toast's dad, Finn popped the question on a beautiful fall day in Central Park and asked Toast to be his wife. Toast is greatly looking forward to walking down the aisle in her custom Marchesa gown." In the release, the dogs are referred to as "Instagram's most adorable dog influencers."
The dogs have something else in common, too: Both were rescued from puppy mills, and a portion of proceeds from the gift registry were to be donated to National Mill Dog Rescue, which finds homes for commercial breeding dogs. "Stopping puppy mills is a cause that is dear to both of our hearts," Toast and Finn "write" in a message on the ceremony program. Toast's "dad" (and Finn's new father-in-law) happens to be Josh Ostrovsky, otherwise known as "The Fat Jew," the Instagram comedian who's sailed to viral success (and a book deal!) with his brand of screenshotted observational humor — while being frequently derided in Internet-comedy circles for his joke plagiarism habits.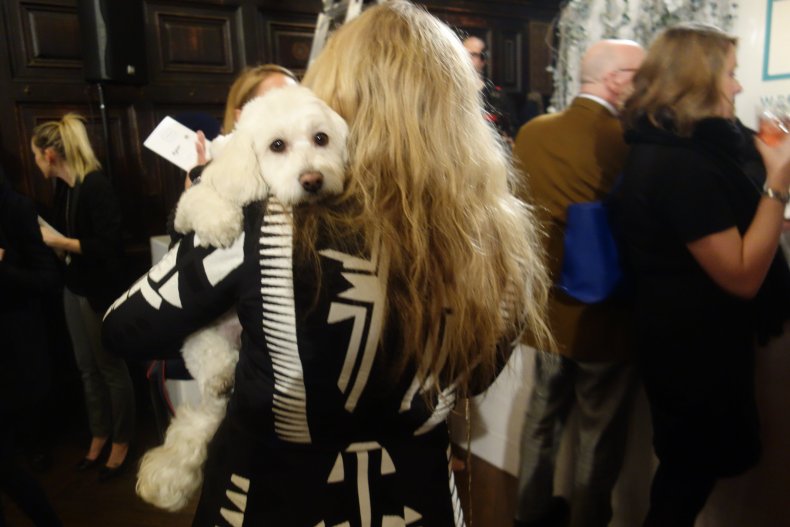 Arriving at the grand refectory of the High Line Hotel, I saw what looked a whole lot like a typical wedding: well-dressed guests in suits and gowns, clutching glasses of champagne and taking iPhone photos. (Having come straight from work, I realized I was way underdressed in my greyish slacks and black sweater.) Just one difference from most weddings: The dull roar of human chatter and techno music was punctuated with the occasional bark or growl, and many of these well-dressed guests were clutching leashes, which were attached to dogs of every sort.
So this is what it's like to attend a doggie wedding. A well-groomed labradoodle gnawed at its leash impatiently. A white Shih Tzu tried to jump on me in delight. A small Pomeranian, which sort of looked like a collie with a shrunken head, barked shrilly, desperate to be heard over the din. At the front of the room were tables piled high with gifts emblazoned with the Zola logo, as well as a wedding cake starring two dog-shaped cut-outs and some swag advertising other pet-related sponsors (Dyson animal vacuums, Conair pet products). Fancy chandeliers swung from the ceiling. I expected to see The Fat Jew somewhere, with his famous spiky manbun and formidable beard, but I didn't spot him.
It was surreal to see these dogs pawing around and sniffing each other in such a swanky environment — a little bit like the feeling of running into your math teacher at the supermarket or, I guess, running into your math teacher at a wedding for dog influencers. There was a white cloth spread across the center of the room as a dog-friendly wedding aisle. I felt like I'd stepped into some bizarre deleted scene from Best in Show.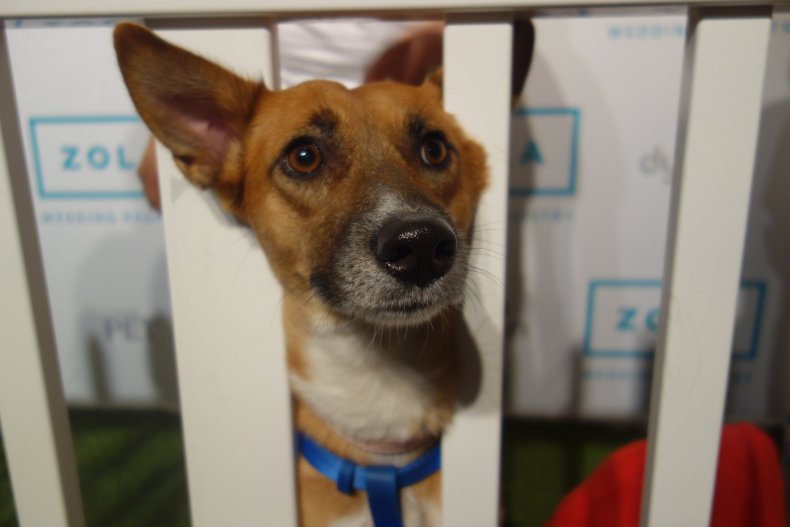 Zola's chief marketing officer took the microphone for a brief toast, during which she stressed the "mandatory wedding hashtag" (#ZolaToastsFinn) and Snapchat filter. "We're thrilled that Toast and Finn chose Zola to support their less fortunate furry friends," she said, characterizing dogs with brand awareness, and then she turned the mic over to the ceremony's officiator, Cindy Adams, who gave a very funny speech wherein she recapped Toast and Finn's love story, dissed The New York Times and referred to The Fat Jew as "the fat Jewish guy." Another choice quote: "Since I cover Broadway, I have seen many a dog get married!"
It was time for the ceremony to begin. Pachelbel's Canon rang out as the bridesmaids (which included dog celebrities like @ellabeanthedog and @underpantsthedog) were escorted down the aisle. Then Toast was carried out by her godfather, the fashion mogul Simon Doonan, looking thoroughly bewildered in a custom-made doggie bridal gown. Finn had a pretty stylish partial tux and top hat of his own. Dozens of iPhone cameras appeared in the air to capture the moment. Adams read the vows ("Will you forever promise to share your chow with Finn when reruns of Lassie are on?") and pronounced the pooches husband and wife. The dogs were made to touch snouts and held high in the air as canine beacons of monogamy. I was too far away to see if the dogs were expressing looks of holy matrimony or excruciating embarrassment, though I'm not sure there's a difference.
"Did you cry?" one (human) guest just behind me inquired of her friend. "I cried. I 100% cried." Natalie Cole's "This Will Be (An Everlasting Love)" blared over the PA.
Since dogs are notoriously difficult to interview, I settled for talking to their owners. That one labradoodle, who looked to be single and ready to mingle, licked my hand and then slinked away, uninterested in media attention. Its name was Blue, I learned, and its owner was invited because she is a fashion blogger. Then I turned to two very beautiful and very fluffy big white dogs, who were lapping up attention in the center of the room. "They're Great Pyrenees," their owner, Engelbert DeCastro, told me. "They have their own instagram. 14,000 followers." How did they wind up at the wedding? "They are friends of Toast." On the Internet or IRL? "Both!" (Because one medium of Internet fame isn't enough, these two dog-lebrities even landed on my favorite dog Twitter account, @thedogist, the next day.)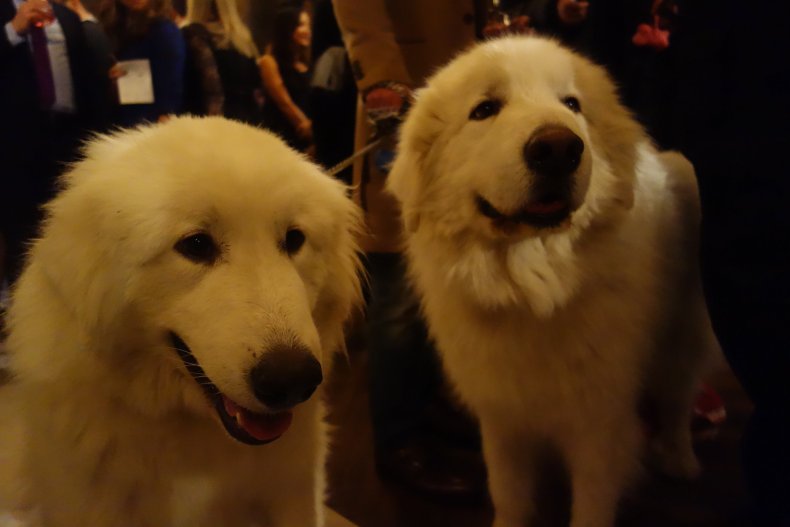 It dawned on me that most of these dogs in attendance weren't just your average dog park hounds. This was a gathering of prominent dog influencers, with thousands of followers and fans, whether they knew it or not. Dogfluencers. Barkfluencers! I met a cute little cavapoo named Guinevere, whose Instagram handle is @guinniethepoo (followers: 8,329) and whose owner Kelly Brady handed me a business card for her company Brandsway Creative (slogan: "We represent people, places, products and creatively turn them into BRANDS").
It made sense—these dogs all had pretty happening personal brands. I asked Brady how her dog landed at this party. "She met Toast this summer at a White Girl Rosé event in Montauk," she explained, referring to the Fat Jew's wine brand, "and now she's here celebrating!"
I met a Boston Terrier named Melrose, whose mother and father are a fashion stylist and a painter, respectively, as revealed by the pup's Instagram profile ( @porkbellymelly). "We're friends of Carol, and her dog was a bridesmaid," the dad told me, in what was probably the first time that sentence has ever been uttered.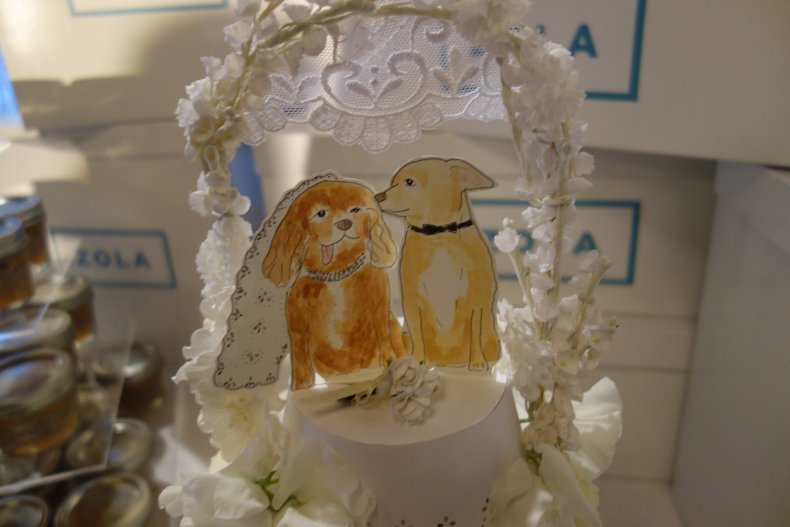 These interactions made me miss my recently-deceased dog Max, but they also made me glad that he was never made to star in a branded arranged marriage at a tony hotel. Max had tantrums just going to the groomer.
The party carried on. A dog named Floyd (Instagram handle: @theadventuresoffloyd) licked my camera. "How Sweet It Is (To Be Loved by You)" came over the wedding playlist. The bride and groom, clutched by their owners, prepared to cut the cake.
Finally, I introduced myself to the fluffy Pomeranian that had yapped in my direction earlier. Cookie was the dog's name. "Is Cookie on Instagram?" I asked. "I've been asked that a few times," one of the two men standing with Cookie replied, but they weren't sure.* They were not the owners—only Cookie's dogwalkers, who take care of the pup when Cookie's owner travels frequently. The dogwalker asked who I work for.
"Man, Newsweek is covering this?" he asked in disbelief. "Our society is so fucked, man. We're gonna look back years later and be like, 'Dog weddings? That was the end.'"
Around this point in the evening, an organizer took the microphone and made a startling announcement. "We would love for you to stay for the rest of the evening," he began. "Unfortunately, the doggies have to go to the pen. We have handlers there ready to take care of them." (There was indeed a small dog-pen area at the bottom of the staircase, equipped with human staff.) He restated the information some minutes later, in a firmer voice: "The dogs are going to have to go to the dog pen. They will be well-fed."
What a world! A bride and groom, being kicked out of their own wedding celebration. Imagine the "It Happened To Me" column that doggie bride is going to write for xoJane next week. But few aspects of this doggie wedding, from the music to the champagne to the setting, seemed designed for doggie enjoyment. The dogs were there to be paraded around for the admirable cause of a dog rescue organization and the slightly less admirable cause of selling a wedding registry site. Dogs, thankfully, are oblivious to the pull of capitalism.
The party was scheduled to carry on for another hour or more. I, though, followed a simple rule that has never let me down in social situations: When the dogs go, I go.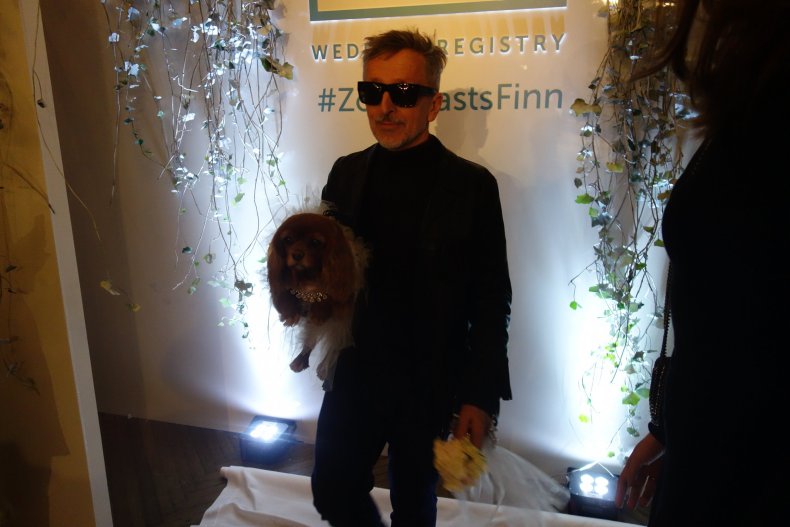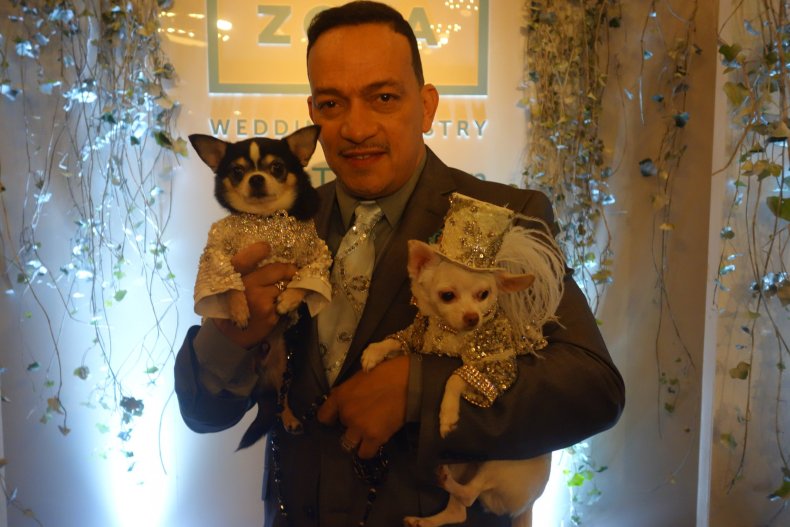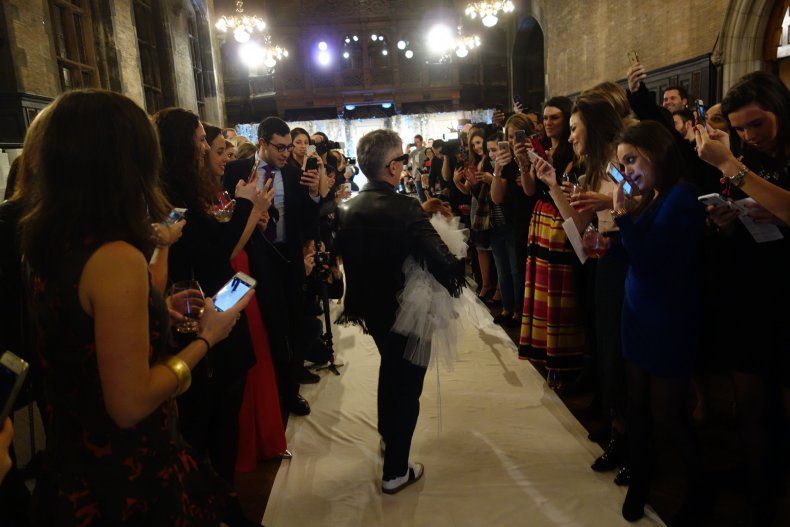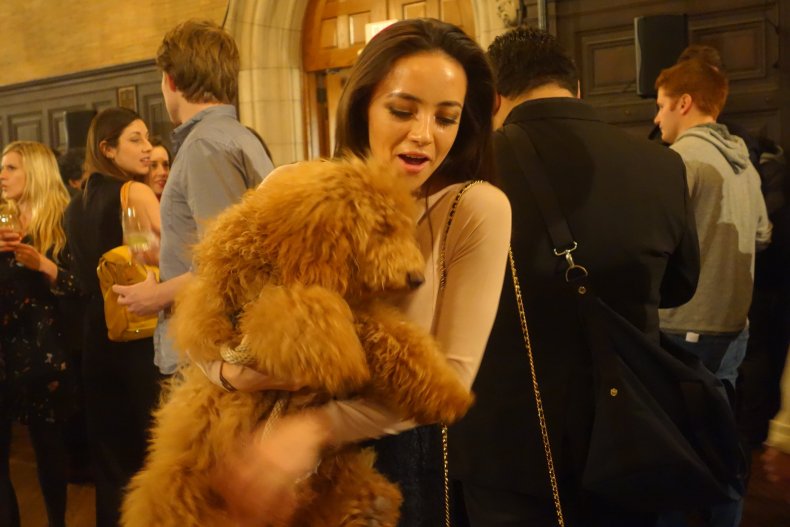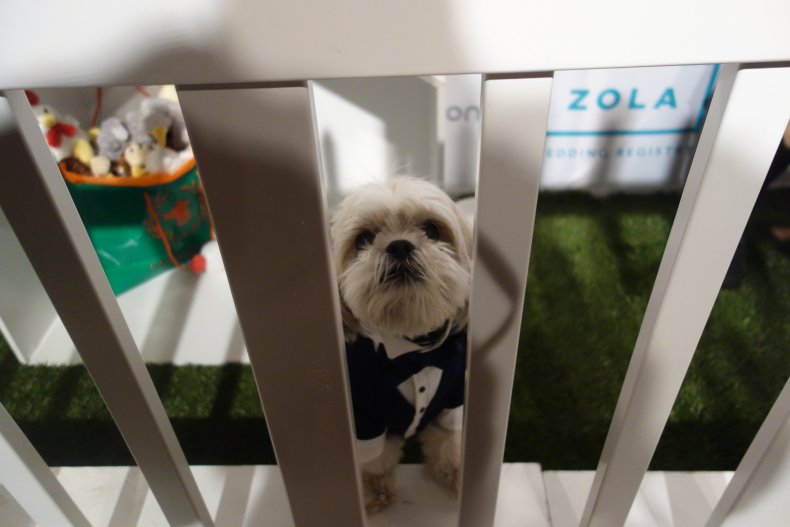 * Of course, I searched Instagram for "cookie pomeranian." I settled on @lovemypomcookie, a toy pomeranian just shy of 10,000 followers. Is it the same dog? Can't say. I can only confirm its second most recent Instagram post shows the pooch riding a pink balloon dog.