An online influencer with a following of over 1 million on YouTube and 440,000 on Instagram has sparked an online controversy after she announced she and her family had put their beloved pet dog down because of an incident with her child.
Nikki Phillippi, a lifestyle blogger based in Nashville, Tennessee, broke the news of her dog Bowser McTrowsen's sudden death on her social media platforms on Monday with her husband Dan.
While they claimed they were "forced" into the decision of putting their dog of nearly 10 years down, fans across social media blasted the couple for not finding an alternative solution that kept the dog alive.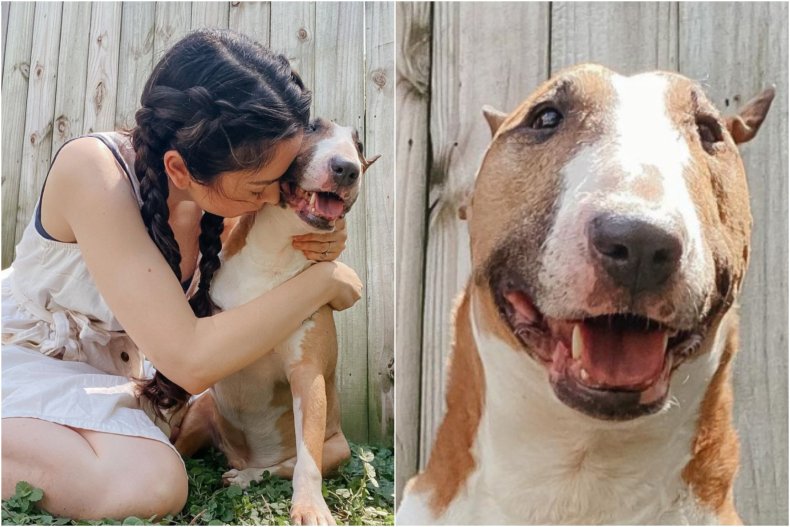 Nikki initially posted the news to Instagram, blaming the decision on the dog's "aggressive side that reared [its] ugly head a few times throughout the years."
"After a lot of counsel, we decided it was time for Bowser to pass peacefully on. I know a lot of you will be shocked to hear this... my brain is still shocked," she wrote.
"McTrowsen has been part of our life and content HIS entire life...and for the last 9 years of our marriage...We didn't want to make this decision...as I'm sure you can imagine."
She called the decision "one of the saddest days of my life."
Shortly after, Nikki and Dan posted a 24-minute explanation video on YouTube, claiming that the decision to put the dog to sleep came after he bit their young child Logan.
"This was not a decision we came to lightly," she says, also indicating that she anticipated a strong fan reaction to their choice.
Dan, who calls him "an angel" as well as "rowdy," claims that there were other instances of aggressive behavior towards other dogs, including their other pet Zoey.
Dan and Nikki claim that the final straw was when the dog attacked Logan, who was taking food from Bowser.
"Bowser got Logan in the face," Dan says. "Obviously it wasn't bad, but he's still healing up from a little mark on his face.
The statement that had most viewers upset was made by Dan around the 15-minute mark, in which he compares putting down Bowser to the scene in Old Yeller.
"In the moment I'm thinking, you know, I grew up with the movie Old Yeller, and I wanted to pick Bowser up by the back of the neck and take him into the backyard and put him down right there," he says.
"Who's gonna tell 'em that in Old Yeller the dog had f*****g rabies and THERE WAS NO OTHER CHOICE but to put him down and that the kid DIDN'T WANT TO DO IT?" one angry fan tweeted. "He makes it sound like this was his CHANCE to kill it."
Fans also expressed disappointment and anger in their decision on Instagram and Reddit, after the couple disabled comments on the YouTube video.
"Some dogs can't live with kids but that doesn't mean they shouldn't be allowed to live," one angry person wrote on Nikki's Instagram. "I'm sorry for Bowser. He didn't deserve this outcome," another chimed in.
Redditors took great issue with the couple's choice to put the dog down rather than rehome him and give him a life with less interaction with children or other dogs.
"Wasn't an option to give him away to a new home???" one concerned poster asked.
Another viewer claimed that "several followers offered to take the dog in and train it properly knowing it was aggressive," but she did not follow up with them.
In the video, Nikki claims rehousing Bowser was not possible given his violent history.
"We contacted the humane society, and we had a long discussion with someone over there, and basically, she made it clear to us that rehoming Bowser was not an option as he had been with us from birth," she says.
"When you rehome a dog, it is still your liability if the dog were to attack someone," she adds.
Still, angry viewers claimed that the family did not do enough for the dog while he was alive, with some even blaming the parents for not monitoring their children so that Bowser would not act out.
"This is 100% her fault if you have pets with kids you have to monitor them closely if your dog is not used to them. gross," one Twitter user vented.
Neither Nikki nor Dan have issued a further statement or addressed fan concerns since posting the news.
A slim fan following did stand up for the couple with insight on other violent animal attacks. Just last week, a child was killed and her mother was seriously injured in a vicious dog attack in North Carolina.