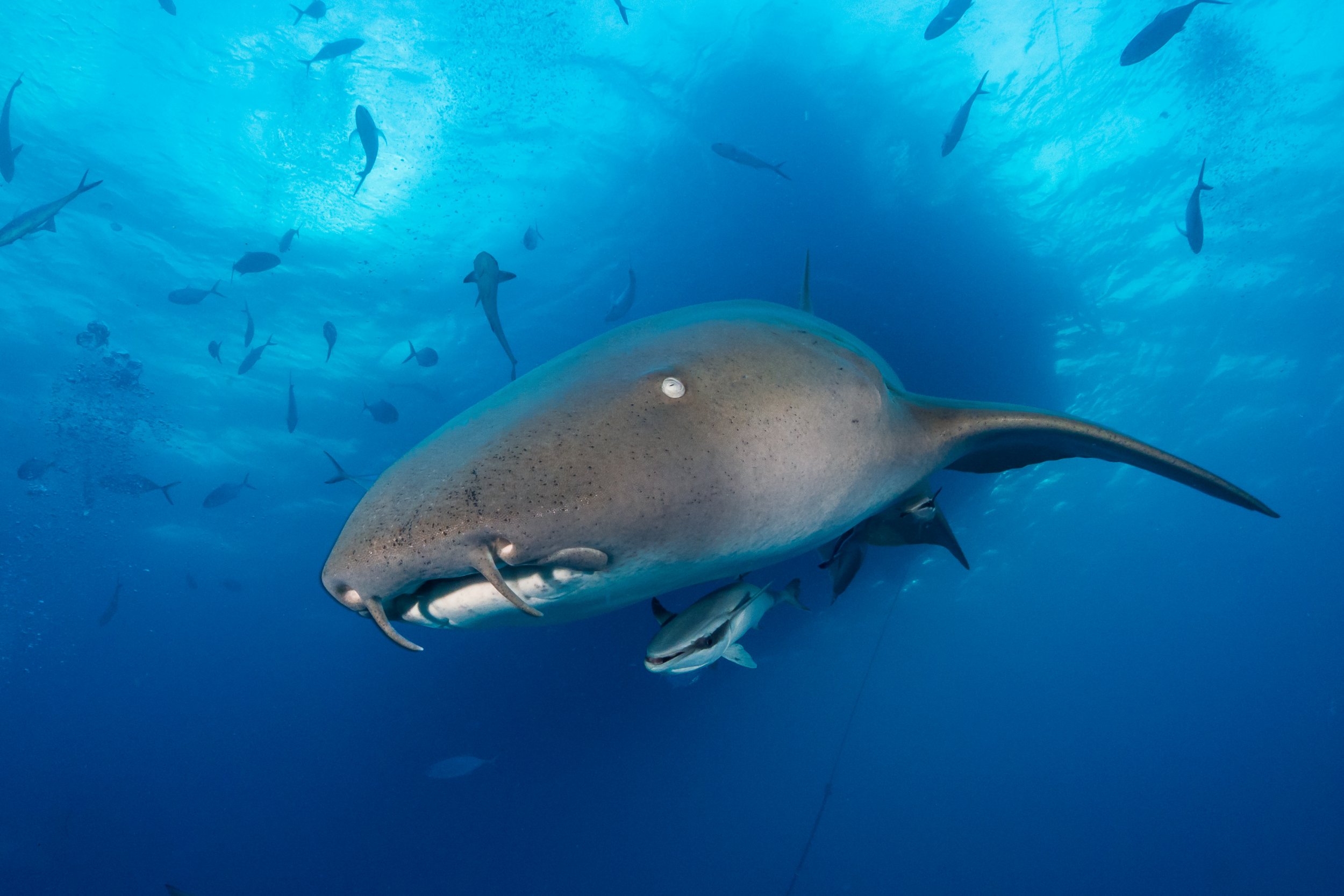 An Instagram model has narrowly avoided serious injury after her forearm was bitten and dragged by a shark in the Bahamas.
Katarina Zarutskie was vacationing on Staniel Cay, one of the islands in the tropical region, and decided to go swimming with nurse sharks—which are mostly harmless. While floating on her back with her arms stretched out, one shark bit down onto an arm and pulled the 19-year-old underwater.
Zarutskie's boyfriend's father was snapping photos of her at the time and managed to capture the moment she was dragged under by the five-foot shark. Zarutskie was able to break free and swim to the shore. She held her bleeding arm out of the water to avoid attracting more sharks.
Speaking to NBC News on Monday, Zarutskie said she had heard from locals that swimming with nurse sharks was risk free. "My boyfriend's family was freaking out when I went to swim with the sharks and I was like, 'It's fine,'" Zarutskie said. She jumped into the water on her own, without any sort of tour guide.
"He had my wrist in his mouth and I could feel his teeth sinking into my arm. I was pulled underwater for a few seconds and then ripped my wrist out of the shark's mouth as fast as I could."
The University of Miami student visited a local clinic following the incident, but decided to fly back to Florida the next day after learning shark bites carry a high risk of infection. "[The doctors] now believe that I still have pieces of the shark teeth in my arm and I will forever have a scar," she said, slightly concerned for her modeling career.
Zarutskie knows it could have been worse. "I am so fortunate that I still have my arm and my life."
Zarutskie did not immediately respond to a request for comment.
Earlier this month, a woman on vacation in Dugong Bay, Australia, experienced a similar ordeal with a tawny nurse shark. While feeding a small group, Melissa Brunning was dragged into the water by her finger before breaking free. She was convinced the shark had ripped her finger off.
"It happened so quickly," Brunning told 7 News. "All I could really focus on was the fact that my finger is gone. It clamped on it and it felt like it was shredding off the bone. I came up and I was like, 'I've lost my finger.' I couldn't even look at the finger because I thought if I looked at it and saw it again, I'd probably go into shock."
Brunning tried to continue her vacation after receiving treatment, but a serious infection required her to return to Perth for surgery.